Lionel Hart (he/him) is an M/M fantasy romance author based out of the San Diego area.
Twitter: @lionelhart_
TikTok: @author.lionelhart
Facebook: Lionel Hart, Author
Website: lionelhart.ink
First of all, welcome to Geeks OUT! Could you tell us a little about yourself?
Hi! I'm Lionel Hart, and I write M/M romance books. I write primarily fantasy romance but have plans to branch out into a few different subgenres of M/M romance. I live in North San Diego county with my partner and our dog.
Since Geeks OUT is a queer centered website, could you tell us a bit about the LGBTQ+ characters featured in your books?
For sure! Well, I'm a gay trans man, so having representation that mirrors my own experiences is important to me. Not all of my main characters are trans, but they are all somewhere in the LGBTQ+ spectrum. But, I do focus mainly on male-male relationships, since that aligns with my own identity and lived experience.
How did you find yourself getting into writing fiction, particularly fantasy adventure with a side of gay eroticism?
I've always wanted to be an author, but had put that dream on the back burner as an adult — paying the bills and keeping a roof over my head was my primary focus for a while after getting out of college, when I came out and lost a lot of familial support. Then even when I was in a more stable place, it was hard to get back into writing. It was actually a few months into the pandemic, after I was laid off, that got me into writing seriously again. I had so much free time all of a sudden and decided now was my best chance at making writing my career.
I did a ton of research into the world of indie publishing and decided romance was a genre I enjoyed reading, would enjoy writing, and would give me the best shot at making a living doing what I loved. I knew I would want to write gay romance, of course, and as an avid Dungeons and Dragons player and general fantasy enjoyer, I saw there weren't a ton of the sorts of stories I liked to read in indie published gay romance. So I decided that would be the niche I focused on, and here we are!
Your book(s) tend to center around male protagonists of fantastical origins. Could you tell us about some elements of these characters you're excited for others to see in stories?
My debut series, The Orc Prince trilogy, features an arranged marriage between an elf and an orc. I wanted something that felt like a D&D inspired world, and I thought that would be a fun pairing. And since this was going to be a spicy romance, I included some omegaverse-like elements in my lore for elves — the series isn't exactly an omegaverse series, but there are definitely shared elements so I'd say it's omegaverse lite, haha.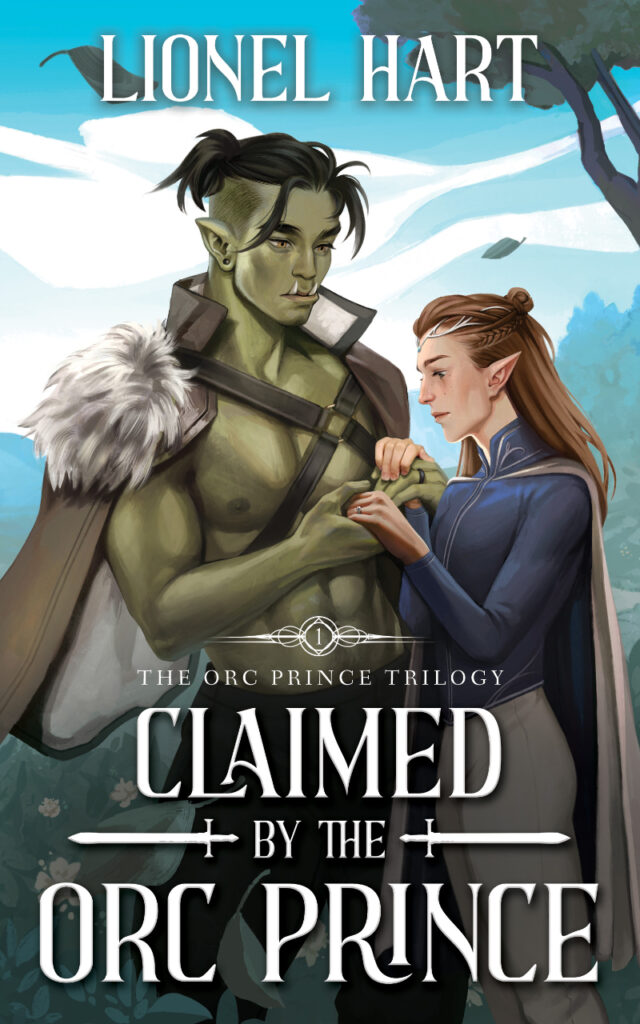 I also have a more paranormal/urban fantasy series that's in progress, the Chronicles of the Veil, which features a trans MC with a cis male love interest. The main character Florian finds out that he's secretly a fae prince prophesied to save the world, and falls in love with his wolf shifter bodyguard along the way. This is a different take on fae and shifters, but I really love these characters and this series, and put a lot of myself in Florian. My partner is a cis man, so their dynamic was one I loved writing and felt very comfortable with.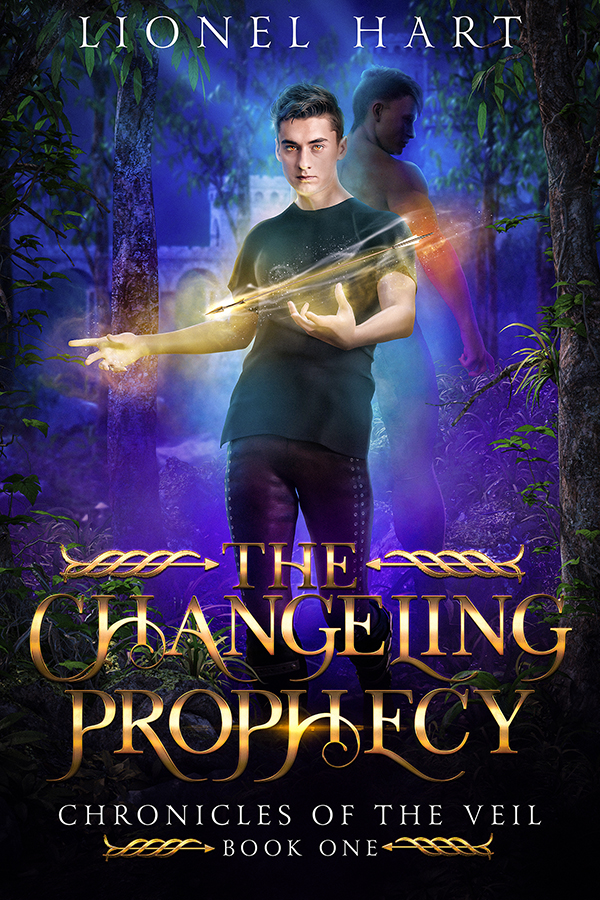 Lastly, I have a dragon romance duology featuring an immortal dragon with a mortal fated mate. This is a darker romance which I really loved writing, as I got to explore what morality means to an immortal, extremely powerful creature. The dragon MC does a lot of morally questionable things in his attempts to keep his mortal mate with him forever, and I loved writing a villainous character who would not consider himself evil in the least, but would gladly destroy the world for the one he loves!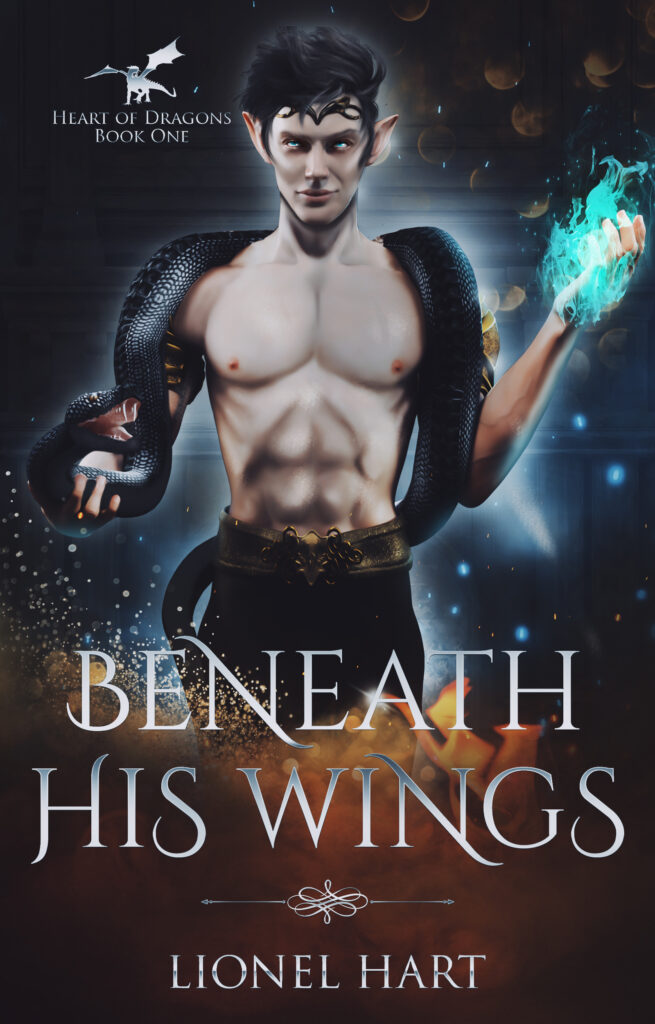 Were there any books that touched you or inspired you growing up?
Too many to name! I was a voracious reader as a child, so it's hard to name any in particular. I re-read the Chronicles of Narnia a lot, so I'd say that really started my love of fantasy as a genre. I think that the book that made me decide I wanted to write fantasy books was The Secret of Dragonhome, a YA fantasy novel which I randomly found in the school library and loved it so much that I just never returned it… oops! It's fairly obscure and I've never met anyone else who's read it, but I read it over and over. I'd say that was my first experience with romantic fantasy, and while I'm not sure that book specifically stands up to the test of time, it definitely shaped my reading and writing habits into adulthood.
Where did you get your start in creative writing? What pulled you to fiction?
To be honest, I've been writing for as long as I can remember. I wrote my first story in kindergarten — my mom still has it — about me finding a dalmatian puppy on the way home from school and convincing my parents to let me keep it. I was obsessed after watching 101 Dalmatians, but wasn't allowed to have a dog at the time. The story didn't convince my parents, but I never stopped writing after that. I got my bachelor's degree in creative writing, and for a while wanted to get more into literary fiction to be a "serious writer" but honestly found I had a lot more fun writing genre fiction instead.
What magic systems/worlds/characters draw your attention?
I play a ton of D&D, specifically 5th edition, so I think that influences my magic systems and worldbuilding. For a future project I'd like to create a new magic system from the ground up, but for now, the worlds I write in have a softer, looser version of D&D's magic system.
My partner is deep in the A Song of Ice and Fire fandom, so I know a lot about it even though I'm not nearly as big a fan as he is. I don't know if I'd ever be able to pull off writing a world as intricate and deep as George R.R. Martin has accomplished, but I do love the idea of creating a fantasy world from the beginning, having its own mythos to self-reference and an entire history to pull stories from. I think a lot about that when trying to come up with ideas for future books, so maybe I'll attempt something that ambitious someday!
As far as characters, that's so hard to say! I love tragic characters and angst in general, so I think I'm drawn more to characters like that. Those who have dark pasts and carry deep sorrow or grief with them, but work to keep living until they find purpose again. I think a lot of LGBTQ+ people can resonate with those sorts of characters, because we still live in a world where just openly being LGBTQ+ means experiencing a loss of friends and family for a lot of people. That was my reality, too, so seeing characters who struggle but ultimately triumph is a comfort and an inspiration.
Is writing in the genre you have chosen difficult? Do you consider the results worth the challenge?
Fantasy can definitely be a challenge just by the virtue of how much worldbuilding goes into creating a good fantasy story, and while romance has a different reputation, it can still be a challenge for very different reasons. Putting both together creates unique challenges that encompass the pillars of both genres, but I think that when they're done well, this is absolutely worth the challenge! I love the familiarity of romance beats contrasted to the new, unknown elements of a fantasy backdrop.
Do you have any plans to branch into other genres?
I do, actually! While I plan to stick with MM romance at the core, there are other subgenres I'd like to explore. I recently have been reading a lot of litRPG as a genre, so I have some ideas for more litRPG/progression fantasy-inspired romances, and I'd also like to dip my toes in contemporary MM romance in the future as well.
What's something you haven't done as a writer that you'd like to do?
I've never fully fleshed out a custom, hard magic system. It seems daunting from the outside, but the more I read about creating magic systems, the more I think it's a challenge I'd like to take on at some time. So I'd like to do that in the future, especially if I decide to move forward with the litRPG-inspired fantasy ideas I have.
Are there any projects you are currently working on and are at liberty to speak about?
Definitely! I'm currently working on finishing my paranormal romance series, The Chronicles of the Veil. Books one and two are out, and I'm finishing up book 3 now and hope to have it published this spring. Book 4 will be the final book of the series and should be published later this year. I've really enjoyed writing this series and I'm eager to share it with my readers!
After that, I think I might give contemporary MM romance a shot. I've had some ideas for an angsty rockstar romance series, which would be pretty different from what I've written before, but I have three books basically already outlined so I think it would be a fun but fairly quick project to experiment with.
Aside from writing, what do you enjoy doing in your free time?
As mentioned, I play a ton of D&D, haha! I used to be a DM but when I started writing seriously again, I found it difficult to put my creative energy into two big projects, so now I'm a player in two different campaigns. I'm also a huge Pokemon fan and I play a lot of that when I have the time — I love shiny hunting, but I'm not very good at competitive battles unfortunately! I live in San Diego, so when it's warm my partner and I spend a lot of time at the beach as well.
What's a question you haven't been asked yet, but wish you were asked (as well as the answer to that question)?
This is a tough question, haha. I think someone's favorite food can tell you a lot about a person, so — Lionel, what's your favorite food? Thanks Lionel, if I had to pick, it'd have to be sushi for me!
Finally, what LGBTQ+ books/authors/creators would you recommend to the readers of Geeks OUT?
So many!! If you want more M/M fantasy romance, especially if it's spicy, check out Ben Alderson's books — he has quite a few, but I loved his gay vampire Beauty and the Beast retelling, Lord of Eternal Night.
For a more high fantasy inspired omegaverse series, I've loved Corey Kerr's The Middle Sea series, especially The Sorcerer's Alpha. Kerr really nails keeping the appeal of omegaverse books in a very different setting, and the fantasy world of this series feels very expansive.
For some spicy trans rep, I've loved everything I've read by Freydis Moon, especially their novella Exodus 20:3. If you have some lingering religious trauma like me, I think you'll enjoy this spicy story between a trans man and an angel in disguise.
And finally, for a cozy, non-spicy, sapphic fantasy, I adored Legends and Lattes by Travis Baldree. I read it with a friend who's into a very different vein of fantasy romance (cough, ACOTAR, cough) and we both loved it, so I would highly recommend it to just about everyone, especially if they love D&D flavored fantasy.