K. L. Cerra uses her writing to explore the complexities—and the darker sides—of relationships. When not writing or seeing clients as a trained marriage and family therapist, Cerra is likely walking her Boston terrier or exploring the local botanical gardens. She lives with her husband in a small beach town outside of Los Angeles.
I had the opportunity to interview K. L., which you can read below.
First of all, welcome to Geeks OUT! Could you tell us a little about yourself?
Thanks so much for having me! I'm a psychotherapist living in LA with my husband and our feisty Boston terrier. Such Pretty Flowers is my debut novel and I'm so excited for it to come out in early February!
What can you tell us about your latest book, Such Pretty Flowers? What was the inspiration for this story?
Such Pretty Flowers is about a young woman, Holly, who decides to investigate her brother's suspicious death. In doing so, she develops a dark obsession with his girlfriend, an alluring florist who seems to have a curious connection with her plants. She also happens to be Holly's prime suspect. As for my inspiration, I've always been fascinated by the power—and danger—of plants. And when I took a trip to Savannah, I was instantly enchanted. Such Pretty Flowers is what happened when I combined these two sources of inspiration.
As a writer, what drew you to the art of storytelling, specifically gothic thriller fiction?
Although I've been writing from as early as I can remember, I didn't immediately find this genre—it took some experimentation. Back in fourth grade, my friends and I started mimicking our favorite authors (I still have journals filled with some very cringe-worthy Redwall imitations). I played around with writing fantasy as a teenager, then veered more literary in my 20's, and finally settled into writing gothic thrillers/suspense. I love the spooky ambiance and that looming sense of dread: it's exactly what I gravitate toward as a reader.
How would you describe your writing process?
Sadly, I'm not one of those people who has troves of ideas—I really have to think long and hard, matching up interests of mine to come up with a premise. Once I have a seed of an idea that excites me, I start outlining, and then attack drafting scene by scene. I give myself a lot of space to envision a scene before writing it, by taking walks and thinking up specific details to bring it to life.
Growing up, were there any stories in which you felt touched by/ or reflected in? Are there any like that now?
I was entranced by Tamora Pierce's The Song of the Lioness books as a grade schooler. More recently, I connected with Promising Young Women by Caroline O'Donoghue, likely because the protagonist, like me, was a woman who struggled in the corporate world before eventually becoming a therapist (I also loved the speculative elements throughout the book). Other books that electrified me because I think they really effectively tapped into some of the dark realities of being a woman: Luckiest Girl Alive by Jessica Knoll, The Wives by Tarryn Fisher, and My Dark Vanessa by Kate Elizabeth Russell.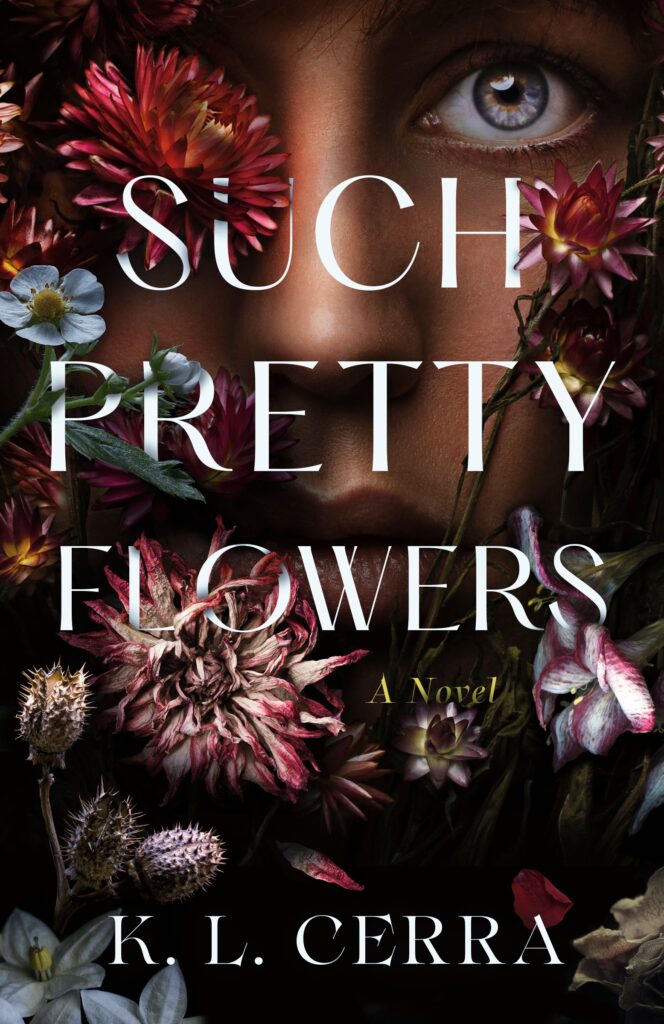 As a writer, who or what would you say are some of your greatest creative influences and/or sources of inspiration in general?
I get fired up after reading books that speak to me, like the ones I outlined above. I also like to pull from things that fascinate me in general. For instance, I've always been intrigued by the idea of being a florist, which I channeled into Such Pretty Flowers. Since my writing is horror-leaning, I definitely pull from my own anxieties. And I can't leave out my sister—she's an editor and fellow writer, and we inspire each other and cheer each other on. We've just started taking annual writing retreats—our last one was in Salem!—and I'm loving the new tradition.
What are some of your favorite elements of writing? What do you consider some of the most frustrating and/or difficult?
My absolute favorite part of writing is when I nail down a premise and can't stop thinking about it. It's almost like this "pilot light" inside me switches on—there's this excitement I carry with me all day. I'll even wake up in the middle of the night thinking about my developing story and characters. It's addicting! Editing said story can be daunting, however, especially when it comes to the bigger picture, developmental edits. I'm also still adjusting to seeing the public react to my work. Eventually I realized I just had to stop reading reviews (though we'll see how long that lasts!).
Aside from writing, what are some things you would want others to know about you?
In case it wasn't obvious, Halloween is my favorite holiday. It's been that way ever since I was a kid—I got perhaps a bit too into it. In early grade school, I remember attending a friend's Halloween party dressed as a dead bride. Shout-out to my mom who did the makeup so convincingly it made my friend's little brother cry.
What's a question you haven't been asked yet but that you wish you were asked (as well as the answer to that question)?
This may be less of a question and more of a confession: even though I'm fascinated by all things botanical, I'm actually incapable of keeping a houseplant alive. (Don't even ask about succulents).
What advice might you have to give for aspiring writers?
Read voraciously in your genre. Try to find some critique partners whose opinions you trust and respect, and challenge yourself to get comfortable receiving their critical feedback.
Are there any other projects you are working on and at liberty to speak about?
My second book is about a modern-day coven operating under the guise of the wedding industry. They are single-minded in their mission to "save" women from losing themselves through marriage/motherhood and . . . it gets pretty dark. At its heart, this book is about the unfair choices and sacrifices women are simply expected to make.
Finally, what LGBTQ+ books/authors would you recommend to the readers of Geeks OUT?
Catherine House by Elisabeth Thomas, House of Hunger by Alexis Henderson, and Such a Pretty Smile by Kristi DeMeester—I devoured them all!
---
Header Photo Credit Koman Photography