Wes Molebash is the creator of several popular webcomics, most notably You'll Have That (Viper Comics) and Molebashed (self-published). He has also created cartoons for companies and organizations such as the Ohio State University, Target, and PBS Kids. Travis Daventhorpe for the Win! is his debut graphic novel.
I had the opportunity to interview Wes, which you can read below.
First of all, welcome to Geeks OUT. Could you tell us a little about yourself?
Thanks for inviting me to participate! I'm honored! My name is Wes Molebash, and I'm a cartoonist in Southern Ohio. I've been drawing comics for a couple of decades now; mostly webcomics, but I've recently published my first graphic novel!
What can you tell us about your debut graphic novel, Travis Daventhorpe for the Win!? Where did the inspiration for this story come from?
Travis Daventhorpe for the Win! is my first graphic novel, and it came out at the end of March from 01:First Second Books. It's the first in a four-book series. The story follows a socially awkward eleven-year-old who discovers he's the prophesied hero of a kingdom in another dimension. The book has robots, wizards, magic, dinosaurs, and tons of video game references. It's a lot of fun!
The biggest inspirations for the series are my two sons, Parker and Connor. When they were really little, I started brainstorming ideas for a story I thought they'd enjoy. The initial idea for Travis Daventhorpe popped in my head while I was playing with them on the living room floor one afternoon.
How did you find yourself getting into storytelling, particularly comics? What drew you to the medium?
Ever since I was a kid I've loved cartoons and animation. Newspaper comics were also fun to read, but I didn't fall in love with the medium of comics until I discovered Calvin and Hobbes. That changed everything. It inspired me to learn everything I could about making comics.
During middle school, I began collecting comic books like Batman and Superman. They were fun, but I didn't love them the way I loved Calvin and Hobbes. But then I found Bone by Jeff Smith, and that book was another game changer. It had the heart, imagination, and visuals of a comic like Calvin and Hobbes, but it was in this much larger comic book format. So the worlds could be bigger; it felt like there was more to explore. I loved that, and I wanted to make comics like that.
As a creative, who or what would you say are some of your greatest creative influences and/or sources of inspiration?
Well, as I said before, Bill Watterson and Jeff Smith are the BIG TWO. But I'm also inspired/influenced by other cartoonists like Mike Cavallaro, James Burks, and Michael Jantze. Movies, books, and video games are also huge influences. Speaking of video games, Travis Daventhorpe was heavily influenced by The Legend of Zelda: Breath of the Wild and Horizon Zero Dawn. So if you like those games, you'll probably find some nods to those series in my books.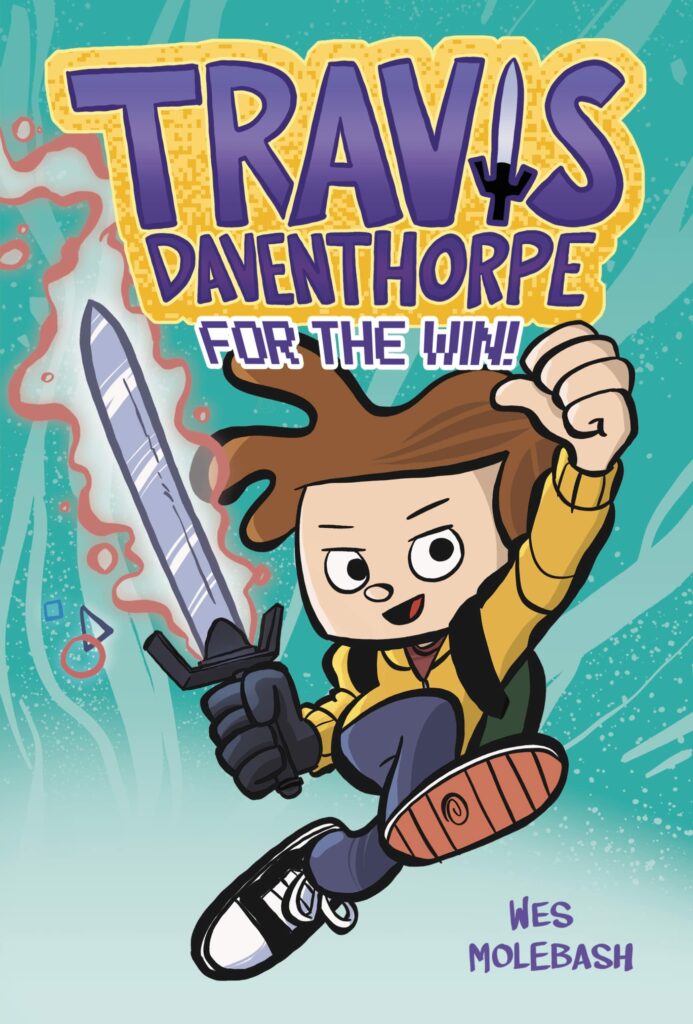 Besides your work as a creative, what are some things you would want readers to know about you?
I was the 3rd Grade Spelling Bee Champion, I was class president my junior year of high school, and I can play the guitar.
What's a question you haven't been asked yet but wish you were (and the answer to that question)?
No one has ever asked me who I would want to voice Belazar if Travis Daventhorpe for the Win! was made into an animated movie. The answer is Andre Braugher from Brooklyn Nine-Nine.
Are there any projects you are working on or thinking about that you are able to discuss?
Right now we're wrapping up the edits on Travis Daventhorpe Book 2, and I've started writing Book 3!
Finally, what books/comics would you recommend to the readers of Geeks OUT?
Here are a few of my faves:
The Nico Bravo series by Mike Cavallaro
Agent 9: Floodageddon and Agent 9: Mind Control by James Burks
The Real Friends series by Shannon Hale and LeYuen Pham
The Margo Maloo series by Drew Weing