Born and raised by the Great Lakes, Alex Crespo writes about queer love, magic, and all the ways they intersect. When not writing, you can find him making art or daydreaming about Mothman. He currently lives in Chicago with an endless anime watchlist and his black cat Hex. You can find him on TikTok, Twitter, and Instagram as @byalexcrespo.
I had the opportunity to interview Alex, which you can read below.
First of all, welcome to Geeks OUT! Could you tell us a little about yourself?
Thanks so much for having me! I'm a trans Mexican-American author based in Chicago. I love writing coming of age stories centered around queer love, friends who are really like family, and small towns that are more than what they seem.
What can you tell us one of your debut novel, Saint Juniper's Folly? What was the inspiration for this project?
Saint Juniper's Folly is described as Cemetery Boys meets The Haunting of Bly Manor, a queer haunted house mystery that's perfect for found family fans, romance lovers, and anyone who likes a spooky thrill. It follows Jaime, a Mexican-American teen who returns to his hometown only to get trapped in a haunted mansion in the woods. He begrudgingly accepts the help of Theo, the local type-A golden boy, and Taylor, a Puerto Rican girl attempting to unravel the mystery of her mom's sudden death, to learn the truth about the estate and set him free.
The book alternates POVs between the three main characters, and they all have drastically different backgrounds and perspectives on this stressful, bizarre situation. On top of the supernatural dangers in the book, they're each grappling with their own personal struggles. They feel suffocated by grief, other people's expectations, and anxiety about their futures. I wrote the bulk of this book during the first covid lockdown in 2020, and I really wanted to play with this idea of how different teens might react to feeling trapped—physically and emotionally.
As an author, what drew you to the art of storytelling, specifically young adult fiction and speculative fiction?
I grew up an avid reader and continued to love young adult fiction well past my teens, so when I thought about writing my own books, YA felt like a really natural choice. I was drawn to speculative fiction in particular because it allows you to explore conflict through a larger-than-life lens. For a lot of teens, the struggles in their lives feel monumental—they're experiencing so many big changes and interpersonal issues for the first time, and that's terrifying. Amplifying those everyday emotions through magic and metaphor is a great way to honor and validate those big feelings, and I love that specfic allows me to do that.
Growing up, were there any stories in which you felt touched by/ or reflected in, in terms of personal identity? If not or if so, how do you think this personally affected you as a writer?
Honestly, I don't remember reading many books with queer or latino representation when I was a kid. It wasn't until I was an adult that I saw more titles with characters who shared my identity popping up, and that was a game changer for me both as a reader and aspiring author. Now I'm really excited to carry that torch and bring more diverse representation to readers through my own writing.
As a writer, who or what would you say are some of your greatest creative influences and/or sources of inspiration in general?
The biggest influence on my writing right now comes from TV. A lot of times I'll start watching a show to unwind but end up taking notes on characterization and pacing instead. K-dramas in particular have taught me so much about concise storytelling and the elements of swoon-worthy romance. I've also watched a lot of seinen anime recently. I love how the genre unpacks moral dilemmas and philosophical themes with a lot of nuance.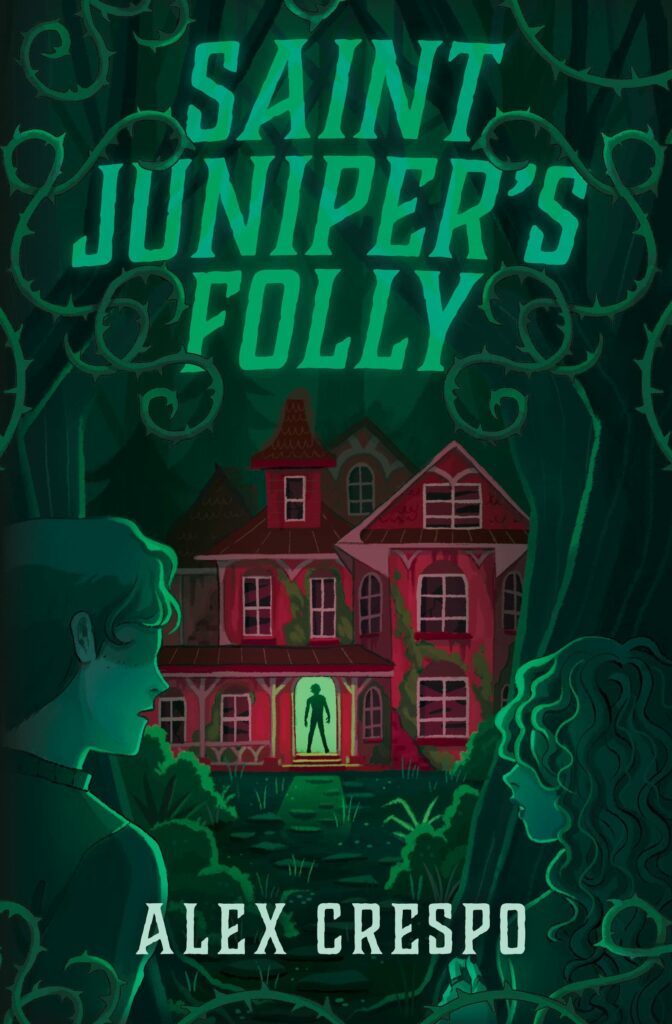 What are some of your favorite elements of writing? What do you consider some of the most frustrating and/or difficult?
I have the most fun writing dialogue and intimate, emotionally-charged moments between characters. I try to write chronologically, but sometimes I jump ahead to write banter and tension because it feels like such a treat. On the flip side, sometimes choreographing movement during scenes feels like a drag. Hats off to authors who love writing action sequences, please teach me your ways.
Aside from your work, what are some things you would want others to know about you?
When I'm not writing, I'm making art. It's one of the only things that fully quiets my brain and lets me relax. That, and reading copious amounts of fanfiction.
What's a question you haven't been asked yet but that you wish you were asked (as well as the answer to that question)?
Oh, that's so fun. I wish someone asked what song I'd choose as the theme for Saint Juniper's Folly. It would definitely be "Frozen Pines" by Lord Huron. I listened to Strange Trails nonstop while writing the book, so that album will always have a special place in my heart.
What advice might you have to give for aspiring artists?
Make time for daydreaming in your day to day life. It's really hard to fill your creative well if you don't give your brain time to breathe and wander. Also, never be ashamed of having lofty goals when it comes to your art. Own it and don't be afraid to be seen trying.
Are there any other projects you are working on and at liberty to speak about?
Yes, I have another queer paranormal mystery coming in spring 2025! Four teens track down a local cryptid that's feeding off secrets before their own hidden truths are exposed to their coastal Oregon town. It's got a full cast of messy, lovable lgbt+ characters that I can't wait to introduce to readers.
Finally, what LGBTQ+ books/authors would you recommend to the readers of Geeks OUT?
I just read A Lady for a Duke by Alexis Hall, a historical romance featuring a trans heroine, and it blew me away. Every facet of the story is handled with so much care and tenderness, I'm already itching to reread it. Racquel Marie and Jonny Garza Villa both have YA romances coming out soon that look incredible, so those are next on my list.