Claire Winn spends her time immersed in other worlds—through video games, books, conventions, and her own stories. Since graduating from Northwestern University, she's worked as a legal writer and editor. Aside from writing, she builds cosplay props and battles with LARP swords. Her next book is City of Vicious Night (sequel to City of Shattered Light), a queer YA sci-fi adventure coming May 2023.
I had the opportunity to interview Claire, which you can read below.
First of all, welcome to Geeks OUT! Could you tell us a little about yourself?
Hey, thanks for inviting me on! I'm an author of YA sci-fi, and I'm working on fantasy and adult-category manuscripts as my next projects. My first published duology is the Requiem Dark series, which began with City of Shattered Light and finishes with the upcoming City of Vicious Night (May 2023). I've told stories through tabletop role-playing, LARP storylines, and now books!
I love writing large casts of characters with lots of queer rep—this reflects my experiences and the friend groups I've made in nerd circles. Storytelling has always been a safe avenue for me to explore my thoughts and interests, and it helped me to understand and recognize my own bisexuality.
What can you tell us about the series, City of Shattered Light and its upcoming sequel City of Vicious Night? What was the inspiration for this project?
City of Shattered Light is a neon-drenched YA sci-fi adventure that's often compared to Six of Crows and Netflix's Arcane. It's led by two fierce girls—a runaway heiress, Asa, who's fled home to save her test-subject sister, and Riven, a gunslinging smuggler who needs a heck of a bounty to secure her place in one of the city's matriarchal crime syndicates. The girls clash when one kidnaps the other, but they end up with bigger problems when a brilliant, tech-corrupting A.I. monster locks down the city and begins pursuing them. It has two bisexual leads and major themes of found family, body autonomy, and questions of technological dependencies.
My initial vision for the story was a girl on a rickety transit ship, hiding her identity and concealing a strange alien heart in her backpack. I worked backwards to determine who Asa was and what had happened to her. I determined that her backpack contained a piece she needed to save her sister, but what piece of her sister was missing? Who'd done this to her? All sorts of awful answers came to mind, and eventually I wrote the lead-up to that scene.
Aside from this, a few other pieces came together for the initial concept. Riven was a space gunslinger with a strange neuro-spore illness; because she felt she was running out of time, she was desperate to make her mark on the world. I also wanted to explore the damage a superhacker could wreak as more devices go online, so I imagined a nasty, sentient A.I. that had taken over a high-tech city and could hack anything as it pursued the main characters.
The setting and aesthetics were inspired by lots of video games and anime, but the emotional basis for the character arcs was a bit personal. Asa's arc is about fiercely resisting what the world expects of you and finding happiness on your own terms, while Riven's is about finding something to fight for despite an uncertain future.
The sequel City of Vicious Night was so much fun to write. I had years' worth of ideas simmering after writing the first book, and I knew the characters and world so well before I even started it. It almost felt like writing fanfiction of my own work. Having the world and characters already established in readers' minds meant I could deepen everything in unexpected ways.
As an author, what drew you to the art of storytelling, specifically young adult fiction and speculative fiction?
I've always loved the exploration and escapism of other worlds—video games, in particular, are a storytelling medium I can't get enough of. Sci-fi and fantasy are exciting because they allow me to build new worlds, play with exciting scenarios, and challenge characters in ways that aren't possible in our current reality.
The manuscripts I've finished have been YA because I was a teen when I started writing, and I love the fast pacing and character-driven stories YA allows. I've also found that I have an easier time writing character perspectives and experiences that are firmly in the rearview mirror; I feel I finally have enough perspective on being a young adult to write convincing characters and meaningful arcs! I do have several adult projects in progress, but I really enjoy being part of the YA community as an author, since YA fans are unapologetically enthusiastic about books they love.
Growing up, were there any stories in which you felt touched by/ or reflected in, in terms of personal identity? If not or if so, how do you think this personally affected you as a writer?
I grew up in a small conservative town, and this meant queer media was either discouraged or inaccessible. It took me a while to discover my own identity, which I did through nerd spaces and the safety of creating my own stories.
I love the found-family trope (especially featuring queer characters!) because it reflects much of my experience in nerd culture. These communities celebrate individualism and acceptance, so they tend to have a higher concentration of LGBTQ+ people.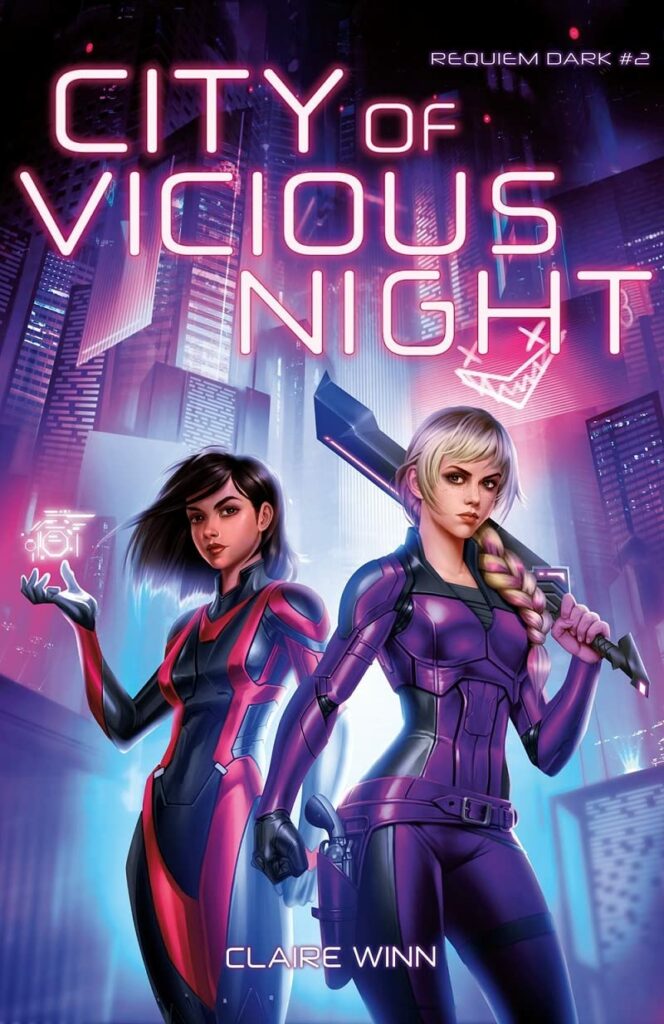 As a writer, who or what would you say are some of your greatest creative influences and/or sources of inspiration in general?
Gaming has been a big one for me, since I love the immersive, player-driven exploration of RPG video games and the collaborative storytelling of tabletop and LARP. You learn a lot about yourself and your friends while gaming—you're creating characters that aren't quite you, and reacting under pressure to a variety of fictional scenarios. While these scenarios haven't directly influenced my stories, they've provided a great perspective on developing characters and their interactions.
When it comes to writing style and storytelling, I adore the work of Leigh Bardugo, V.E. Schwab, Tracy Deonn, Brandon Sanderson, and N.K. Jemisin.
What are some of your favorite elements of writing? What do you consider some of the most frustrating and/or difficult?
I love writing big action, fight scenes, and snappy dialogue! It's also fun to explore nooks and crannies of worlds I've built, and to set scenes through vivid descriptions.
The hardest part for me is pacing it all out. I tend to write plot-heavy stories with lots of content, so I often slam into YA word count limits. It requires a careful strategy to engineer the best possible scenes to make the plot, character development, and world-building unfold at exactly the right times. Weaving together all these plot threads is a challenge, and it's one of the reasons I'm a bit of a slow drafter.
Aside from your work, what are some things you would want others to know about you?
I've had a lot of miscellaneous hobbies outside of writing, and I think these experiences have been important to keep my creativity fresh (and to take the pressure off writing). I used to do hip-hop dance. I sometimes create cosplay of characters I love. I have a B.A. in history and political science. I lift weights. Most days, I explore running trails at a nearby park. I do much of my brainstorming while out in the woods alone, and it's been great for my writing process.
What advice might you have to give for aspiring artists?
Start writing for yourself. Writing a book is a long, uncertain, and lonely path, and the only guaranteed fan you'll ever have—the one spending the most time with the story—is you. There's so much work involved that it's only worth going the distance for a story that resonates with you. Plus, writing something you love also means there's a greater chance it'll find readers who love it. So start with an idea you're passionate about and pour your heart into it, even if it feels daunting.
Also, don't feel guilty about taking time away from your art when you need it. Unless publishing is already paying you a living wage, or you're under contract, you don't owe this industry anything. It's not worth sacrificing your mental or physical health to push creative work that doesn't have your full heart.
Are there any other projects you are working on and at liberty to speak about?
There's a small but exciting thing for the Requiem Dark series that I hope to announce soon! I also have a dark fantasy and a science-fantasy project in the works, both with queer lead characters. I hope to share those with readers someday.
Finally, what LGBTQ+ books/authors would you recommend to the readers of Geeks OUT?
A few recent faves are Hell Followed With Us by Andrew Joseph White, Iron Widow by Xiran Jay Zhao, The Midnight Lie by Marie Rutkoski, Legendborn by Tracy Deonn, and The Atlas Six by Olivie Blake.