Mari Costa is a Luso-Brazilian cartoonist with a bachelor's degree in Character Animation. She's in love with creating stories and populating them with people who have very messy interpersonal drama. Some of her work includes Life of Melody, The Demon of Beausoleil, and Belle of the Ball.
I had the opportunity to interview Mari, which you can read below.
First of all, welcome to Geeks OUT! Could you tell us a little about yourself?
Happy to be here! I'm Mari! I'm luso-brazilian, currently based in Porto! I love fashion, cute things, the colour pink, telling stories and making people happy! My Sun is in Cancer.
What can you tell us about your latest project, Belle of the Ball? What was the inspiration for this story?
There wasn't so much a concrete inspiration as there was just the desire to play around with familiar tropes and character archetypes and make them my own! I got the idea in my head during a family holiday that I wanted to make characters that represented different high school stereotypes and from doodling them in my sketchbook and putting them in all kinds of situations I eventually developed them into something that could later be shaped into a fully-fledged story with an actual plot and stakes and all that stuff!
Can you give us any trivia (that hasn't already been given) about the characters from Belle of the Ball?
Ooh! Now you're asking the right questions, I love random character trivia! Let's do one for each.
Gina is the oldest of the girls! At the beginning of the story, she's the only one of them who is already 18 (Belle and Chloe turn 18 as the plot progresses, though I couldn't tell you their exact birthdays without doing some very deep thinking ahaha). This is mostly reflected in how she assumes she's the most mature person in the room at any given time.
Chloe speaks fluent Japanese (don't ask her to read or write it, though), but because the only people she communicates with in it are her grandparents and she doesn't consume a lot of untranslated media her dialect is super stiff and formal.
Belle actually has been in a lot of different clubs along her high school career. She's been in creative writing, anime, yearbook (to get closer to Regina, which she failed at) and D&D. However, you will not find a single scrap of photographic proof of any of this having taken place.
Also, everyone is welcome at any time to shoot me an ask on tumblr or an email if they want specific character trivia. I love ruminating on my little paper dolls.
As a creative, what drew you to the art of storytelling, particularly to the realm of comics/graphic novels?
You'd be surprised at how much easier it is to draw a background or character than it is to describe it. I've managed to transition into prose over the past couple years, but for most my life I really struggled with description when writing while dialogue always came to me very naturally. From then, I could either get into scriptwriting for radio (prohibitively difficult for a Brazilian preteen) or I could copy my favourite mangakas and draw little comics in my roughed up sketchbook. I chose the latter and the rest is history!
How would you each describe your creative process?
Vaguely chaotic and mostly inside my head unless I truly need to commit it to paper ahaha.
In general, I'm a pretty visual and visceral person, so I keep my notes extremely brief and extremely undecipherable to most people but myself and some keen-eyed editorial until it's time to actually start drawing. I know a lot of people write scripts before they lay out their pages for comics, but I just can't do it without becoming verbose or forgetting about the visual minutiae that's meant to make comics so engaging!
As a creative, who or what would you say are some of your greatest creative influences and/or sources of inspiration?
Everyone says this, but it's for good reason! I'm greatly inspired by Ghibli movies and magical girl/fantasy anime. My favourite author is and will forever be Diana Wynne Jones. As for comics, manga did play a big role in my personal development as an artist and I'm forever grateful to names like CLAMP and Peach-PIT especially, but if it weren't for Gigi DG's Cucumber Quest webcomic, I don't think I'd be giving this interview today.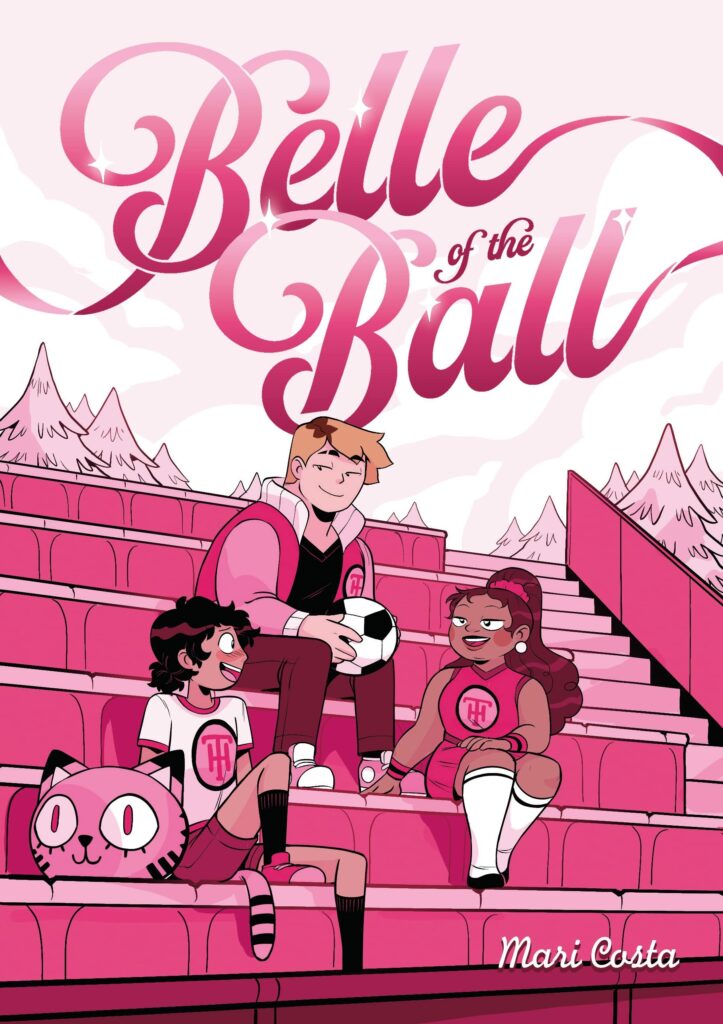 This might be a bit of a call back, but an older work of yours I've really enjoyed in the past was your comic, Life of Melody. Could you talk to us about the inspiration for that story?
I swear to the high heavens this is true: I watched Kung Fu Panda 3 and got unreasonably mad it wasn't more about the odd couple co-parenting between Po's two dads.
That's it. That was the inciting incident that made me want to write about an odd couple who's forced to co-parent a child and eventually develop a blossoming romance.
Growing up, were there any stories in which you felt touched by/ or reflected in? Are there any like that now?
Hmm, this is a tough one. I don't think so, off the top of my head? Not that there weren't any stories out there about lesbians or growing up the awkward, nerdy kid, but I can't remember deeply resonating with anything I had access to! I've always loved stories, but mostly it's been as a third party observer into a window of different experiences (which is also good! You don't have to relate to works all the time!).
Currently, though, there's so much more on the market that seems catered specifically to the kind of person I am and would like to see in media, it's really heartwarming! One recent example is I read the first couple volumes of She Loves to Cook and She Loves to Eat and it really tugged at my gay little heartstrings how much of a dream relationship the main couple has! I, too, like to cook (and frequently, I like to eat. We contain multitudes).
What are some of your favorite elements of writing/illustrating? What do you consider some of the most frustrating and/or challenging?
I just love drawing people! Character work is some of the most rewarding kind of work I can do! I love drawing bodies and faces acting and emoting. For that same reason, when writing, dialogue is my favourite part! Honestly, my dream project to work on would actually be a character illustrator for a visual novel (please get at me).
On the other hand, if I never have to draw a car again, it'll be much too soon. I'm pretty awful at giving inorganic environments/objects a personality. I have heard practice makes perfect, though, so I might give that a shot sometime.
Aside from your work, what are some things you would like readers to know about you?
Oh, but isn't an aura of mystery just so much more appealing?
What's a question you haven't been asked yet but that you wish you were asked (as well as the answer to that question)?
Yes, I would love a million dollars.
(Alternatively: I think lesbian media should be allowed to be way more messed up than it is, as a treat.)
What advice might you have to give for other creatives?
Everyone knows all the platitudes about doing what you love and sticking to your guns, so here's something more practical: It's better to have a finished work than a perfect WIP that lives inside your head. Especially if you're like me and crave validation. It's okay to cut corners and it's okay if some parts of your work look messy or rushed, so long as you've managed to put out something that you're overall proud of sharing at the end of the day!
Also, stay hydrated.
Are there any other projects you are working on and at liberty to speak about?
When am I not working on other projects! I'm very much a storytelling shark in the sense that I'm pretty sure if I ever stop allowing stories and concepts to run around the hamster wheel in my brain I'll shut down entirely.
That being said, my current darlings are The Demon of Beausoleil, which you can find being crowdfunded by Hiveworks right now and is an M/M gothic story about a half-demon exorcist and his reluctant bodyguard exorcising baddies around their city.
Forgive-Me-Not is a bit more distant in the horizon, but it's another graphic novel being published by First Second about a changeling and the princess she's replaced at birth working together to prevent a political coup.
And next year I'll be coming out with my first ever Big Words Prose Novel called Shoestring Theory, about a royal wizard who goes back in time to stop his husband, the king, from becoming a despot (by murdering him). A real eclectic mix!
Finally, what LGBTQ+ books/authors would you recommend to the readers of Geeks OUT?
She Who Became the Sun and The Darkness Outside Us are two books I've read recently that changed my brain chemistry so completely I'll be seeking compensation for emotional damages. If you're looking for recent comic reads, The Moth Keeper and A Boy Named Rose also come highly recommended from yours truly!