Melissa See is a disabled author of young adult contemporary romances. When not writing, she can be found reading, baking, or curled up with her cat, most likely watching anime or 90 Day Fiancé. She currently lives in the New York countryside. You, Me, and Our Heartstrings is her debut novel.
I had the opportunity to interview Melissa, which you can read below.
First of all, welcome to Geeks OUT! Could you tell us a little about yourself?
Hi! Thank you so much for having me. I'm Melissa See, the author of You, Me, and Our Heartstrings and Love Letters for Joy. I write young adult contemporary stories the feature disabled teens falling in love, being messy, and being loved for exactly who they are.
What can you tell us about your latest book, Love Letters for Joy. What was the inspiration for this story?
Love Letters for Joy follows seventeen-year-old Joy Corvi—a fat, disabled, queer girl—who wants to become the first disabled valedictorian of her elite New York City prep school. She just has to beat Nathaniel Wright, her academic rival of the last four years. But when she realizes that she may have missed out on having a high school romance, she reaches out to her academy's anonymous love-letter writer known as Caldwell Cupid. But as she begins falling for the mysterious student behind the letters, she might be risking her dreams at valedictorian—as Caldwell Cupid is the last person she ever would've expected.
The inspiration for Love Letters for Joy came from Cyrano de Bergerac—which is also why Love Letters for Joy is a retelling of the play. Me writing a Cyrano retelling was completely unintentional, but when my friend made me realize I had, I decided to really delve deeply into aspects of the play: love, withheld identity, and letters being the strongest aspects I drew from.
As a writer, what drew you to the art of storytelling, specifically young adult fiction and romance?
Well, I knew that I wanted to be a writer by the time I was just seven years old. (Spending summers going up and down the east coast while my sister was on a traveling softball team, I carried bags of books with me wherever we went.)
As for young adult fiction and romance, when I read Anna and the French Kiss by Stephanie Perkins, an entire new world had opened up before me. I knew that writing young adult romance, specifically, was absolutely something I wanted to do. (The love confession scene at the end of Anna and the French Kiss remains one of my favorite scenes in all of fiction.)
As an aspec reader, I was really excited to read about another ace book coming out into the world. If you feel comfortable, could you tell us what having asexual and disabled representation in your writing means to you?
Thank you so much! Having asexual and disability representation in my books means a lot to me. Growing up, there really weren't a lot of books that included disabled characters—or queer characters—so I am elated to see that representation increasing. In providing both disability and asexual representation through Love Letters for Joy, I'm hopeful that readers will get to see themselves reflected in the pages of a book in a way I didn't get to growing up.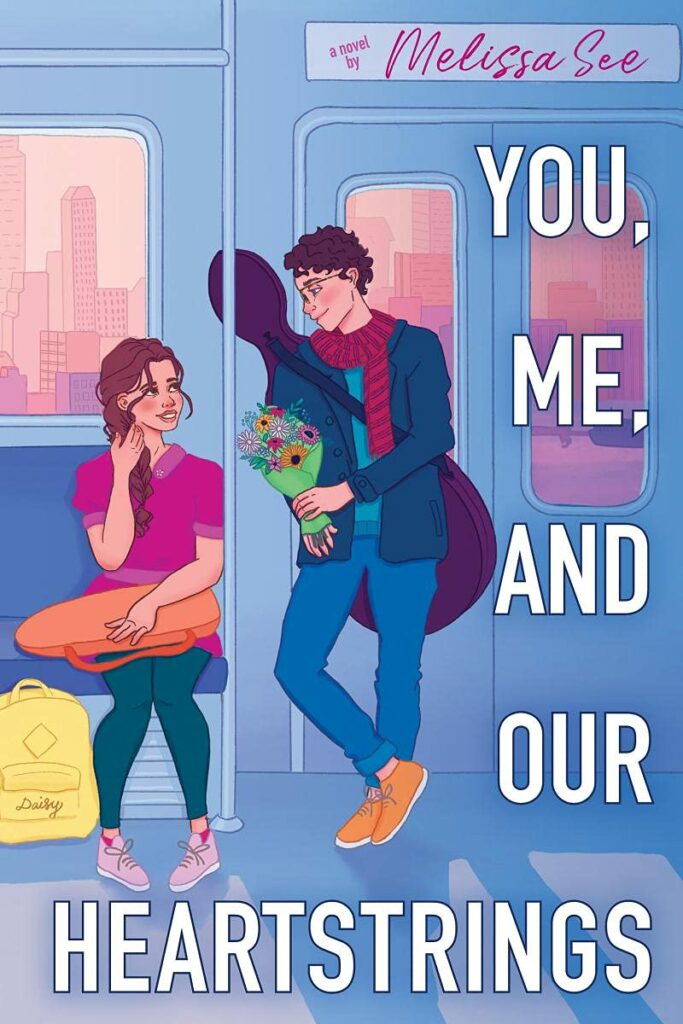 How would you describe your creative process?
I genuinely do not have a creative process. I write whenever I can and try not to put pressure on myself. (Such as not needing to write every day, especially if I don't have the spoons to do so.)
As a creative, who or what would you say are some of your greatest creative influences and/or sources of inspiration?
Some of my greatest creative influences are authors whose books I love, such as Jonny Garza Villa; David Levithan; Emily Lloyd-Jones; Jen DeLuca; Brian D. Kennedy; Daniel Aleman; Andrew Joseph White; and Stephanie Perkins (who I mentioned previously). I also just recently finished Into the Light by Mark Oshiro, which I loved.
Growing up, were there any stories in which you felt touched by/ or reflected in? Are there any like that now?
As far as stories I'm touched by now, the first one that comes to mind is The Spirit Bares Its Teeth by Andrew Joseph White. It's an incredible gothic young adult horror that tackles ableism and transphobia in such a brilliant way. Getting to see Silas' autism on the page and having it remind me of my own experience being autistic was something I'd never had up until I read this book. It comes out in September, and I cannot recommend it enough.
What are some of your favorite elements of writing? What do you consider some of the most frustrating and/or challenging?
My favorite element of writing is character creation. It's one of my favorite aspects of anything creative I get to do. It's this awesome place of endless possibility, and I love exploring it.
I think the most frustrating element of writing for me is when I can't figure out how to work a plot. A large part of that is me being a character driven writer. But talking to my author friends about that helps immeasurably!
One of the hardest parts of writing a book is finishing one. Were there any techniques/ strategies/advice that helped you finish your first draft?
I didn't use any techniques or strategies to finish my first draft of Love Letters for Joy, as writing it was a whirlwind. (I'd been moving to New York City during a good amount of it, so a lot of the process has become a blur to me.) Writing as much of it as I could, whenever I could, but also knowing how to balance myself, was what helped me the most, I think.
Aside from your work, what are some things you would like readers to know about you?
I've been involved in performance spaces—from music to theatre—for most of my life. And now, I'm a TTRPG performer. What that means is I appear on Twitch streams to perform in actual plays of different TTRPG systems. Having a creative outlet like this has been such a joy!
What's a question you haven't been asked yet but wish you were asked (as well as the answer to that question)?
Question: Without giving spoiler-filled context, what was one of your favorite scenes to write in Love Letters for Joy?
Answer: The Valentine's Day scene. It's one of the earliest moments of romantic tension, which are some of my favorite parts of any story I get to write.
What advice might you have to give for other aspiring writers?
One of my biggest pieces of advice is: You don't need to write every day. Write when you have the spoons to do so.
Are there any other projects you are working on and at liberty to speak about?
I'm currently drafting a young adult contemporary that can best be described as Dungeons & Dragons meets Paper Towns. It follows a group of friends—bonded together by a fantasy TTRPG—who embark on a cross-country road trip to find their Game Master when he goes missing.
Finally, what LGBTQ+ and/or disabled books/authors would you recommend to the readers of Geeks OUT?
Ander and Santi Were Here by Jonny Garza Villa; Hell Followed with Us by Andrew Joseph White (which has both disability and LGBTQ+ rep); A Little Bit Country by Brian D. Kennedy; The Bone Houses by Emily Lloyd-Jones; and Into the Light by Mark Oshiro.