New York Times Bestselling and award-winning author, Claribel A. Ortega is a former reporter who writes middle-grade and young adult fantasy inspired by her Dominican heritage. When she's not busy turning her obsession with eighties pop culture, magic, and video games into books, she's co-hosting her podcast Bad Author Book Club. Claribel is a Marvel contributor and has been featured on Buzzfeed, Bustle, Good Morning America and Deadline.
Claribel's NYT Bestselling debut middle-grade novel Ghost Squad is being made into a feature film. Her latest book Witchlings (Scholastic) was an Instant NYT and #1 Indie Bestseller. Her graphic novel Frizzy with Rose Bousamra was the winner of the 2023 Pura Belpré Award for Children's Text and an Indie Bestseller. You can find her on Twitter, Instagram, and Tiktok @Claribel_Ortega, on Twitch as Radbunnie.
I had the opportunity to interview Claribel, which you can read below.
First of all, welcome back to Geeks OUT! How have you been?
Thanks! I've been great, busy working on more books, and had a good summer. 
What can you tell us about your latest book, Witchings: The Golden Frog Games?
The Golden Frog Games takes place a few months after the events of the first Witchlings book, and centers a magical olympics called The Golden Frog Games. Thorn is the first ever Spare to be a competitor but someone is turning her competition into stone and it's up to the Witchlings to figure out who it is before Thorn is next! The stakes are bigger than book one, there are first crushes and new characters and we get to see all the Coven Houses too. 
As an author, what drew you to the art of storytelling, specifically middle grade and speculative fiction (especially witches)?
I've always loved fantasy and the potential for exploring real world issues through the lens of magic. Witches are the perfect vehicle for the stories I want to tell too, because historically they've just been people who were responsible for healing and helping those in need but were villainized for being different or misunderstood or just for being women. All of my books center the perspectives of women, and marginalized people so in a fantasy world witches really embody that experience. Writing middle grade fantasy is so much fun, and for me feels really comforting. There's something special about a cozy town with adorable animals that has an undercurrent of danger just beneath the surface. It's those kinds of stories that spoke to me as a child, so I think that's why I'm drawn to write them as an adult. Also, my readers are the best. They are funny, and kind and ready to believe whatever wacky scenario I throw at them. Middle grade readers are willing to go along on the adventure with my characters and root for them no matter how weird they are.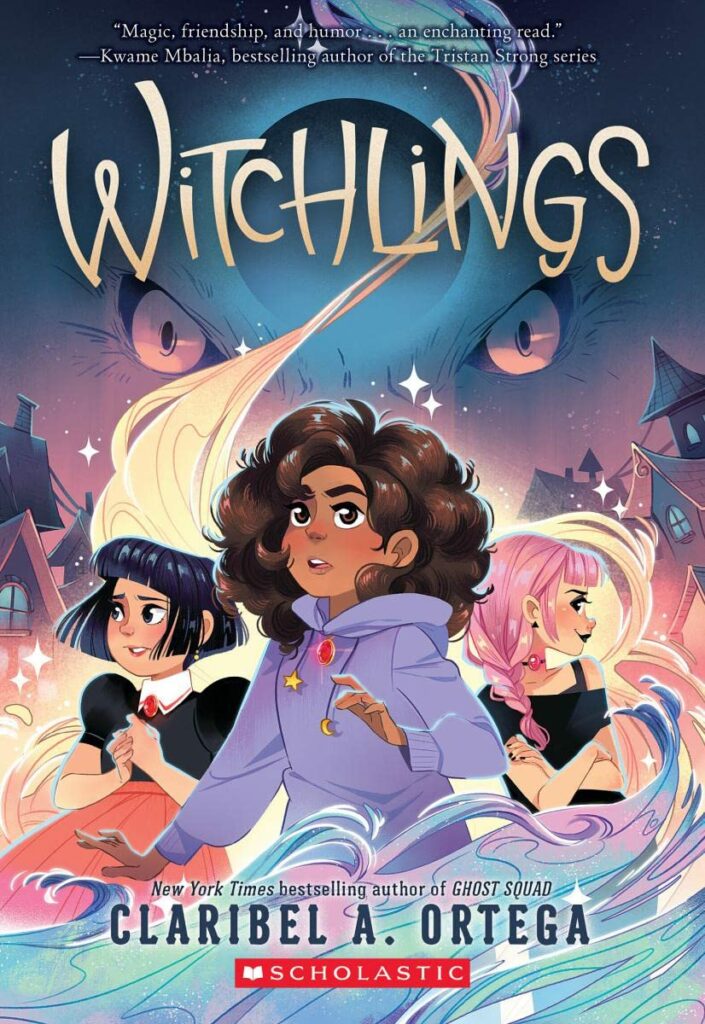 As a writer, you have spoken a bit about featuring Dominican and queer representation in your book, from your fantasy novels to your debut graphic novel, Frizzy. Could you speak a bit here about what representing those elements mean to you as a author?
I am just writing my honest experience which I think is important. Kids know when you're talking down to them or keeping things from them, and while I always make sure that my books are appropriate for the ages I write for, I think writing about the world as it really is with all the diversity that entails is my job as an author. After all, being Dominican and queer are things that represent me, I shouldn't have to keep my own existence from my books.
As a writer, who or what would you say are some of your greatest creative influences and/or sources of inspiration in general?
I have quite a few! I always say that I aspire to write something as powerful, funny and perfect as Little Shop of Horrors, haha, so that's my North Star. In terms of writers, Diana Wynne Jones, Lin Manuel Miranda, Leigh Bardugo and Gregory Maguire are big ones. I'm always inspired by my own life too, the things I love to do (like play video games) the music I listen to, or just my experiences are all sources of inspiration for me.
What are some of your favorite elements of writing? What do you consider some of the most frustrating and/or difficult?
I adore character creation and world building. It's been so much fun for me to make up systems and monsters and pop culture in the Witchlings series. Writing on deadline is super challenging for me! I love taking my time with stories, and a lot of my writing process is about daydreaming and thinking about the story to let things come to me but I don't get to do that as much while on deadline and it's a bummer.
What's a question you haven't been asked yet but that you wish you were asked (as well as the answer to that question)?
I would love to be asked more questions about the content of the Witchling series versus just the representation or diversity angle. I think oftentimes marginalized authors get looped into talking about diversity over and over again so our books get seen as a lesson to be learned rather than a story to enjoy. The Witchlings series is about friendship, and political turmoil and the nature of monstrosity– who gets called a monster versus who is really doing those monstrous things. I would love for people to know that despite the very adorable cover of the books, the core story is a dark one with parallels to many of our real world social and political issues. The ultimate message of the Witchlings series is about the power of community and how self-efficacy doesn't have to come at the cost of that community.
What advice might you have to give for other aspiring writers?
Focus on the words. Don't get caught up in stats about querying, or what everyone else is doing on social media, focus on the words and your craft and being the best storyteller you can be.
Are there any other projects you are working on and at liberty to speak about?
The third Witchlings book will be out next year, so I'm busy working on that and there is another graphic novel in my future which I will hopefully be able to talk about soon. 
Finally, what LGBTQ+ books/authors would you recommend to the readers of Geeks OUT?
Definitely check out Small Town Pride by Phil Stamper and In The Key of Us by Mariama J. Lockington!