Liselle Sambury is a Toronto-based Trinidadian Canadian author. Her brand of writing can be described as "messy Black girls in fantasy situations." She works in social media and spends her free time embroiled in reality tv because when you write messy characters you tend to enjoy that sort of drama. She also shares helpful tips for upcoming writers and details of her publishing journey through a YouTube channel dedicated to helping demystify the sometimes complicated business of being an author. I had the chance to interview Liselle, which you can read below.
Congratulations on your debut! Can you tell us a bit about your upcoming book, Blood Like Magic?
Blood Like Magic is about a family of Black witches living in a near future Toronto, and in particular, sixteen-year-old Voya Thomas who is given the horrifying task of either killing her first love or losing her family's magic forever.
What drew you to writing? Do you remember the first stories/authors that inspired you to write or simply strengthen your love of reading?
There wasn't anything specific that drew me to writing, I just wanted a way to vent my feelings and tell stories that distracted me when I was having a hard time, and writing ended up being that medium. I honestly didn't even read much. I volunteered in the library in elementary school because I wanted to be indoors during recess. I was that kind of kid. But I did love to go to the public library, and I would basically pick out anything that interested me. I was a big fan of the Saga of Darren Shan which was a gruesome vampire series. I devoured those books so it's not surprising that I hopped right on the Twilight train when it came around.
As a writer, where do you find your sense of inspiration and what sources do you draw on to refresh your creativity?
I find that books, TV shows, and movies are fantastic fuel for my inspiration. Books so often make me think 'wow I wish I could write something like this' and spur me on that way because I'm so invested in trying to create an experience like that, or, like in the case of Blood Like Magic, trying to add to an experience I didn't get when I was younger. With TV Shows and movies though, it's often that there's an aspect unexplored that nags at me, and I have to write that unexplored premise. Anime is usually where I discover a lot of different ways of telling a story that I've never seen or heard of. Some anime just blows my mind with the sorts of narratives they weave, and that's also incredibly inspiring.
Your debut book is said to feature a magic system with strong New Orleans roots. Could you tell us something about that?
The magic in the book doesn't draw from anything existing in New Orleans purposely because I truly don't know enough about those cultures and that history. Those practices that have real ties and significance in that region, and I don't know enough to write it into my work. However, I was familiar with some of the historical events during the period of slavery that happened in New Orleans when it was the U.S. Territory of Orleans. The particular event that stuck out was the revolt that occurred nearby, led by slaves in sugar plantations. With the combination of the history within slavery and of African folk magic in that area, it just felt like the right place for the Thomas witches have ancestors from.
I actually tried to dig into my ancestral history to see if I could pinpoint where my ancestors were from when they were slaves in the U.S. to use that location, but due to the nature of colonialism and records, I unfortunately wasn't able to find anything.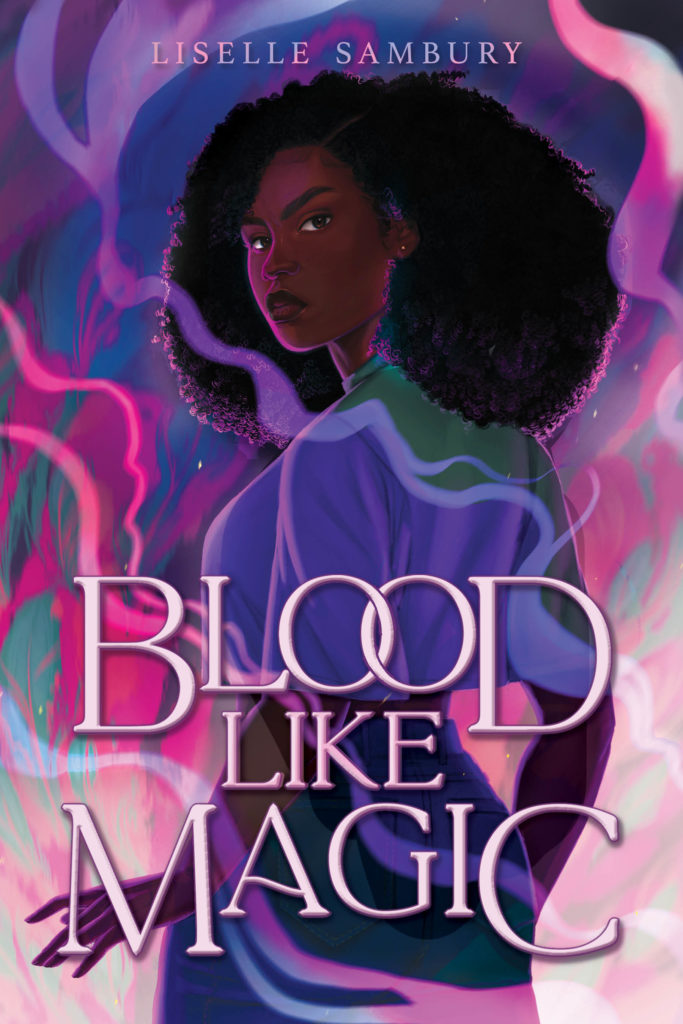 Your protagonist, Voya Thomas, comes from a Trinidadian-Canadian background like yourself, correct? Was it always your intention to have this aspect mirrored in your fiction, and what are your thoughts on Caribbean representation in the YA world today?
I had always intended to write Voya as Trinidadian-Canadian because I really wanted to put that experience into a story. Prior to Blood Like Magic, I hadn't explored that in my fiction and thought it would be fun to show that experience. I was truly putting a lot of myself into the story and that's such a huge part of me.
I think we're starting to see more Caribbean rep in YA now which is really exciting like Witches Steeped in Gold by Ciannon Smart and Where The Rhythm Takes You by Sarah Dass, which are both coming out this year. I haven't read a lot of stories with Caribbean rep in YA so I'm really happy to add my voice. Especially within a Canadian context because I find that to be less common in YA as well.
Since Geeks OUT is a queer centered website, could you tell us a bit about the LGBTQ+ characters that will be featured in your book, including the main character's love interest who is a trans man?
Of course! Luc, the love interest is trans man and he's my snarky genius. Voya's cousin Alex is a trans woman, and she's the fashionista of the family with a talent for sewing and design. Voya's other cousin Keisha is lesbian and demiromantic, does modelling part-time, and never holds back her opinion. Johan is the head of a family with close ties to the Thomases and he's gay. One of his sons, Topaz, is also gay, but it's not explicitly said until the second book.
Aside from witches, are there other magical/mythological/ spiritual backgrounds you are drawn to?
I am a big fan of ghosts which is hilarious because I'm actually really fearful of death and have no desire to ever experience a ghost sighting. But I think there's something super intriguing about the idea of unfinished businesses and the world beyond death that can be explored in really interesting ways. I loved Watch Over Me by Nina LaCour because she took the idea of ghosts and created a completely unexpected story that was so beautiful.
What's a question you haven't been asked yet and wish you were asked (and your answer to that question)?
I don't actually think that I've asked who the easiest and hardest character to write were, but I love that question. I have found that Voya is the hardest for me to write because I frequently struggle with getting her motivation as a character just perfect, and it's hard to make a character who has difficulty with decisions active in the narrative. I'm so dedicated to telling her story right that I tend to spend a lot of extra time with her. On the flip side, I find her cousin Keisha the easiest and the most fun to write. I have no idea why. I think she just asserted herself as a character with a really strong voice and so it just flows. I absolutely love her.
Are there any other projects or story ideas you are currently nursing and could tell us about?
Right now, I'm working on my first novel-length adult project which is currently uncontracted. It's going to be a horror, but no ghosts this time. It'll edge on thriller and include discussions about toxic workplace environments and culture.
What advice would you give for writers who are exploring their own creativity and looking to step up their game?
I would highly recommend reading and writing craft books. That's something that I do a lot even now and there's so much you can learn from them. And I would say to read a variety because you may find some you agree with that work for you and some you don't. They also often have exercises that you can do to experiment with your writing and find what works best for you. I just find that guidance to be so helpful.
Finally, what are some LGBTQ+ stories you would recommend to the readers of Geeks OUT?
I would definitely recommend Cemetery Boys by Aiden Thomas which is about a trans brujo who accidentally summons a ghost who won't leave. A Dark and Hollow Star by Ashley Shuttleworth about four queer fae teens solving a murder mystery (also set in Toronto!). Sweet and Bitter Magic by Adrienne Tooley which is a fantasy about a girl cursed to live without love and a girl trying to save her father who makes a bargain. And finally, Surrender Your Sons by Adam Sass which is about teens escaping from a conversion camp and has such an amazing use of atmosphere and dread.