Alechia Dow is a former librarian and pastry chef living abroad with her partner in Germany. When she's not writing, you can find her having epic dance parties with her daughter, baking, reading or taking teeny adventures around Europe.
I had the opportunity to interview Alechia, which you can read below.
First of all, welcome to Geeks OUT! Could you tell us a little about yourself?
Hello! Thanks for having me! My name is Alechia Dow, and I'm the author of The Sound of Stars, The Kindred, Just a Pinch of Magic, a couple of short stories, and more to come. I'm also a former pastry chef, and youth services librarian.
How and when did you know you were first interested in writing, and what drew you specifically to young adult fiction and speculative fiction?
I started writing very terrible stories when I was five years-old. My teachers would write reports home that I wasn't paying attention in school, but they liked my creativity. I wrote stories about cats in trees and one called Princess in a Jar, where a princess was––you guessed it, trapped in a jar by a wicked sorcerer, ha! Truthfully, though, it was the town library that inspired me the most. I considered the town library my home and the librarians my friends. One day I was going through their MG/YA section and I stumbled upon X-Men comics. I devoured them. I fell in love with the themes, the characters and especially the powers. From there, I read Star Wars books, R.L. Stine, anything compelling, but almost always scifi-fantasy. After baking school, I went into library science, specifically for teens. I've always felt that the library and books saved me and that MG/YA fiction is *the* place to inspire a lifelong love of reading. When I started writing stories again, that's where I found my voice and where I thought I had something to contribute. And I have to say, it's an absolute privilege to write in this age group and about children and teens. I know how impactful a good book can be at that age, and I hope, somehow, my books inspire compassion, empathy, and future writers!
How would you describe your general writing process?
Straightforward, ha! I sit down and I write. I have a clear idea of what I'm doing or what I'd like to accomplish and I do it. Also, I stay excited about my projects, I visualize them like movies. As I see particular scenes unfold, it not only helps me write them, but also get really pumped about the overall story. Basically, I get excited, I visualize, down to as many details as I can, and then I write it. Sometimes I'll outline, but not until I'm about 3-4 chapters in.
Where did the inspiration for your first book, The Sound of Stars come from?
The Sound of Stars was that book that just felt right to write. Out of nowhere, I was inspired by the idea of a secret, illegal library. Which got me to thinking, why is it illegal? And then it evolved over the course of a long walk into a story about a rebel librarian and an alien who loves music. This is often how my mind works, one minute I have a fragment of an idea, and the next, it's a full-fledged plot bunny that I tend to follow on the page.
Also, as an aspec reader, I'm always grateful for more asexual/demisexual representation in books! Would you mind discussing what it was like bringing that representation to the page?
I think writing elements of my own identity is really natural, almost easy. Sharing it with the world, though, is the difficult part! It's so important to be inclusive and to give meaningful, unharmful representation, but my brain is constantly worried that someone might read that and be upset that their experiences weren't similar. Or it doesn't resonate with them. At the same time, I couldn't imagine writing another way. So to answer your question, bringing that representation to the page means the world to me and I love writing it, but I also try to be very careful and thoughtful about how I approach it.
In addition to demisexual rep, you'd mentioned in other interviews how personal your writing was to you in terms of reflecting Black and body diverse characters. Would you mind speaking a little about that?
Growing up Black and fat, there weren't a lot of characters that looked like me, or experienced the world like I did. And some of those that did were villains, dehumanized, and hated. When I finally saw myself on the page in a non-harmful way, that was huge for me. I felt less alone. I felt seen and heard. It inspired me. Now when I write characters––most of my main characters are Black, fat, queer, brown, experience mental or chronic illness––I take a loving approach to it. I want my readers to feel proud of who they are and their bodies. I want them to see people like us being the main love interest, having adventures, saving the world, and living their best lives not despite their identity, but because of who they are.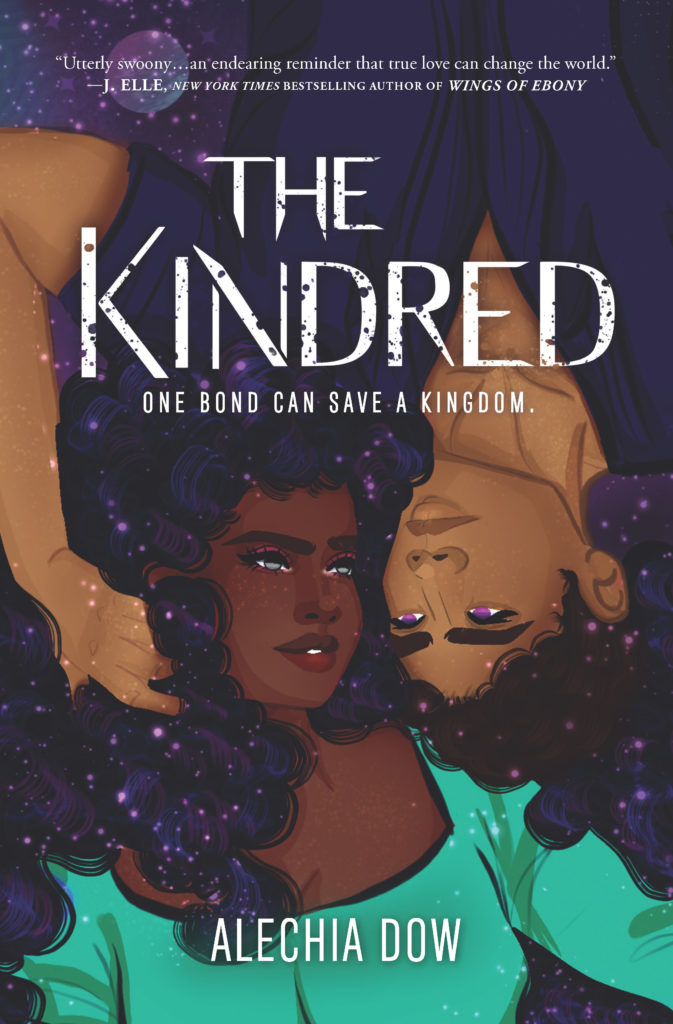 What can you tell us about your upcoming book, The Kindred and its inspiration?
The Kindred is a story about mind-linked grumpy duke, Felix, and commoner sunshine Joy, after they flee their home when they're accused of murdering the royal family and crash-land on Earth. It is a love story that explores what it means to be connected when everything and everyone tries to keep you apart. I loved that aspect of Sense8; being mentally paired with someone across the world (or universe) and how this would make you feel as if you're never truly alone. That you're seen and loved for who you are by someone you've never truly met. It was a pleasure to write.
From what I gather, food is also a big part of your books and your life as a baker. What yummy foods would you say will be featured in your writing, and what are some of your favorite things to make IRL?
Being able to combine my two careers (three?) is such a cool thing. Becoming a professional pastry chef was intense and taught me a lot about sensory details which honestly helps so much when I write about food. Whether I'm featuring a can of sweet baby carrots in The Sound of Stars or chocolate covered raisins in The Kindred, I get to have fun with how characters engage with food and describe it. In Just a Pinch of Magic, I got to include some of my favorite recipes like Should-Be-Famous Hot Chocolate and Ooo-Girl-You're-In-Trouble Chocolate Chip Cookies! In real life, I'm always darting between the kitchen and my computer. I love making time-stealing masterpieces like baked Alaskas (making homemade ice cream is my favorite) and developing recipes for simple sweets like chocolate glazed doughnuts, apple scones, or new types of pie. It's an absolute joy.
What advice would you give to other aspiring writers?
Keep writing, even when it's hard. Find your people. Find CPs who understand your work, and you can trust with a piece of your heart. Find friends who you can trust with your anger and who make you feel good even when you lack self-confidence. Celebrate every opportunity that comes your way. Don't be afraid to ask for help, but be prepared to get it, and not in the ways you always want. Stay excited about your work. And lastly, don't compare yourself to anyone else and JUST KEEP WRITING. Rejections will come and they'll make you doubt yourself, your writing, and your future…but if writing makes you happy and you have a story you want to share with the world, please write it. There's so much in the publishing industry you can't control, but the one thing you can do is write.
Aside from writing, what are some things you would want readers to know about you?
I think my writing tells a lot about me already, haha! Let's see, I have a dog named Biscuit, I'm a mom to a very opinionated (the love of my life) eight-year-old, I will travel for food, and I listen to music probably as much as I write and bake!
What's a question you haven't been asked yet, but wish you were asked (as well as the answer to that question)?
Q: If The Kindred was a cookie, which one would it be? A: The Kindred is a story about love, friendship, and finding harmony. So I would say it's a raspberry linzer cookie; the linzer dough doesn't taste all that great on its own but paired with tart raspberry jam and sprinkled with a little cardamom & cinnamon sugar, it's beautifully balanced. Like Joy and Felix, they go better together than apart.
Can you tell us about any new projects you are working on and at liberty to discuss?
Just a Pinch of Magic, my middle grade debut, comes out in Fall 2023. It's a magical foodie book that is so much fun and has a big piece of my heart! I'm currently working on more YA scifi, middle grade mystery, a foodie paranormal YA, and so much more. I stay busy, lol.
Finally, what LGBTQ+ books/authors would you recommend to the readers of Geeks OUT?
I love Claire Kann's Let's Talk About Love, MK England's Disasters, Rebecca Coffindaffer's Crownchasers & Thronebreakers, everything Kalynn Bayron writes, Lora Beth Johnson's Goddess in the Machine duology, Claire Winn's City of Shattered Light, Aiden Thomas' Cemetery Boys, H.E. Edgmon's The Witch King, and Adiba Jaigirdar's collected works as well. I have so many more!!