Victoria Grace Elliott is the creator of the webcomic Balderdash! or, a tale of two witches. Yummy: a History of Desserts is her debut graphic novel. She's a queer Southern illustrator & comic artist living in Austin, Texas.
I had the opportunity to interview Victoria, which you can read below.
First of all, welcome to Geeks OUT! Could you tell us a little about yourself?
Thank you! I'm Victoria Grace Elliott, a comic artist living in Austin, Texas. I'm the author of Yummy: A History of Desserts and its follow-up, Yummy: A History of Tasty Experiments! And hopefully many other comics down the line.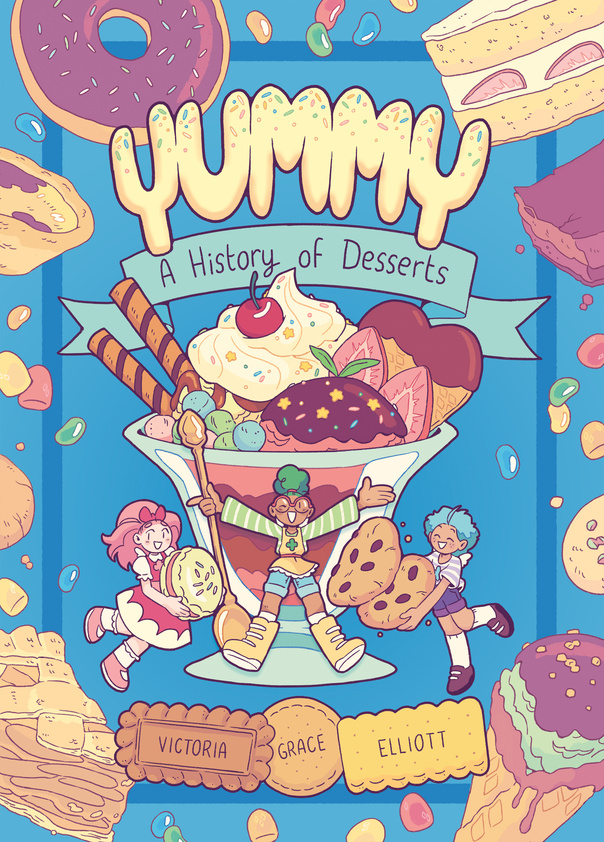 How did you find yourself getting into comics? What drew you to the medium?
I've always been a storyteller at heart, and I've always loved drawing. There's a lot of ways that can manifest, but comics felt like the most natural conclusion to me since I was pretty young. I gravitated toward any comics I could find, even if they weren't really in my age range, like a lot of the manga that came out in the 80s and 90s, haha.
How would you describe your creative background/ artistic education? And how did you develop your gorgeous style?!
My family is very into art and movies and writing and music, so that was really the backbone of my education! As an art teacher, my mom had all kinds of art materials, and she was big into the crafting that was popular in the 90s. I feel like between her painting, crafts, and decorating, I picked up a lot about color in particular. And as a movie buff family, I was watching all kinds of stuff, which, like the manga, may have been a little over my head, but inspired me nonetheless.
Since my family was such a rich environment for it, this all really encouraged me to take my art seriously, even if just as a hobby. I went to college for Linguistics at the University of Texas, but eventually I found my way into the Radio-TV-Film department, where I learned a lot about media analysis and saw even more kinds of movies and television. Soon after, I joined the comics staff at our student newspaper, The Daily Texan, where a lot of other people from all kinds of departments–art, English, you name it–wanted to hone in on their comics skills. This is really where my comics education flourished. I feel as though our styles of art and storytelling all bounced off each other and our influences.
So yeah, it's always been a lot of self-teaching and community-teaching for me! It's hard to describe since it's such an organic process, but it's like: Oh, this person is drawing this way, I want my art to look like theirs. At other times, it's the opposite: I want my art to be distinct from theirs in this way. As time goes on, you naturally come into your own style.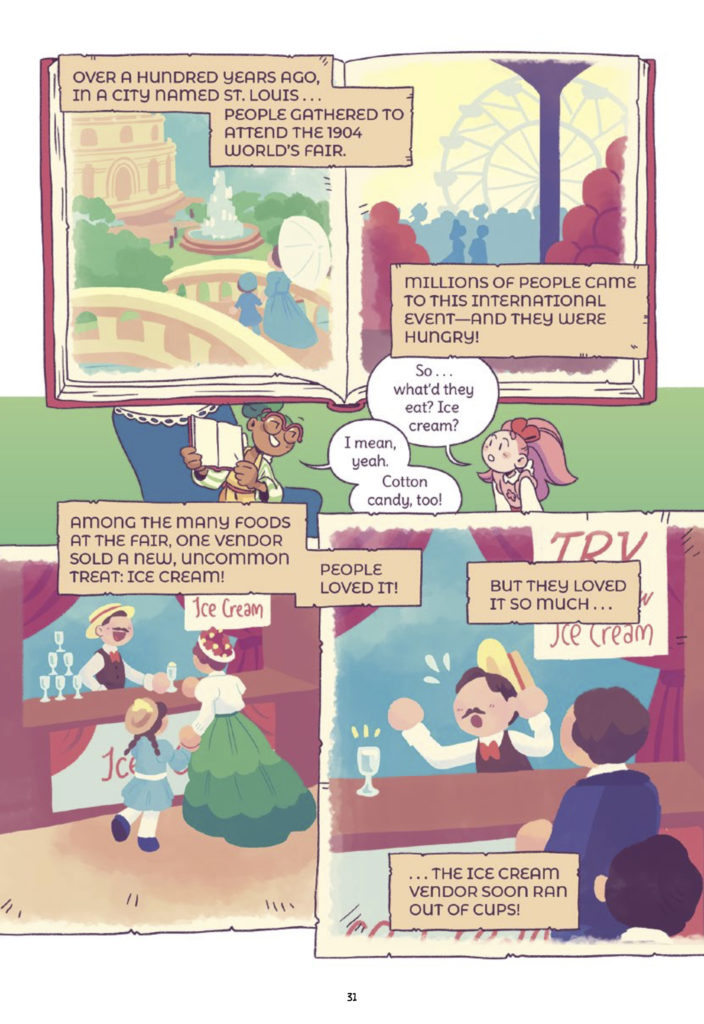 Where did the inspiration for your latest book, Yummy: A History of Desserts come from?
Truthfully, the inspiration came from Gina who started the Random House Graphic imprint herself! I was interested in pitching to RHG, but had so many ideas I didn't know where to start. In a huge stroke of luck, my agent, Steven Salpeter, had a meeting with her and picked her brain about the kinds of work she'd be interested to see, the key one being a comic about food history!
As I mentioned before, I studied at UT, and I wrote a lot of research papers. As time went on, it had kind of evolved into writing essays about comics and comics as essays. In other words, I felt so prepared for this! I loved synthesizing stuff like that, testing the limits of what a comic could be. After some workshopping, I came up with the pitch for A History of Desserts, featuring three narrator food sprites and a chapter format!
What would you say are some of your favorite desserts (and are any featured in Yummy)?
Of the desserts featured in Yummy, I love mochi ice cream, egg tarts and drop cookies! Those are some of my all-time favorites! I also really love custard-filled sweets, mousse, and light yellow cake with fresh fruit and whipped cream. Sadly, those didn't make the cut, but they're truly my go-tos.
As an artist, who or what would you say are some of your greatest creative influences and/or sources of inspiration?
I have always been inspired by my peers, online and in person, and the many artists I find there. For comics, I'd say my biggest influences have been from manga. For Yummy specifically, I've pulled from the manga artists of CLAMP and the cute illustrations from Summikko Gurashi and Sanrio. But I've also pulled a lot of humor from peers like ggdg, Zack Morrison, and a bit of style from Choo!
What are some of your favorite parts of the illustration/ creative writing process? What do you feel are some of the most challenging or frustrating?
My favorite parts and hardest parts kind of go together, honestly! I'd say the most challenging part of Yummy was the visual research, both in tracking it down and adapting it to the cute style of the book. However, that's also the most fun part, too! It takes a lot of time to find, say, a glass dish that will look good in the book from possibly the right time and region for a certain historical cake. But it's fun to adapt it to my style. Sometimes I have to re-research dishware or patterns or photos, change them from before, draw and redraw. But in the end, it's always worth it. It adds so much character drawing from real history and objects.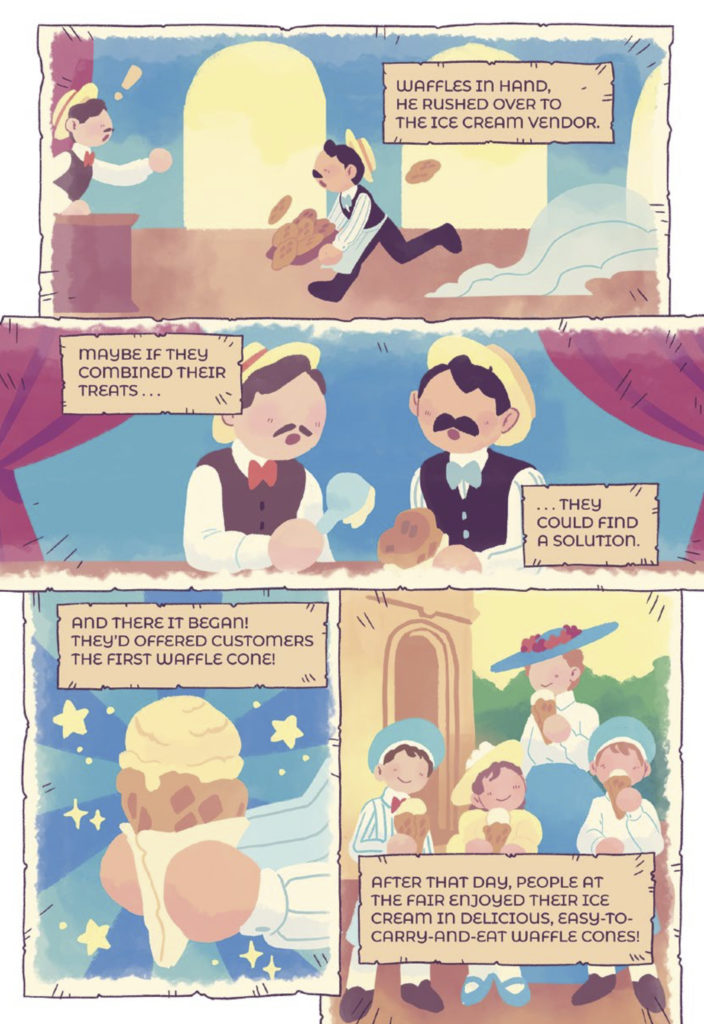 As a queer creative who has previously worked on other queer projects, such as your webcomic, balderdash! or, a tale of two witches, may I ask what creating queer representation means to you personally?
I feel a lot of nebulous ways about what queer representation means to me these days, honestly! I think when I was younger, like in my balderdash! days, I needed so much more labeled representation as I figured myself out and started exploring those sides of myself as a young adult. As an older person who has more fully embraced the nuances of my sexuality and gender, I feel as though I can see it everywhere, like I'm cheating the system to get the most out of it for myself, haha. I think it's always very important to have the people behind the works be the ones whose representation matters most–queer authors making whatever work they want to– but I also think there's a wonderful power in empathic readings, where you can maybe see parts of yourself in something that maybe was never meant for you. As a queer creative, that can be converted into soil for your own stories and projects, or even just love for yourself and who you are.
Approaching work like that, I think it's a lot easier to pick up on, say, the genderqueer vibes some of the sprites of Yummy give off, or some cute flirting I've drawn in. That's all very purposeful, but also very subtle on my part, and I think my presence as the author should speak enough as it is.
As of now, are you currently working on any ideas or projects that you are at liberty to speak about?
Right now, I'm finishing up Yummy: A History of Tasty Experiments! This is a follow-up book that focuses on a lot more unusual food, from cheese to soda to packaged foods! I wanted to explore our relationship to really, really old foods like pickles and cheese to much younger foods, like SPAM and boxed macaroni and cheese. How did these foods become common? And how did we make them before?
What advice would you give to other aspiring creatives?
Make work for yourself first and foremost. Even if it's an assignment, or even if it's a commission, find a way to make it satisfying and fun for yourself. There will be times when that's really, really hard, but I think that's a key way of tending to your creativity. And take breaks! Long ones! Sleep a lot!
Finally, what LGBTQ books/comics (or comics in general) would you recommend to the readers of Geeks OUT?
For other LBGTQ comics around the same age range as Yummy, I'd recommend a few incredible works from Random House Graphic: Reimena Yee's Séance Tea Party, Trung Le Ngyuen's The Magic Fish, and Jessi Zabarsky's Witchlight. They've all got upcoming books as well. I know Yee's next work is My Aunt is a Monster, which looks wonderful, and Zabarsky's Coming Back is coming out later in January!