Dominic Evans (he/they) is a freelance illustrator and merman based in London, from not-so-sunny Bolton, via Narnia. Growing up with a love of Buffy, short shorts, and Starlight Express, Dom, like many others, struggled to fit in at school, in life, and mainly with himself. However, he soon found his voice through his passion for illustration and stories. This led him on a path to illustrate for large brands, stores, clients, and agencies. He currently lives in East London and spends his time immersing himself in a graphic novel or an amazing book and then creating illustrations that he hopes will make your day and make you slay.
I had the opportunity to interview Dom, which you can read below.
First of all, welcome to Geeks OUT! Could you tell us a little about yourself?
Hi Geeks OUT! Thank you so much for having me on your site, I'm made up. My name is Dom, I'm an illustrator and author and I LOVE drawing and creating art around queer icons. If there's an iconique moment or person that is slaying, hun, you bet I'll be drawing them.
What can you tell us about your latest book, QUEER POWER: Icons, Activists, & Game Changers From Across the Rainbow? What was the inspiration for this project?
QUEER POWER is ultimately, one super big love letter to the LGBTIQA+ community. It's packed full of illustrated epic humans and information and is all about celebrating queer icons, whether they're from the red carpet to organizing a local protest to doing their activism through social media. Each of these icons through their visibility and representation are doing something to help advance queer rights and I absolutely love that we managed to give everyone a double page spread and equal billing.
This may sound cringey but my inspiration really was my community. I love seeing queer people go out there and make a change in their respective industries and completely kick-ass. It's a massive inspiration to me.
As an author, what drew you to the art of writing/illustrating, specifically non-fiction?
I grew up loving comic books, fashion illustration and educational picture books, so in a weird way, QUEER POWER kind of pulls all of those together. I really enjoy drawing and writing stories but I also love creating art around people and their own personal stories. I'd illustrated and written non-fiction before but this book was so unique and a totally different process pulling together icons, researching them, and then writing about them.
With non-fiction work especially, I feel at the moment, it's so crucial to have those books and resources out there for queer youth growing up. It's something, I especially didn't have and I really get a buzz seeing so many educational LGBTQIA+ picture books and resources on bookshelves out there and seeing that category expand more and more each year.
How would you describe your writing process?
I've realized over the years working on different projects that I'm very much someone who has to sit down and write all of it in one go. I can't rest or do anything else until it's all out of my brain onto a page, so I will hyper-focus on the task until it is done. With QUEER POWER, the writing stage actually came last as I wanted to get the visual language finalized first. I then sat down and wrote it all out, every icon, then went back over them again and again and then sent it to my lovely editor.
Growing up, were there any stories in which you felt touched by/ or reflected in? Are there any like that now?
There wasn't really much representation around growing up for me. When I was younger, I definitely felt a huge pull to the X-Men comics and cartoon, as the idea of someone that didn't fit in saving the world looking fabulous in a catsuit was something I could relate to! Growing older I, like many gays, fell in love with Buffy. As I came out at seventeen, Will & Grace had been airing in the UK for around a year so that really helped me in terms of representation on screen.
As a writer/illustrator, who or what would you say are some of your greatest creative influences and/or sources of inspiration in general?
I think my greatest creative influence was and will always be comic books and graphic novels. I love that when you look at a comic shelf in a store there are so many stories all being told in a zillion different ways with a zillion different art styles and a zillion different characters. I always turn to comics for any sort of creative boost. They're my happy place!
I'd also say fashion illustration and costume. I really enjoy drawing outfits and lewks so QUEER POWER was a dream come true as so all of these icons look so fierce. I took so much pleasure in researching their fits or classic outfits to be worn in the book.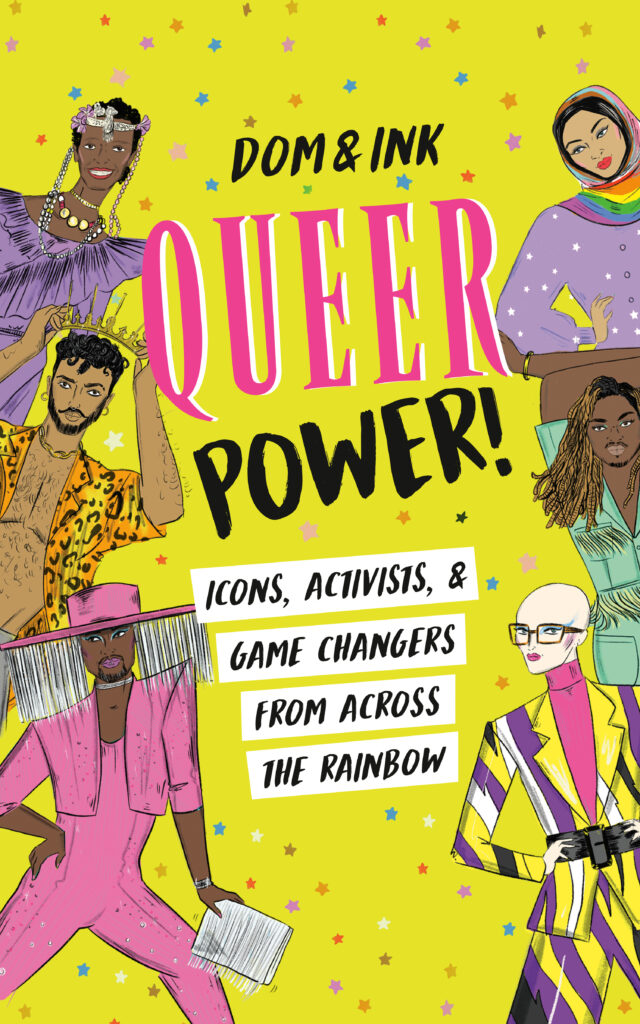 What are some of your favorite elements of writing/illustrating? What do you consider some of the most frustrating and/or difficult?
This is such a good question! My favorite part of writing/illustrating is when a plan comes together. Kind of like a really good date – you know, that moment when the text and image have a great chemistry, it's all looking good and BOOM, you have a cute visual moment and it all makes sense.
The most frustrating bits are the days where my hands just cannot draw or my head cannot write, or both. That block can be a difficult space to navigate through and it's times like that, that as a creative, you have to be very kind to yourself and go easy on yourself as if you try to force something, I've found personally, it will always end up getting redrawn again.
Aside from writing/illustrating, what are some things you would want others to know about you?
That I love my sci-fi, my fantasy, my anime and manga. I live for a good comic con! I also love fashion and styling, I worked in the UK for fourteen years in womenswear fashion retail, with the final five in London and three of those being a personal shopper. The stories I could draw and write about those years helping people who were going through various life dramas whilst trying to zip them into a hot pink fitted jumpsuit for their divorce party that evening? SO many.
What's a question you haven't been asked yet but that you wish you were asked (as well as the answer to that question)?
What's your favourite dinosaur? Because I really like dinosaurs. I don't want a pet cat or a hamster, I want a feathered Velociraptor, they're sassy and fierce but also cute and would eat anyone who tried to break into my house so I feel they're a good investment. I grew up loving Jurassic Park so anything dinosaur-related I love and I don't get enough dinosaur-related work. If anyone reads this please hire me to draw some dinosaurs, ok thank you!
What advice might you have to give for aspiring writers?
Write for yourself first. You are your own reader and you know a good story or hook when you read it, so write for you. Don't feed into comparing yourself to others, YOU are your own niche! Never be afraid to experiment and try something different. If it goes wrong, at least you tried it, and if it goes really right, even better! Also, Do Not Disturb and Airplane Mode are the best things ever if you struggle to focus hehe.
Are there any other projects you are working on and at liberty to speak about?
At the moment, aside from the exciting QUEER POWER US release, which, has extra pages and new artwork too! Yas! I have some things that, at this stage I can't speak but trust me, if they do happen, I will SCREAM because they have been years of hard work…
Finally, what LGBTQ+ books/authors would you recommend to the readers of Geeks OUT?
Oh wow, I really love questions like this!
Anything by Juno Dawson, Benjamin Dean writes beautiful queer stories, Dean Atta, Dr. Ronx, Jamie Windust, Charlie Craggs. There's so many amazing queer authors out there and there's also a great list of them at the back of QUEER POWER.
---
Header Photo Credit Buck Photography