For this installment of the Geeks OUT Creator spotlight, we're going to speak with someone who's comic's adjacent, Samuel Hatmaker, the world-famous Lego artist.
Sam first got noticed when images of the Golden Girls house set they built out of LEGOS hit the interwebs. It immediately became a viral sensation picked up by The Huffington Post, Time Magazine, Yahoo News, OUT, Today, and The Ellen Degeneres Show! It became the most supported non-Lego project in LEGO IDEAS history.
Sam's work has been featured in galleries, books, and television. They even competed and became a finalist on LEGO MASTERS Season 1, which aired on FOX in the USA. Samuel's latest collection of STAR TREK-inspired art commissioned by Roddenberry has been the subject of many interviews and was one of the highlights of the biggest all Star Trek Con in Las Vegas this past August, The 56 Year Mission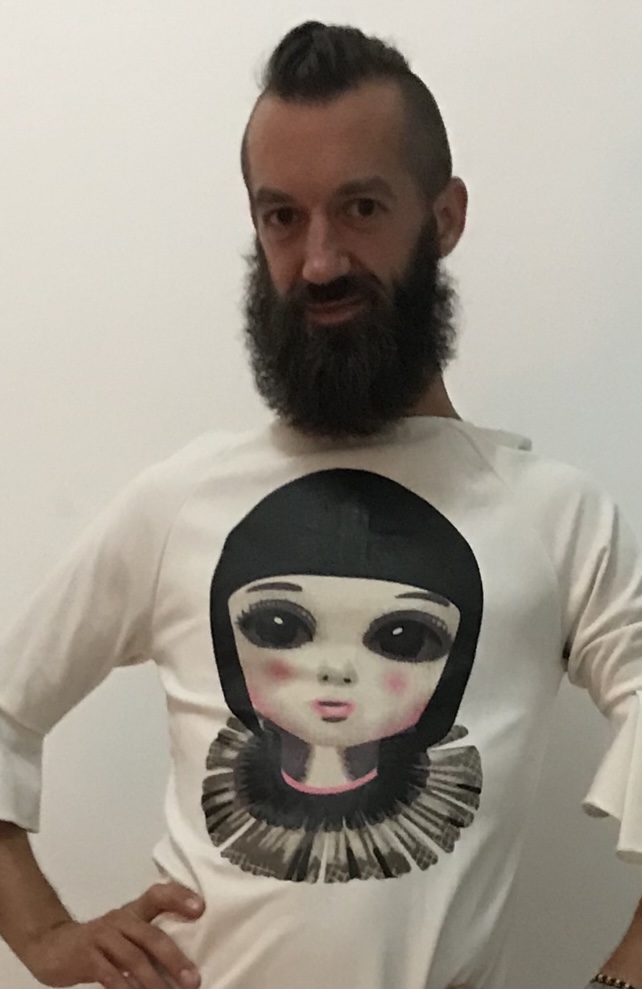 CHRIS ALLO: So tell us a little bit about how your love of Lego's came about?
I kept getting LEGO my whole life. My 21st birthday was spent drinking with friends in my living room and building LEGO creations. We built the Salem Witch Trials with a place to dunk the would-be witch in water, and a stake to burn her. The LEGO collection kept getting bigger and bigger, but it was always in buckets and it made it really hard to find pieces to build anything specific or in a certain color.
The LEGO collection kept getting bigger and bigger, but it was always in buckets and it made it really hard to find pieces to build anything specific or in a certain color.
CA: Do you have a favorite set in terms of what LEGO itself has put out over the years?
SH: My favorite set LEGO produced itself is the Monster Hunters Haunted House. It opens like a doll house and has a lot of play features. I really enjoyed building it and it's the only LEGO set that I have kept together and still sits on my shelf.
CA: What was your first "custom" LEGO?
SH: I was at an antique shop with a boyfriend and I found a 7 ft tall metal industrial shelf system with 88 drawers. I fell in love with how it looked. I had no need for it and I left without it. As we were walking home, my boyfriend said "You know, if you sorted all your buckets of LEGO by size and color, you could actually build new stuff." I went back the next day and bought the drawer system and spend the next 6 months sorting parts for a few hours each night. The first MOC (My Own Creation) I built as an adult was The LEGO Golden Girls House.
CA: You garnered some recognition when you made the Golden Girls set of LEGOs. What was that like?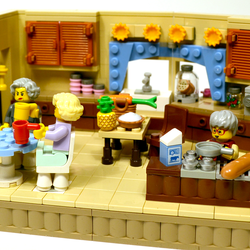 SH: I posted it online and within a few days, Ellen has reposted it, Yahoo's Main Page, Huffington Post, Today, and many other news outlets picked up the story. I got phone calls and interviews about the piece, and it was very surreal. Something I made for myself, had made so many people happy. I felt very honored. It was the first time I realized the power of the brick.
CA: And you reached out to LEGO about working for them? Good for you! What was that experience like? How did it differ from other job interview experiences?
SH: worked in toy development for almost 20 years. After the Golden Girls set went viral, I reached out to LEGO about working as a set designer there. Their interview and audition process is amazing. All of their development and design jobs are in Billund Denmark. I traveled there for a few days and went through a very extensive audition and interview process. There are daily build challenges as a single person, then with a group, drawing and design challenges, and presentations to the hiring teams. It was exciting and fun. I was very qualified to work there and understood the development and the product. Ultimately it wasn't a good fit for either of us. I had been living in New York City and I have a large personality. Billund is a tiny town and the work environment is very quiet and reserved. Being single and gay there would be very lonely for me.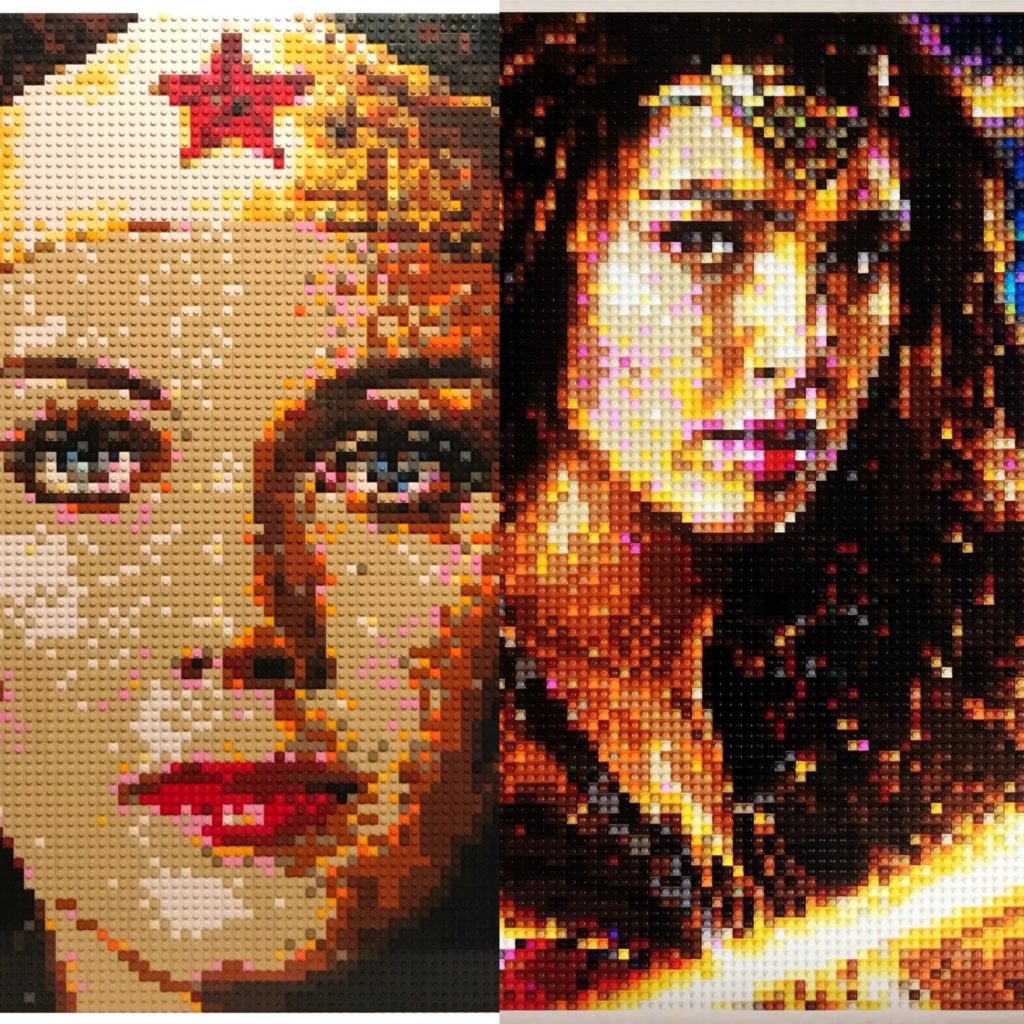 CA: Ultimately, you didn't get the job, but that didn't sour your love of the brand, you seemed to hunker down and become a full-time LEGO artist. What came next?
SH: No, I didn't end up working at LEGO HQ, I knew I wanted to continue using the system to make art for myself. As I made more and more, it led to people buying my art, gallery shows, and ultimately let me to the LEGO Masters TV show. Filming a tv show is a crazy experience. It is emotionally, physically, and psychologically exhausting. It is like being in a traumatic experience and you bond with everyone else there in a way that isn't usually possible. I feel very honored to have been able to show my abilities to the world.
I have had a very crazy year through Covid, producing a lot of art and commission pieces for a variety of clients. Sculptures of people's pets, portraits of celebrities, and giant mural pieces. The current one I am working on is 6 foot 8 inches tall and 4 foot 2 inches wide. It was revealed in Mid August and hopefully gets shown at some conventions for people to take pictures with.(I'll include a link to the article.)
CA: Six Feet?!?! This wouldn't be one of those amazing RodenBerry Star Trek pieces, would It?
SH: Yes it was the Gene Rodenberry Portrait, specifically.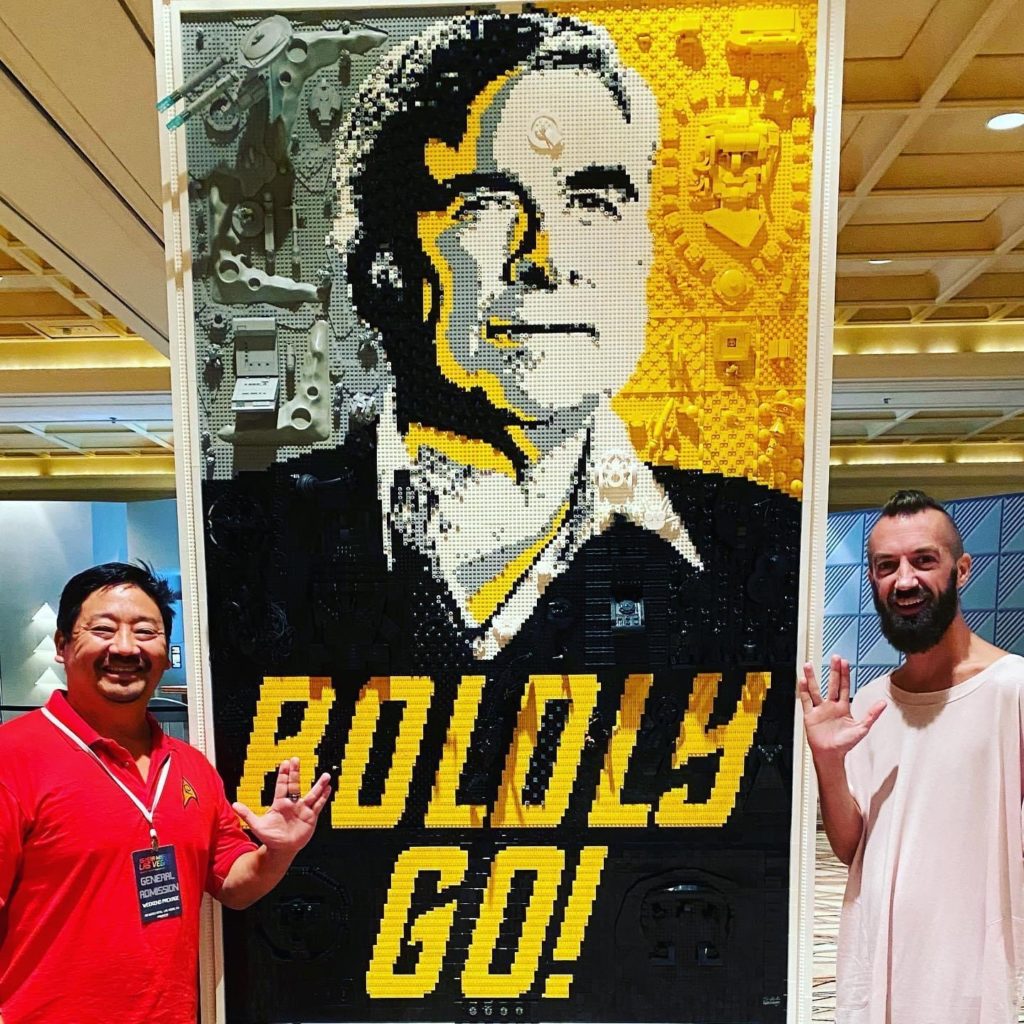 CA: How did this project with Rodenberry come about? Why did they reach out to you to work on this special tribute to Gene?
SH: I started working on some Star Trek creations I wanted to build. A mutual friend introduced me to Rod Rodenberry, (Gene's son) and he had seen my work on LEGO MASTERS. It was Gene Rodenberry's 100th Birthday and I was excited to be given this opportunity to celebrate his universe.
CA: How many pieces did you do in total?
SH: We collaborated on 6 pieces for the Think Trek year leading up to Rodenberry's birthday.
CA: I've seen them all and they are absolutely amazing. Aside from being beautiful pieces of art, they are quite a feat of engineering and design. Can you talk a bit about the process?
SH: It was all learning for me. I learned and experimented with so many new techniques in engineering. For the "LIVE LONG AND PROSPER piece, there is an almost 2-foot tall hand floating out of the frame. It's all built to come apart when transported. I made the "bones" out of the build Green because Vulcan blood is green. It can be reassembled in less than 5 minutes.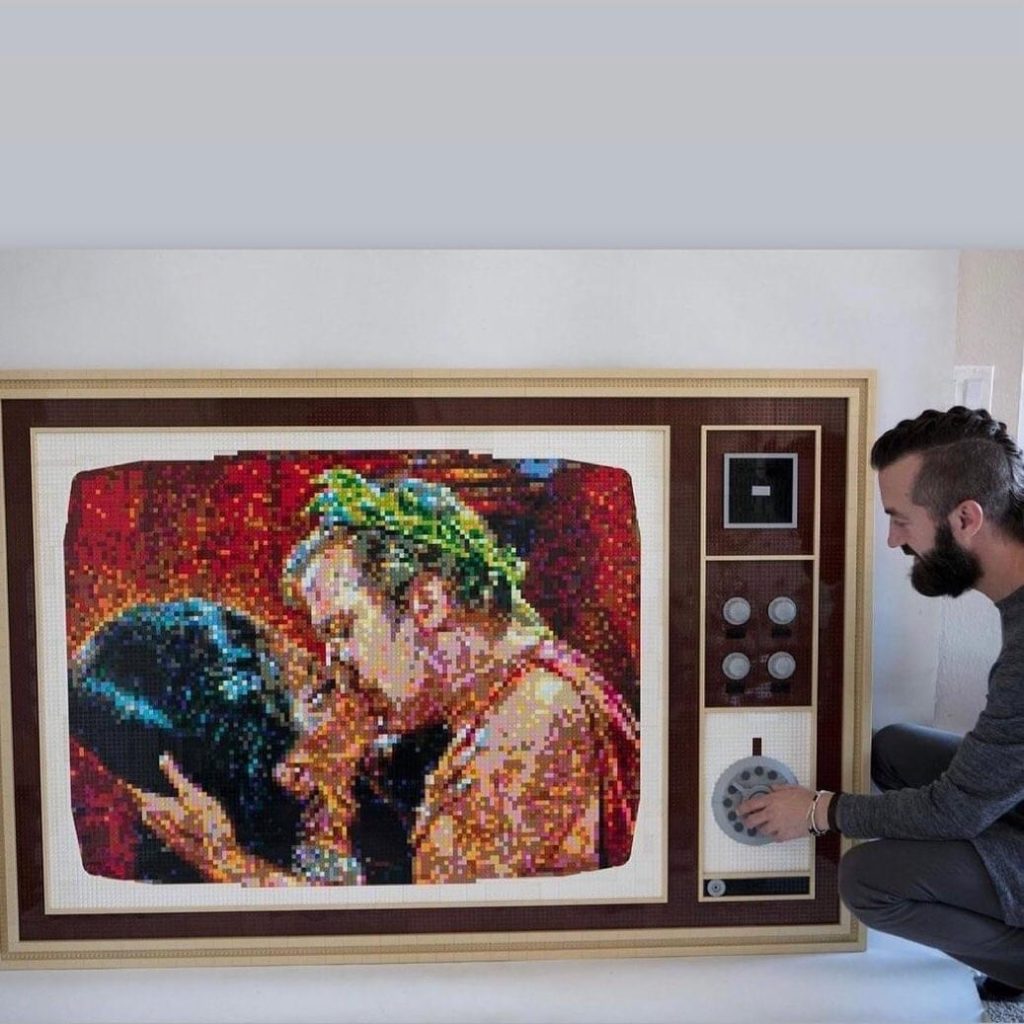 CA: So these were all unveiled this past August at the big Star Trek convention in Las Vegas. How was that experience? What was your involvement?
SH: It was a huge event celebrating, what would've been, Gene Rodenberry's 100th birthday and the 50th Anniversary of Star Trek. The convention was absolutely magical for me! I got to share my passion for Trek with thousands of other people passionate about the same things! I was asked to do a "live build" over the long weekend, making a mosaic while hanging out in the gallery. I barely got a third of it done because I was so busy talking about the art and the Star Trek Universe with people. I also, did an hour on-stage each day.
CA: Were you performing?
SH: No. During that time I would build a daily Mini-Build Model with the first 50 guests each day. As we were building I would tell stories, answer questions and just try to entertain the audience. On one of the days, we built a tiny Klingon Bird of Prey ship. When I had made the sets, I didn't realize I forgot a crucial piece. All 50 people needed one. We had supplied lots of mixed brick Lego for people to play with that did not get a Mini-Build Model. They started looking through the bins and we found over 50 in the correct color. It was a magical moment! Everyone left with a complete model that day. Sharing leads to more sharing. I was given gifts by people who thanked me for the mini-builds and for sharing my creations with them.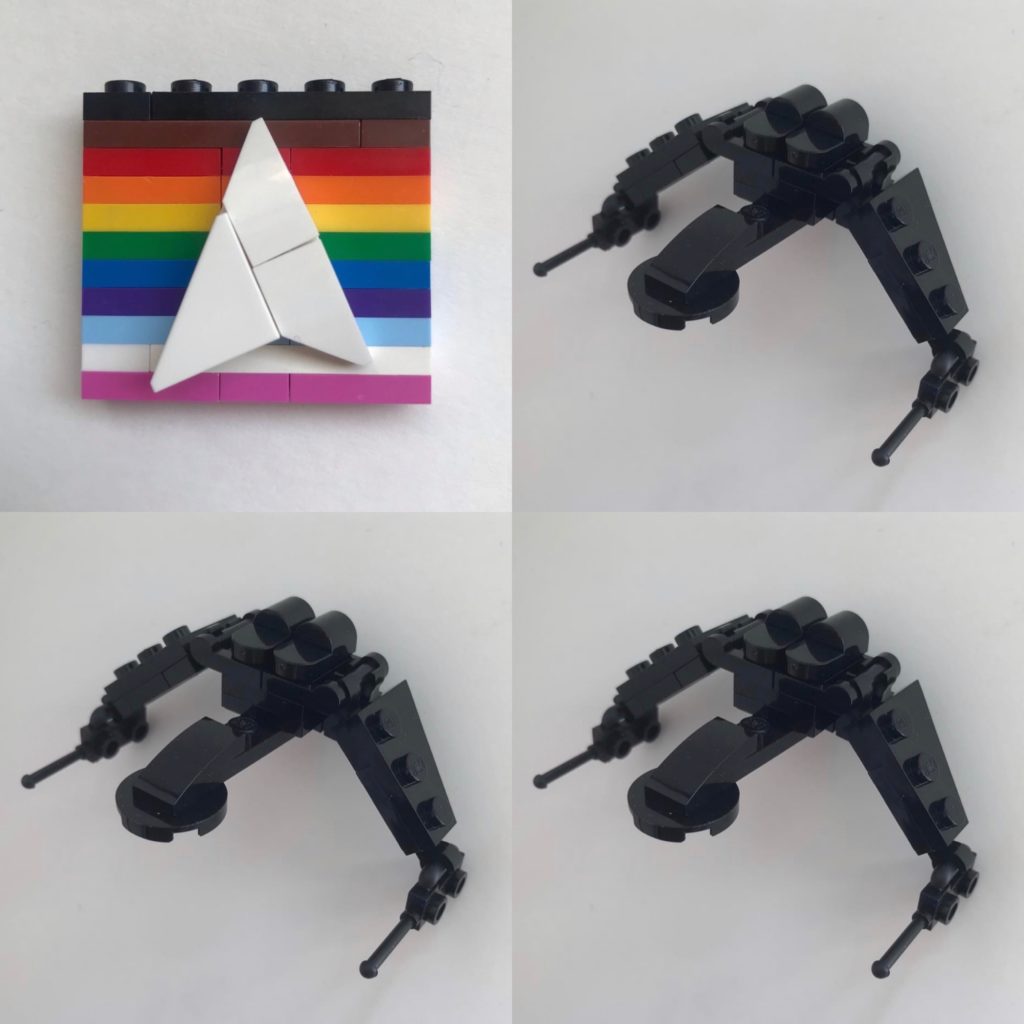 I also got to meet George Takei and Denise Crosby, to show them my creations. I got to see Ben Vereen perform, as well! I met two different groups of queer Star Trek fans and made some new friends. I just had the most amazing and magical time sharing the excitement of the event with everyone there.
CA: So In terms of the commissioned pieces, do you own the pieces or do they? How does that work?
SH: This was a partnership. If anyone is interested in buying the creations, contact me and I can get you in touch with the broker. If you are interested in custom creation of your own, contact me.
CA: And what's next for Sam, The Lego Mastestrix?
SH: I have a gallery show scheduled Jan-March in Los Angeles at Circus of Books and it's called "Unsolicited Brick Pics! I might show up a few more places before then. I am starting another large portrait, but it may take a while as funding becomes available for parts.
Chris Allo: Very exciting and Great to hear! Well, let us know the details about the upcoming show, and thank you so much, Wildflower!
And if you're interested in commissioning Sam for a piece you can reach him here.