Sounds Fake But Okay is a casual, occasionally chaotic podcast by best friends Sarah and Kayla. Each week, this aromantic/asexual girl and demisexual girl discuss relationships, sexuality, queer issues, and society from an asexual and aromantic lens. Started in 2017, Sounds Fake But Okay releases new episodes every Sunday. I had the opportunity to interview Sarah and Kayla, which you can read below.
First of all, how did you come to know each other and what do you think of the chances of both of you discovering you were on the asexual spectrum and creating a podcast revolving around that topic?
We were randomly placed as roommates at the University of Michigan and hit it off incredibly fast — during our first few weeks of college people would constantly ask if we had been friends in high school because we seemed to know each other so well. It's kind of scary to think about how many little things had to go right in order for us to end up where we are. If I (Kayla) had never met Sarah, I'm not sure that I would have ever discovered my sexuality, and we obviously would have never made the podcast. It makes you want to believe in fate a bit when you think about how low the chances of all of this are.
How did you come up with the title Sounds Fake But Okay?
Once I (Sarah) came out, I found myself asking Kayla a lot of questions about romance, dating, and sex — the sorts of things that people were just expected to intuitively know, but as an aro ace person, I didn't. When Kayla attempted to give me answers to questions like "what's the appeal of dick pics?" and "how long is sex supposed to last?", her responses often sounded fake to me, like they were just things that society was making up and people pretended to understand. Hence, Sounds Fake But Okay was born.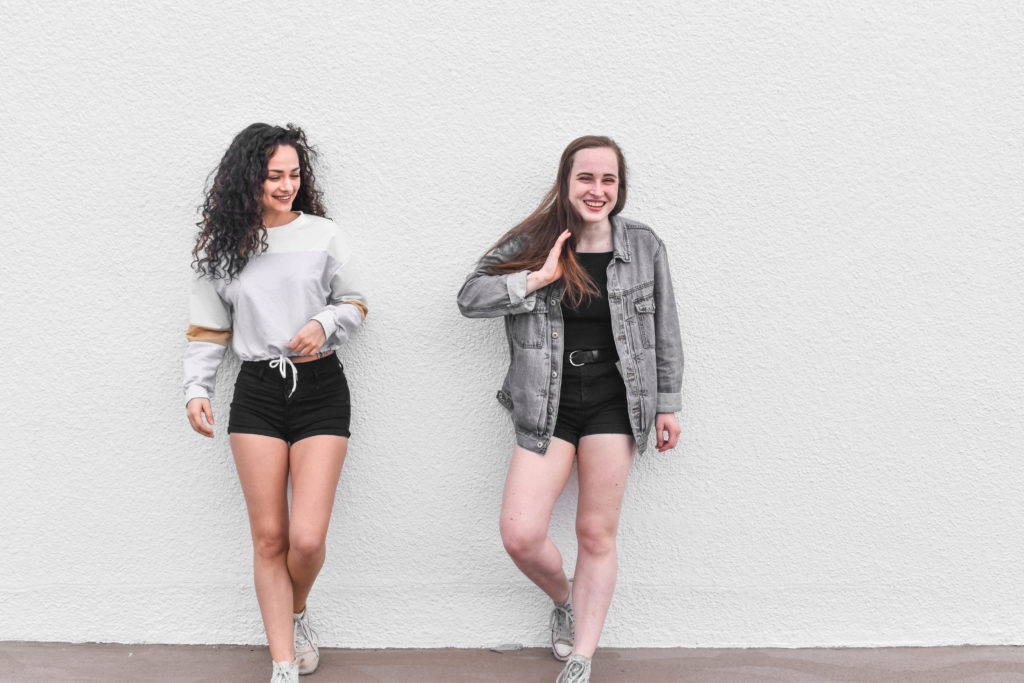 You two have featured a number of asexual writers and activists on your show before, including Yasmin Benoit, Angela Chen, Gentle Giant Ace, and more. In a way, I feel this helps to illustrate the diversity of the ace community, showing that asexual comes in many shapes and sizes? Was this your intention?
We definitely try to make the show and our guests as diverse as possible. We always say that our experiences are only our own and that they don't necessarily map onto the community as a whole or speak to every asexual or aromantic person's experience — we are two cis white women, and it would be harmful to pretend that we understand or represent the experience of all aspecs. Having guests of different sexualities, genders, races, ages, professions, etc. helps us get a broader look at the community.
As an asexual person myself, it often feels like the A is pretty silent in LGBTQIA+. What are your thoughts on the erasure/ gatekeeping of asexual people within the queer community? How do you think the overall queer community can do better?
As aspecs, we're unfortunately used to getting a lot of criticism or "hate" because of our identities. A lot of the time it comes from straight people or internet trolls. While of course it hurts to see comments from people in those groups, it's even harder to get hate from fellow queer folks. The queer community is supposed to be about coming together to fight against the norm — it shouldn't be a contest about who's the most oppressed or struggles the most.
We need people of other identities and people who are more "accepted" by the queer community to stand up for us. If we have to keep battling for our place in the community alone, it will take a lot longer.
Both of you occupy different identities within the ace spectrum, with you (Sarah) as a person who identifies as asexual and aromantic and you (Kayla) as a self-described demisexual straight girl. How do you feel your own respective identities play off each other when talking about asexuality?
When we first started the podcast it was supposed to be a straight girl explaining love and sex to an aro ace girl. After I (Kayla) discovered I was demi, the dynamic of the show changed a bit. While I do still explain what dating is like or talk from the perspective of someone who's had sex, been in love, etc, I also talk from the perspective of an aspec person. I'm in kind of a weird situation where I have one foot in the allo or straight work and one in the aspec or queer world. Since Sarah happens to be an aro ace person who doesn't date and have sex, I'm kind of able to provide the information she is missing and she is able to do the same for many aro and ace issues.
What are some basic truths for someone who is still new to asexuality you would want people to take away from this interview?
It's okay if you're not that happy with your identity or if you're feeling a bit freaked out. We grow up being told it's normal to have sex, that everyone does it, everyone wants it, etc. When you eventually find out that this isn't true or that you just don't feel the same attraction that others do, it can be a bit of a shock. Take your time and don't feel bad if you don't love being ace for a while.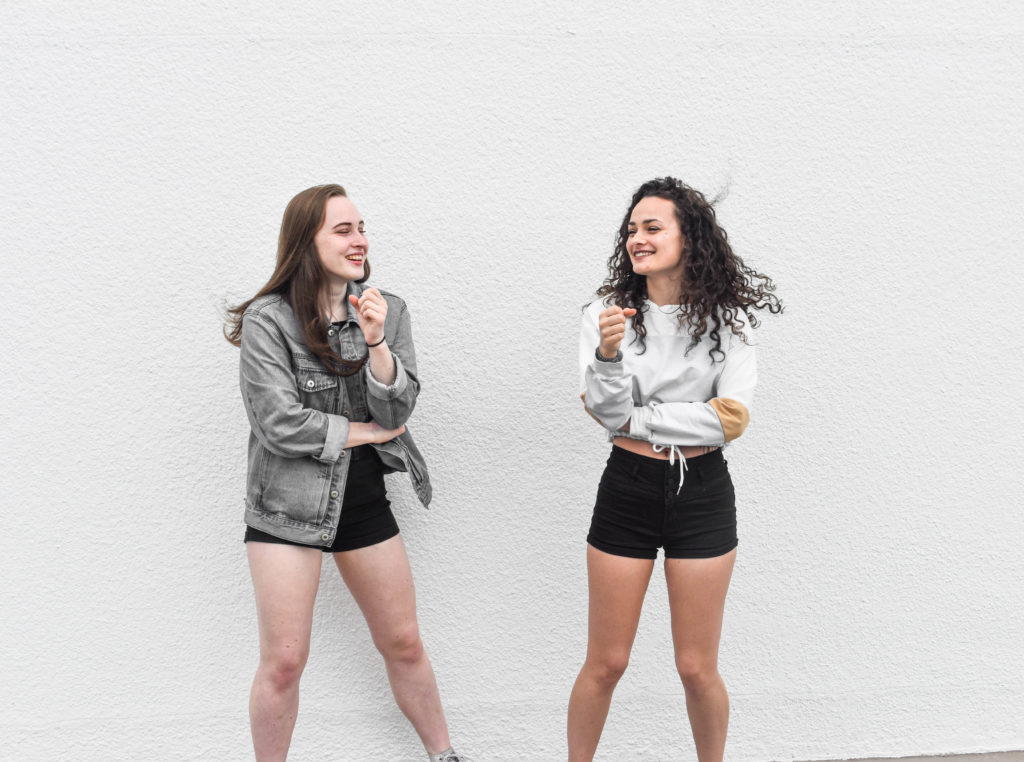 What advice would you have to give for people who are interested in creating and promoting their own podcast?
Don't start a podcast if you're just in it to get famous or make money, because the vast majority of podcasts don't reach that level. Pick a topic that you're passionate about, that you could see yourself recording hundreds of episodes about.
We also always tell people to find their niche. Honestly, one of the main reasons our podcast has become successful is because there were no other shows consistently talking about our topic. This won't be the case for every topic, so you really have to work to make sure you're talking about a subject in a new or personal way.
And finally, listeners come for your content but they stay for you. How much of yourself you share on any given podcast is your decision (as it should be!), but once you've gained your listeners' trust, they'll probably be a bit more accepting if you want to go off topic sometimes or experiment with new things.
What's a question you haven't been asked yet or wish you were asked more?
I (Kayla) wish we were asked about the joys of asexuality and aromanticism more. Don't get me wrong, it's incredibly important to focus on the struggles we face and to help each other through that, but there are some amazing things that come with being aspec as well. As aspec people, we have good experiences and bad experiences and I wish they were shown more equally.
For me (Sarah), it isn't even a question but just a topic: I wish people talked about aromanticism more. As a person who is both aro and ace, I often feel as though my aromanticism impacts my life more than my aceness does — people don't necessarily know if you're not having sex, but they will ask questions if you're not dating and have no intention to be. However, so much of the focus both inside aspec spaces and out is on asexuality specifically. Part of this is because the vast majority of the population doesn't have a grasp on the split model of attraction (the idea that romantic attraction, sexual attraction, etc. are not necessarily the same thing), but it's also just because there seem to be fewer aros than aces. That said, I think more discussion of aromanticism and how the aro lens can help you reframe and prioritize relationships of all types can benefit everyone, and I wish it were more prevalent.
Finally, what are some LGBTQ+ media (i.e books/ comics/ podcasts/etc.) you would recommend to the readers of Geeks OUT?