Jennifer Dugan is an avid YA and comic writer that strives to create the stories that she wishes she had growing up. Her debut novel Hot Dog Girl was released April 30, 2019 from Penguin/Putnam. She is also the author of Verona Comics and the forthcoming novel Some Girls Do. Her latest book, Coven, a queer, paranormal YA graphic novel was released this past September.
I had the opportunity to interview Jennifer, which you can read below.
First of all, welcome to Geeks OUT! Could you tell us a little about yourself?
Thank you for having me!
I'm an author from Upstate New York and am about to release my fourth young adult novel, Melt With You. I'm also launching first graphic novel this year, Coven—although I have also written and kickstarted indie comics in the past. I share my house with two cats, a dog, and many, many tropical plants.
When did you know you were first interested in writing, and what drew you specifically to young adult fiction?
I've wanted to be a writer for as long as I can remember. As a kid, I used to create little stories and comics and hand them out for holiday and birthday presents—in hindsight, I should probably apologize to my brother for that. I'm sure he would have rather had a toy or money, even if he was a good sport about it.
I love young adult fiction. I think I'm drawn to it because there are so many big events, and big feelings, that surround that time of your life. It gives writers a lot of latitude to play. I also think that young adult fiction is really trying to open its doors to more diverse story telling. There is a long way to go, that is undeniable, but it wasn't too far in the past that I was told by someone in the industry that "queer girls don't sell," and now my books are just two of many coming out this year.
What can you tell us about your upcoming books, Melt with You and Coven? Where did the inspiration for these stories come from?
Melt With You is a young adult novel coming out May 17. It is a contemporary rom com that follows two ex-best friends, who had a falling out after a one-night hook up. Now, they're on a road trip in their parents' romance themed ice cream truck.
It has all my favorite tropes, including second chance romance, forced proximity, not to mention so, so many ice cream puns. I'm not sure exactly when the idea came in my head, but I had been interested in setting a story in an ice cream truck ever since seeing the video for BLACKPINK & Selena Gomez's song Ice Cream.
Coven is my young adult graphic novel debut coming out September 6. It is a supernatural, queer, coming of age story about witches, although it is very grounded in its contemporary setting. It tells the story of a teen witch named Emsy who has to leave her California surfer girl life behind when her family decides to return to safety of their coven in Upstate NY after the murder of a coven mate. Emsy has to learn to master and even appreciate her powers… and maybe solve the murder while she's at it.
This one was actually inspired be a little frog I encountered in real life! It was sitting in a pond near my house that was overgrown with moss and dead branches—it was early fall, and it all felt so wonderfully creepy. I sat on the edge of the pond and watched him for a while, soaking up the spookiness, and as I did a whole scene spun out before me in my head. I quickly went home and plotted the rest of the book. That original scene, and little frog, actually made it to the final draft, so everyone will get to "meet" him when they read.
How would you describe your writing process? What are some of your favorite (or most frustrating) parts of writing?
Generally, I wait for a scene to pop into my head—like it did when I was watching the frog that day. From there, I start thinking about the people involved in the scene—who are they, what do they like and dislike, which one is the main character (or two, if I'm writing dual POV.) Once I've established my main character, I need to find their favorite song, or a song that I think would really resonate with them. That's one of the main ways I get to know them before drafting. From there, I build an entire playlist for them and start the work of outlining and drafting.
My favorite part is the very early daydreaming stage, when you're first creating the characters and thinking about the story. It almost feels like dating. I have no clue at first if the idea will stick around to turn into something real… or if it's just going to ghost me. Either way, it's still fun. There's no pressure or deadlines, it's one of the few times that a story truly is just yours.
I also really love doing developmental edits. By then, I have a pretty firm grasp of my characters, the bones of the story are all there, and I'm just refining. It feels like I get to write fanfic of my own work, and I can't get enough.
Did you draw on any specific sources of inspiration while writing, i.e. books, movies, music, etc.? Where do you draw inspiration or creativity in general?
In general, I draw inspiration from the world around me. Something as small as seeing a frog in a pond, if it hits at just the right moment, can lead to a new book sitting on in a bookstore someday. With that in mind, I try to approach the world in a very open way and soak up experiences to use as fuel for my work.
Music plays a huge role in my process, as I previously mentioned, but so do movies and other media. When I'm developing a character, I'm constantly thinking about how they would react to a movie or a song, or how they would be interpreting the world. I get to experience as myself, but also a little bonus bit through the character I'm crafting.
Books though, I read just for me. I'm really big on taking time to "refill the well" and for me that often means binge reading a variety of books and comics. I need books like I need air, and I don't want to be deliberately and consciously thinking of my own craft as I do.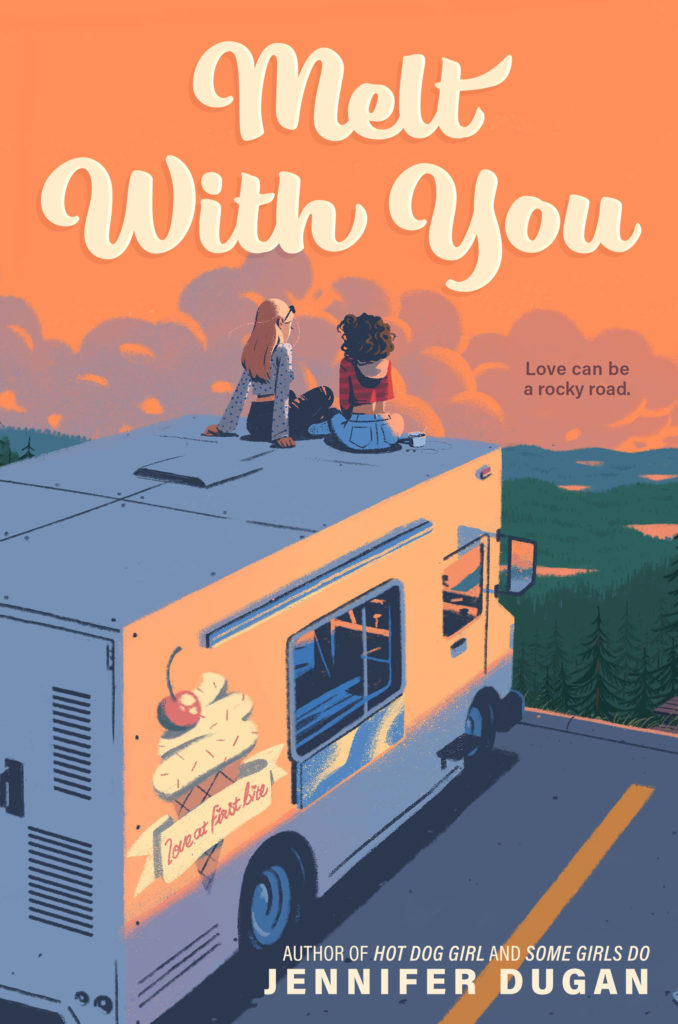 What advice would you give to aspiring writers?
Finish your draft! I know it seems like common sense, but so many people get hung up on endlessly revising openings and early chapters—or are constantly chasing new ideas—that they don't ever finish! You learn a lot from finishing a draft, even if you don't ever decide to do anything with it.
Besides being a writer, what are some things you would want your readers to know about you?
I'm an absolute dork, and not necessarily in a cool way. In more of a dress your cat in sweaters and daydream about a beautiful plant you absolutely don't need because you already have over eighty in your home kind of way. (Yes, eighty!)
What's a question you haven't been asked yet but wish you were (and the answer to that question)?
I like to do book giveaways on my Instagram (@JL_Dugan) and I always have people answer a question for their entry. I recently did a giveaway for advanced reader copies of both Melt With You and Coven. Wanting to combine the themes of each, I asked readers to tell me what type of ice cream their favorite supernatural creature would eat for a treat. The answers were super fun, and I was a little jealous that I'd never been asked that… so I'm delighted to use this space to answer now. My favorite supernatural creature is undoubtedly a werewolf (sorry, witches!) and I feel like they might eat vanilla ice cream with Lucky Charms on top. It's unclear if werewolves are impacted by chocolate the way dogs and regular wolves are, so I'm thinking they would want to avoid it to be safe. And who wouldn't love a sugary cereal on top of their ice cream after a long night of chasing bunnies and/or biting people?
Are there any projects you are working on or thinking about that you are able to discuss?
I have a couple unannounced projects that I am very excited to share more about soon. One of them is a bit different from what people usually expect from me, and I cannot wait to get it out there!
Finally, what LGBTQ+ books/authors would you recommend to the readers of Geeks OUT?
I recommend people read all of them! They're all so good and supporting titles that are out now means that publishers will keep buying them. Some of my favorite authors out now are Kalynn Bayron, Isabel Sterling, Julian Winters, Rory Power, and Dahlia Adler. I cannot recommend any and all of their books enough.
---
Header Photo Credit Amber Hooper