Liam O'Dell is a Deaf and disabled freelance journalist from Bedfordshire in the UK. As well as being moderate-to-severely Deaf, he is autistic, dyspraxic and has Obsessive Compulsive Disorder (OCD). He also identifies as asexual and came out in 2019. As a writer, he produces content regularly for The Independent, Metro.co.uk and The Limping Chicken, which is a Deaf news website. He is particularly interested in news stories and discussions relating to accessibility, social media, culture and politics. He can be found on Twitter @LiamODellUK.
I had the opportunity to interview Liam, which you can read below. Additionally, the header photo and photo below are credited to photographer Ant Belle.
First of all, welcome to Geeks OUT! Could you tell us a little about yourself?
Thanks for having me! Absolutely, I'm Liam O'Dell. I'm a Deaf and disabled freelance journalist from Bedfordshire in the UK. As well as being Deaf, I'm dyspraxic, autistic and I have Obsessive Compulsive Disorder (or OCD). I also identify as asexual.
How would you describe your line of work as journalist, and what motivated you to join the field?
So most of my work comes down to social media, technology or accessibility (sometimes all three!) I wanted to become a journalist because I just have this constant urge – even from a young age – to write and create things. I love knowledge and random facts too and so those things all kind of merged together and I realised journalism was a viable career for all that.
When did you know you were first interested in writing and disability advocacy?
It's hard to pin it down to a specific date or time, because I've loved reading and writing for as long as I can remember. I guess that until I was around 13 or 15, when I was told I may benefit from hearing aids, I had mostly produced bits of poetry and fiction, but after that, I explored non-fiction writing such as opinion pieces and blogs to advocate for myself, but also write about things I was interested in (I set up a blog called The Life of a Thinker – since renamed to simply liamodell.com – in 2012). I decided to speak up on disability, I suppose, because very early on I was struggling to find the Deaf community. Eventually I found local Deaf clubs and charities to volunteer with, but when I first started blogging, there were – from what I could, or couldn't, see – few blogs writing about life as a Deaf young person. Things have certainly changed a lot in the past 10 years. As I heard from other Deaf people, I think there was also the fact that my experience in education, for example, was rare compared to others. I was well supported in school through teacher support, seating plans, extra time in exams and so-on. It was incredibly accessible to me, but unfortunately, that isn't the case for every Deaf person and I kind of felt obligated to do as much as I could to ensure my experience isn't rare for Deaf students in the future.
You've spoken in the past before about deafness and queerness/asexuality in previous interviews, including recently in the podcast, Sounds Fake But Okay. Would you say there are any point of points of commonality between those different identifies?
They certainly cross over. Disabled people are either desexualised (the misconception that we can't or don't have sex) or hypersexualised, and so when a disabled person identifies as asexual, that misconception can rear its head. There can sometimes be a harmful view amongst non-disabled people that disabled people are asexual because of their disability, when that isn't entirely accurate. The two identities can and must coexist.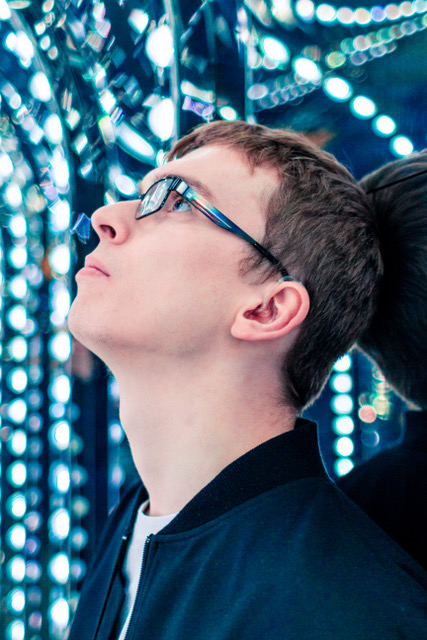 What's something about deafness that perhaps those who are hearing might not expect? What are some things about the deaf community or deaf representation you would want others to know about?
I think while we are making some positive steps in terms of Deaf representation, hearing people are still a little bit taken aback to discover just how diverse the Deaf community is and that deafness is a spectrum. Deafness is still represented a lot in the media as something present in older people, and while it absolutely is, it's also present in young people too. It isn't just hearing aids which are used by Deaf people either – there's cochlear implants, bone-anchored hearing aids (BAHAs) or nothing at all. In terms of communication, someone may use sign language, Sign Supported Speech (English grammar together with the local signs from that country) and speech. We have to avoid a one-size-fits-all approach to any representation focussing on disability.
At any point during your life have you found media (i.e. books, film/television, etc.) in which you could see yourself reflected or relating to in terms of personal representation?
Books such as Loveless by Alice Oseman and The Perseverance by Raymond Antrobus certainly spoke to my experience as a Deaf person and asexual person respectively. Unfortunately in film, there's still a long way to go for both Deaf and asexual representation (recent films such as CODA and Sound of Metal weren't that great in terms of the message that they sent – namely that music was apparently the antithesis to Deaf culture, when it very much isn't). On TV, a big case of personal representation for a lot of Deaf people recently – at least here in the UK – was Deaf actress Rose Ayling-Ellis winning Strictly Come Dancing, which is our version of Dancing with the Stars over in the US. She did a fantastic job of showing that with the right support, Deaf people can do anything.
For those looking to support queer/disabled voices, what choices or paths you recommend for ally ship?
When it comes to asexuality, we're still at a point where education is essential, so the best thing allies can do right now is uplift asexual activists producing educational content about our sexuality – especially from those who are a part of other marginalised and underrepresented communities such as disabled aces and Black aces. As for disability, I think we're still seeing a difficult binary amongst non-disabled people where they are either awkward around the subject of disability (when there really doesn't need to be, and that again comes down to education from disabled activists who have created safe spaces to learn about disability rights) or feel disabled people aren't in a position where they can advocate for themselves. Unfortunately, I've seen instances in the past few years whereby non-disabled people are speaking on behalf of disabled people and spreading harmful misinformation about our communities. That then stops us from other vital work we were already doing to go and correct misinformation which shouldn't have been spread from someone inexperienced and/or unqualified anyway. Learn when to pass the mic and platform those with actual lived experience. The other thing I'd mention is that when someone points out that the content you have published is inaccessible, know that this isn't an attack, or being cancelled, or so on. A lot of the time this comes from someone who admires what you do and values your work, but wishes it was opened up and consumed by more people who are currently unable to access it. Acknowledge the slip-up and listen to us about the steps you can take to increase the reach on your platform, which a lot of creatives want to improve upon, of course.
What advice would you give to aspiring journalists, especially queer and/or disabled ones?
A phrase I've been repeating a lot in recent months is 'find your own space to create without constraint', and what I mean by that is, have an outlet of some sort to make stuff without the limitation of worrying what other people think – whether that be something like a blog or a favourite notebook. If you want to open it up to other people to read, then go ahead, but as long as you have that liberty and freedom to make mistakes, experiment with form and try new things, then that's the main thing I'd recommend right now. A careers advisor at school recommended I should start a blog to boost my potential career in journalism, and now that I'm in the industry, it helped significantly. It was a place for me to practice writing opinion pieces before I got commissioned to write them. It was a space to test out producing features, before I published them for sites such as Mashable and The Verge. It's become my outlet to perfect the next style of writing I want to explore, and it's honestly made me a better writer. You only learn how to write higher quality stuff if you write often, and doing that in a place where you can write whatever you want, however you want away from prying eyes is invaluable.
Besides being a writer, what are some things you would want your readers to know about you?
I'm trying to be a lot more vocal about my OCD since I was diagnosed with it almost two years ago, especially because it is such a traumatic and debilitating condition which can be incredibly difficult to talk about given the nature of a person's intrusive thoughts. However, given there's so many stereotypes rife in popular culture at the moment (such as saying you're 'so OCD' because you're really tidy, which is not what it means), I feel it's necessary to do whatever I can to tackle some of that. The other thing – besides the typical facts that I'm Deaf and disabled – is that I'm asexual, as I feel we're an incredibly underrepresented sexual orientation within the LGBTQ+ community, and there's still a lot of education to be done both within the wider LGBTQ+ community, and cishet people as well. Unfortunately, I'm not quite as confident in my ace identity right now as I would like to be, but that's something I try to be vocal about when I have a good opportunity to do so, such as this conversation!
What's a question you haven't been asked yet but wish you were (and the answer to that question)?
Ha, what a great question! I suppose what springs to mind is a question I saw my partner get asked a while ago and I never really considered my response to it either (nor have I ever answered it publicly myself). That is: if you had the whole world's attention for a couple of moments, what would you say to them, and why? I'm not quite sure if I have a big, thought-out answer to an equally big hypothetical question, but I think I would probably make the point that with a lot of society's pressing issues at the moment – tackling coronavirus, climate change, and so on – we'd actually make a lot more progress if we listened to and included the most marginalised communities in society in our design and policy-making processes. Unfortunately, we live in a very impatient world right now which struggles to listen and/or make time for people who need a little more time to overcome barriers in society. In our fast-paced, high consumption society, we really need to re-learn the art of patience.
Are there any projects you are working on or thinking about that you are able to discuss?
Sure. For the longest time I've been wanting to write a book, and after years of having this one idea banging around in my head, I've finally put pen to paper – or rather, fingers to keyboard – and started writing it, so I'm hoping I can get a draft of that done soon. The other main project right now is an investigation into the Spectrum 10K study on autism, DNA and genetics. It's attracted a fair amount of controversy here in the UK amongst autistic activists, who allege it amounts to eugenics. I've been spending some time digging into the project to find out what's been going on behind the scenes and that investigation is ongoing.
Finally, what disabled and/or LGBTQ+ books/writers would you recommend to the readers of Geeks OUT?
To my shame, I don't read nowhere near as many books – let alone fiction books – as I used to, but some which immediately spring to mind are 'Loveless' by asexual author Alice Oseman, 'The Perseverance' by Deaf poet Raymond Antrobus, 'The Reason I Jump' by autistic writer Naoki Higashida and the last one – which I'm yet to pick up but have seen so many good things about – is 'The Transgender Issue' by transgender activist Shon Faye.