MARK OSHIRO is the #1 New York Times bestselling, award-winning Latinx queer author of Anger Is a Gift, Each of Us a Desert, and Into the Light, as well as their middle-grade books The Insiders, You Only Live Once, David Bravo, and Star Wars Hunters: Battle for the Arena. They are the co-author (with Rick Riordan) of The Sun and the Star: A Nico Di Angelo Adventure. When not writing, they are trying to pet every dog in the world.
I had the opportunity to interview Mark, which you can read below.
First of all, welcome to Geeks OUT! Could you tell us a little about yourself?
Hello, Geeks OUT! I'm Mark Oshiro. I'm a middle grade and young adult author based in Atlanta. And I really love dogs. And vinyl records!
What can you tell us about one of your upcoming books, Into the Light? What was the inspiration for this series?
Well, so far, this is still intended to be a standalone book! Some day, I'll get an idea that will become a series. Into the Light is my foray into writing a thriller. It's a very personal story because it is both inspired by and based on a lot of my experiences as a teenager, particularly my upbringing as an adoptee in a religious family. I wanted to write something that was frightening, emotional, and would also challenge me as a writer.
In addition to your own original stories, you've also been working on another, The Sun and The Star: A Nico di Angelo Adventure? What was it been like focusing on a character with such as strong queer fandom and history? How would you describe your connection to the Rick Riordan fandom before signing on to this project, and what was your reaction afterward?
I'm a latecomer to the Percy Jackson series. I read the books when I was on tour for Anger is a Gift back in 2018 and immediately fell hard for them. To the surprise of NO ONE, once I met Nico in the third book, I instantly connected with him. So to get the opportunity to write from his point of view? It's surreal. I create stories that often about kids dealing with trauma or difficult childhoods, and I know that's why I was drawn to Nico. In many ways, I do feel uniquely qualified to contribute to bringing The Sun and The Star to life. Suffice to say, this journey the past couple of years has been one of the most rewarding and thrilling things I've ever done.
As a writer, what drew you to the art of storytelling, specifically speculative and young adult fiction?
Well, I was drawn to storytelling mostly because it was the only thing I was both good at AND interested in when I was a kid. I've been creating stories since I was in the first grade. But it didn't feel like a real possibility to me until I was a freshman in high school. My English teacher that year (shout out to Ms. Alford!) assigned us The House on Mango Street to read. It changed my life. It was my first real sense that Latinx folks could be authors and that we could write about our lives.
I've generally always loved the weird and the strange! It's very natural for me to write in that space. The same goes for writing stories for a younger audience. I'm genuinely trying to capture the excitement and wonder I felt as a teenager who was a giant bookworm. So I'm absolutely writing the kind of stories I wanted back then.
As an author whose switched between young adult and middle grade, what is the appeal of writing between different age groups?
Right now, I tend towards wackier and funnier plots in my middle grade books, while my young adult work is far more intense, introspective, and complicated. From a creative standpoint, it helps me feel more free to write whatever kind of story I want. I also love how vastly different the two audiences are to interact with as well. You can ask any author writing for multiple age categories about this, but middle school and elementary visits/events are VERY different from young adult ones. Though don't be fooled: kids will still shade you or rip your soul out of your body, no matter your age.
How would you describe your writing process?
Much better than it used to be, ha! These days, I've figured out what works best for me, so I do feel like it's been streamlined in a sense. I take an idea and do freewriting until I feel like it's fleshed out enough that I have a vague beginning, middle, and end. Then I write a detailed outline for all the scenes, and once that's done, I start drafting! I am a fast drafter in general, but require a lot of time for re-writes and edits.
Growing up, were there any stories in which you felt touched by/ or reflected in? Are there any like that now?
I mentioned The House On Mango Street earlier. I was a huge fan of Poe, Stephen King, Jane Austen… I devoured all the Goosebumps books in elementary school. That's where my love of story, structure, and horror came from. It was a TV show, though, that actually made me see myself in the story: My So-Called Life. Wilson Cruz's portrayal of Ricky Vasquez changed my whole life. He was the first queer Latinx person I had seen in any fictional medium ever.
That's another purpose I imbue in my writing: I want to be someone else's Ricky Vasquez. I am thankful that there's a lot more of us—those of us excluded from so much of publishing or film or the TV industry—telling the stories that we want to tell.
I will say that the story that most resonated with me in the last few years? Probably Midnight Mass. And I have a bunch of recommendations for y'all at the end of this!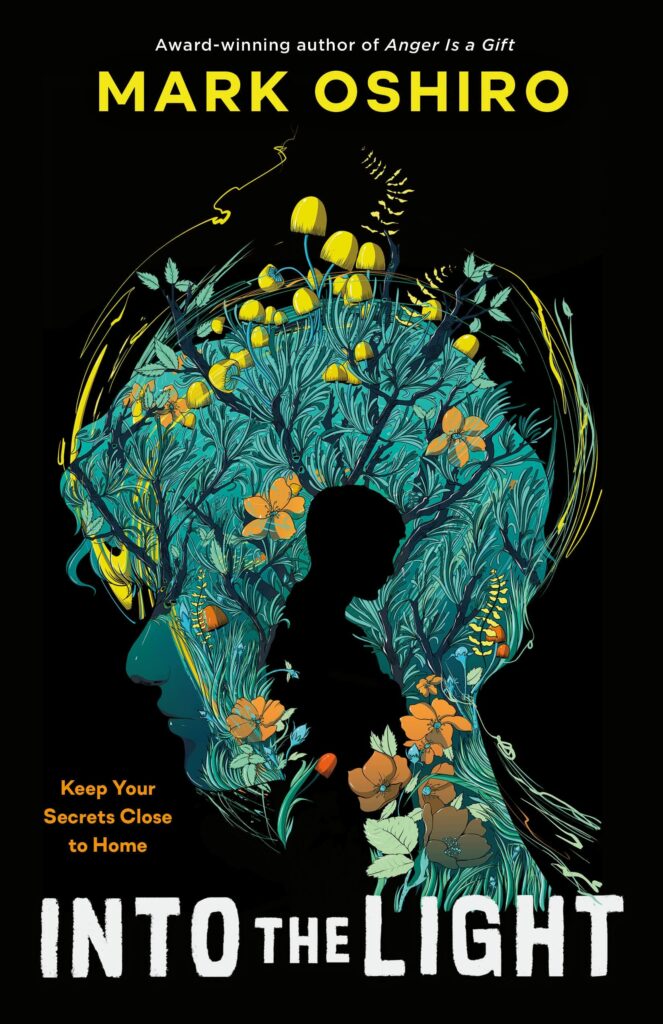 As a writer, who or what would you say are some of your greatest creative influences and/or sources of inspiration in general?
Every day life. My childhood. Really, really good works of art. Extremely cursed jokes in the group chat. 1am meals in diners.
What are some of your favorite elements of writing? What do you consider some of the most frustrating and/or challenging?
I love a good framing device and a very voice-y first-person narrator. I'm also a sucker for a mind-trip of a structure. Unfortunately, those are all really challenging to pull off and I constantly keep using them. One day, I will write something that's a lot easier to execute.
Aside from writing, what are some things you would want others to know about you?
I'm a big lover of music; if I could be doing anything else, it would be writing and playing music. I can talk anyone's ear off about music in a heartbeat. Into the Light is also based heavily on my experience as a transracial adoptee. I'm Latinx (as is my identical twin brother, who thankfully never got separated from me), but my adoptive parents are white and Japanese/Hawaiian. Hence the last name that often confuses people! Also, I love long distance running.
What's a question you haven't been asked yet but that you wish you were asked (as well as the answer to that question)?
Oooh! The question would be: What are the three albums you've listened to the most while writing your books? And the answer would be: Sing the Sorrow by AFI; The Other Shore by Murder by Death; Gone Forever by God Forbid.
What advice might you have to give for aspiring writers?
Don't throw away any old drafts. I've turned old drafts into novels. Twice! And if you struggle with perfectionism, the best thing I ever did for my process was to write what's called a zero draft: a draft that I show to literally no one. Not friends, not my agent, not an editor. No one sees it. So I just write my trash draft that's littered with errors and might not make any sense, but the story is on the page. I can do something with it. Give it a try!
Are there any other projects you are working on and at liberty to speak about?
I'm currently in the development stage of what will hopefully be my eighth book and third original middle grade novel. It's a spooky and funny and will absolutely also punch you in the heart because it's a Mark Oshiro book. I'm also thinking of branching out into adult horror, but that's all I can say at the moment.
Also, I'm pretty sure I know what my next YA novel is going to be, and unfortunately for me, it is yet another speculative novel with a bizarre narrative structure. I'll see myself out now.
Finally, what LGBTQ+ books/authors would you recommend to the readers of Geeks OUT?
Any and everything by Leah Johnson.
Nothing Burns As Bright As You by Ashley Woodfolk
We Deserve Monuments by Jas Hammonds
The Stars and the Blackness Between Them by Junauda Petrus
Any and everything by Sarah Gailey
Fifteen Hundred Miles From The Sun by Jonny Garza Villa