A.J. IRVING once wished to be friends with her first crush. Her wish came true. She will always remember the little girl who made her feel like she could fly. Now A.J. writes picture books and poetry beneath an old elm tree in Salt Lake City. As a children's author and former bookmobile librarian, she is passionate about inspiring kids to love books. A.J. received a BA in journalism and women's and gender studies from the University of Oregon. She is also the author of Dance Like a Leaf.
I had the opportunity to interview A. J., which you can read below.
First of all, welcome to Geeks OUT! Could you tell us a little about yourself?
Thank you so much for having me! I'm a mama, children's author, and jail library assistant. I love my job! I check out a lot of kidlit in the jail, mostly YA and MG, but my heart bursts with joy every time I receive a picture book request. My first picture book, Dance Like a Leaf, published in English, French, and Spanish in 2020. I'm proud to be a mentor for picture book creators through the Queer Kidlit Mentorship Program. I am very passionate about queer rep for younger kids!
What can you tell us about your latest project, The Wishing Flower? Where did the inspiration for this story come from?
The Wishing Flower is the queer girl picture book of my heart. This story was inspired by my first crush in elementary school. I was a shy girl who felt different and alone. I remember spending a lot of time in the big field at recess watching the other kids play and longing for connection. Just like Birdie, my wish came true when I became friends with a girl who truly saw me.
How did you find yourself getting into storytelling and children's books? What drew you to the medium?
I have fond memories of my grandma reading to me before bed. I visited her every summer in Montana when I was growing up. I rediscovered my love for children's literature after I became a mother 15 years ago. I will never forget the way my son's eyes lit up or how his little hands excitedly explored the pages of picture books. My desire to write for children deepened year after year as we read book after book.
How would you describe your creative process? And what went into collaborating with an artist for your book when you are a writer?
Nature has always been a big part of my creative process. I get my best ideas when I'm outdoors. The first lines of The Wishing Flower came to me on a hike in Wyoming. I always follow my muse. I've learned to trust that the words will come to me when I'm ready. Sometimes it feels like wordstrings are floating all around me and all I have to do is catch them and piece them together. I start every project with pen and paper. I feel more in tune with my memories and emotions this way. I think this connection goes back to all the journaling and poetry I wrote during my childhood.
Kip was my number one choice to illustrate The Wishing Flower. I'm grateful they brought Birdie and Sunny's story to life. I could not imagine the art any other way. In most cases in traditional publishing, the author and illustrator do not collaborate. The illustrator works closely with the art director and the author words closely with the editor. My editor sent me Kip's art at various stages and encouraged me to offer feedback. I had very few suggestions. Seeing art for the first time is my favorite part of the process. Kip's art for The Wishing Flower took my breath away!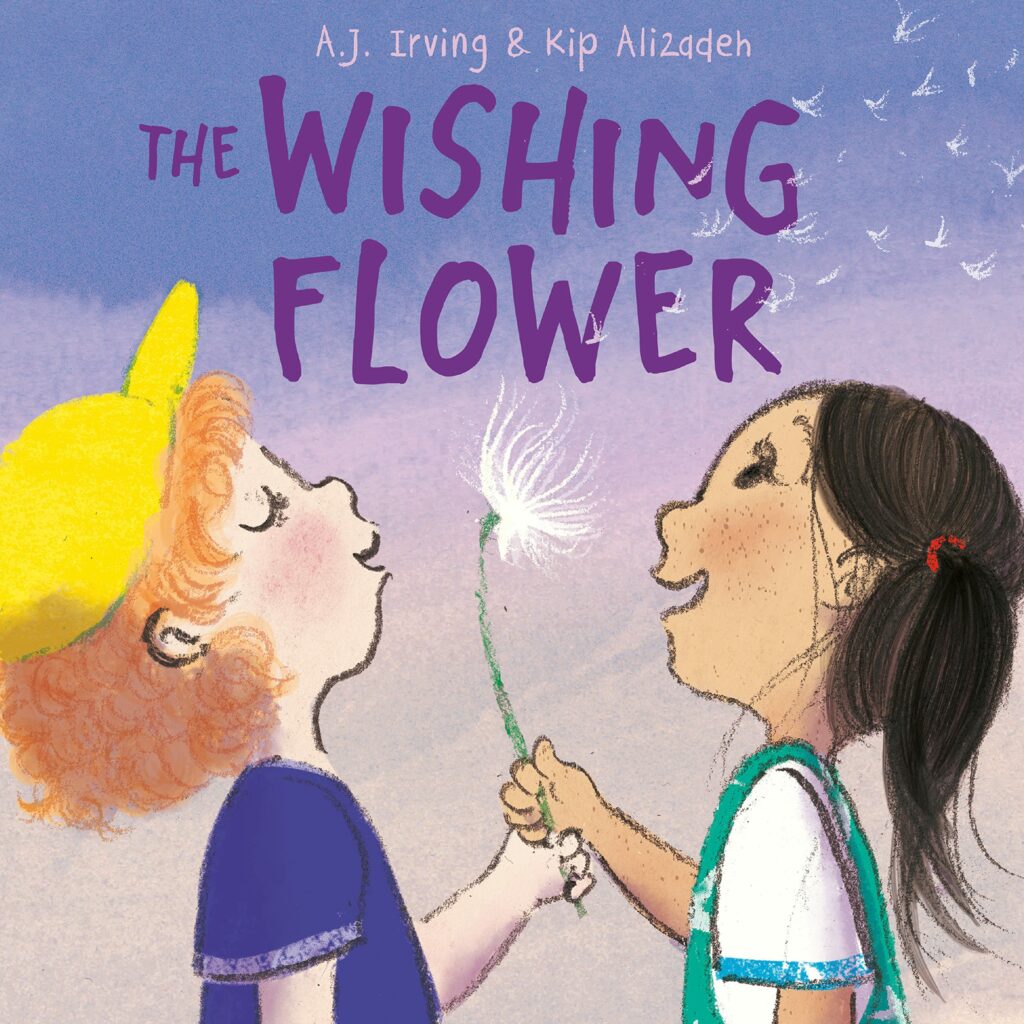 As a creative, who or what would you say are some of your greatest creative influences and/or sources of inspiration?
Most of my work is inspired by my life and my lyrical books always come from my heart. The first few drafts of The Wishing Flower didn't include wishing flowers. I knew the story was missing something. My daughter has always called dandelions "wishing flowers." She had been asking me for a few years to write a book about them. This was the missing piece that tied everything together. I also find inspiration in art, photography, other books, and things I observe in nature.
Besides your work, what are some things you would want readers to know about you?
I only read kidlit. I used to drive a big blue bookmobile named Thomas. My family just got an English bulldog puppy! His name is Derwin. He loves his big brother Bosa, who is also an English bulldog, and he's very curious about our cat, Ish. I'm obsessed with the sky. I adore clouds, sunsets, lightning, rainbows, and shooting stars. Looking up always fills me with hope and wonder.
What's a question you haven't been asked yet but wish you were (and the answer to that question)?
My question would be: "What do you hope your readers get out of your books?" and my answer is: I hope my readers feel seen, safe, and loved. I hope they honor their wishes, spread their wings, and feel proud to be themselves.
Are there any other projects you are working on or thinking about that you can discuss?
My latest project is inspired by my job in the jail library. I also have an unannounced queer picture book that I am eager to share!
What advice might you have to give to aspiring creatives, especially to those interested in making their own picture book?
Read. Read thousands of picture books. Don't try to follow trends. Write from your heart. Find exceptional critique partners and participate in the kidlit community. This community will celebrate your wins and lift you up when you're feeling down. Kidlit folx are the absolute best!
Finally, what LGBTQ+ books/authors would you recommend to the readers of Geeks OUT?
In the picture book space: Strong by Eric Rosswood, Rob Kearney, and Nidhi Chanani, Love, Violet by Charlotte Sullivan Wild and Charlene Chua, Hope for Ryan White by Dano Moreno and Hannah Abbo, Molly's Tuxedo by Vicki Johnson and Gillian Reid, A Costume for Charly by CK Malone and Alejandra Barajas, and Door by Door by Meeg Pincu and Meridth McKean Gimbel.
For middle grade, I love Ellen Outside the Lines by A.J. Sass; Camp Quiltbag by A.J. Sass and Nicole Melleby, Dear Mothman by Robin Gow, and This is Our Rainbow edited by Katherine Locke and Nicole Melleby. For YA, I am wild about The Passing Playbook by Isaac Fitzsimons, A Million Quiet Revolutions by Robin Gow, Bianca Torre is Afraid of Everything by Justine Pucella Winans, and Things I'll Never Say by Cassandra Newbould. I could go on and on!