R. M. Romero is a Jewish Latina and author of fairy tales for children and adults. She lives in Miami Beach with her cat, Henry VIII, and spends her summers helping to maintain Jewish cemeteries in Poland. You can visit her online on Instagram @RMRomeroAuthor. 
I had the opportunity to interview R. M., which you can read below.
First of all, welcome to Geeks OUT! Could you tell us a little about yourself?
I'm R.M. Romero, a fairy of fairy tales for children and adults who lives in Miami Beach with my orange cat, King Henry VIII.
What can you tell us about one of your latest books, The Ghosts of Rose Hill? What inspired the story?
The Ghosts of Rose Hill is the story of Ilana Lopez, a Cuban-Czech Jewish teen who is sent to stay with her aunt in Prague for the summer so she can focus on her studies instead of her passion for violin. There, she meets a ghost boy named Benjamin who has been dead for a hundred years, and a man with no shadow who offers to make all her dreams come true—for a price. The book came from my experiences working to maintain Jewish cemeteries in Poland and Ukraine during the summers.
It would seem that a lot of historical research has went into this book. How would describe the process and how it intertwined with you writing the actual novel?
I wouldn't have been able to write the without having visited Prague and soaking up the feel of the city for myself. The first day I arrived, I went on a tour that was focused on the Nazi and Communist periods, and the guide pointed out Prague's many half-hidden scars.Those scars stuck with me, and I found myself returning to the city again and again in my imagination long after I'd left. Most of the in-depth research was fact checking I did after I already had a draft of the book, to be honest!
The Ghosts of Rose Hill is said to be "a love letter to Latin American and Jewish diasporas." What does it mean to you as an author writing this type of representation into your work?
As a Jewish Latina, I'm something of a unicorn. A lot of people hear about my background and say they've never heard of someone like me before! I didn't intentionally set out to write a character whose heritage reflected my own initially. But the deeper I got into The Ghosts of Rose Hill, the more I realized it was a story about exiles, and that the idea of being in exile is such a key part of being both Cuban-American and Jewish.
What drew you to writing, particularly young adult fiction, speculative fiction, and novels in verse? Were there any favorite writers or stories that sparked your own love and interest in storytelling?
Ages 12-15 were the most formative years of my life for me. What happened during that period and the interests and obsessions I developed during it have followed me into my adult life—and that includes poetry! When I started reading Dante and Sylvia Plath as a teen, I realized that poetry was more than the comedic rhymes I'd been exposed to in elementary school; it was raw and very real. The Brothers Grimm, Hans Christian Andersen, Francesca Lia Block, Stephen King, and Brian Jacques were the authors who made me want to tell my own stories.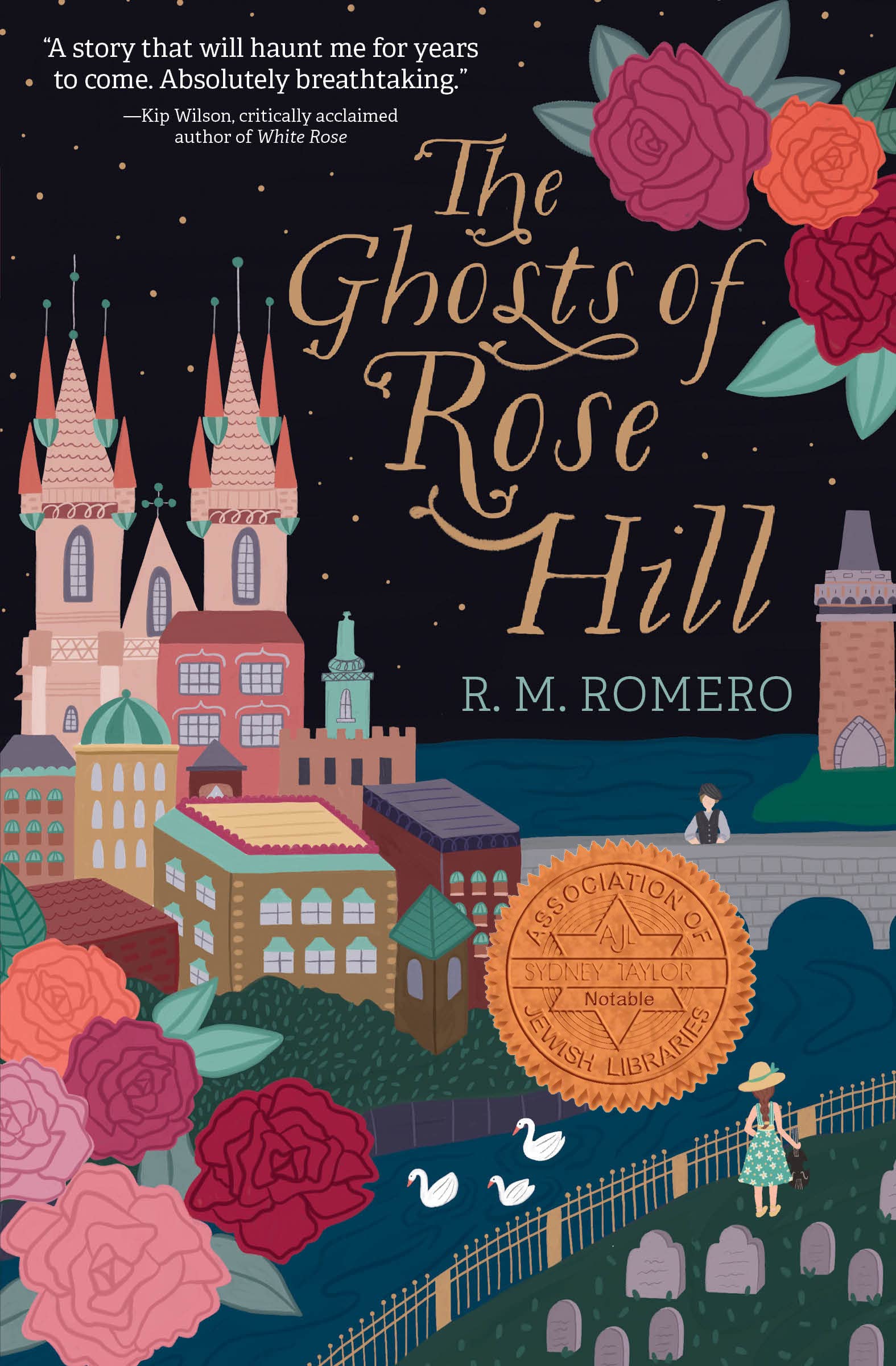 How would you describe your writing process? What inspires you as a writer?
I'm what's known as a "planster" or a discovery writer; I mostly fly by the seat of my pants while drafting, but I usually know the general direction of where the story is headed. If I plot too much of the book out beforehand, I lose interest in it because I feel too confined. As for what inspires me, traveling, music and visual art help spark most of my ideas.
What are some of your favorite elements of writing? What are some of the most challenging for you?
I love exploring my characters and their journeys, and playing with language. I can sometimes lose myself in that language and character introspection, however. I have to remind myself that during action scenes, no one is going to pause to reflect on what's going on!
One of the hardest parts of writing a book is finishing one. Were there any techniques/ strategies/ advice that help you finish a first draft?
A first draft is, to quote the late Terry Pratchett, you telling yourself the story. It doesn't have to be good; it doesn't even need to make sense to anyone but you. Once you have the bones, you can restructure it. But you need something down on the page before you can do that! I remind myself of that when I'm pushing toward the end of a novel.
What's a question you haven't been asked yet, but wish you were asked (as well as the answer to that question)?
How autobiographical is The Ghosts of Rose Hill? Answer: almost entirely.
Besides your work, what are some things you would want readers to know about you?
I'm secretly five black cats in a trench coat. I'd live off of sushi if I could and have double jointed elbows. I'm happiest living out of a suitcase.
What advice might you give to other aspiring writers, particularly for those interested in writing novels in verse?
Trends and what's popular change from day to day; what you're passionate about doesn't. So write what you love! I'll always advise aspiring writers to read widely and outside of their comfort zones. Any format and genre, whether that's YA, historical fiction, non-fiction or poetry, will teach you something that will make you more skilled at your craft.
Are there any other projects you are working on and at liberty to speak about?
My next YA novel in verse, A Warning About Swans, comes out in July from Peachtree Teen! It's a queer retelling of Swan Lake that takes place at King Ludwig II's fairy tale castle in Bavaria about a swan maiden named Hilde whose magic cloak is stolen by a greedy baron and a non-binary artist named Franz who can paint the truth of souls. My next MG, Tale of the Flying Forest, is also in the works! It's a Jewish Narnia story about a girl who travels to another world to rescue her missing twin brother and find the pieces of his broken heart.
Finally, what books/authors would you recommend to the readers of Geeks OUT?
Recently, I've been into the poetry of Richard Siken, We Are All So Good At Smiling by Amber McBride, Piranesi by Susanna Clarke, and Black Bird, Blue Road by Sofiya Pasternack.