Anna Sortino is a young adult author who writes stories about disabled characters living their lives and falling in love. She's Deaf and passionate about diverse representation in media. Born and raised in the Chicagoland area, Anna has since lived in different cities from coast to coast, spending her free time exploring nature with her dog or reading on the couch with her cat. Give Me a Sign is her debut novel.
I had the opportunity to interview Anna, which you can read below.
First of all, welcome to Geeks OUT! Could you tell us a little about yourself?
Thanks for having me! I'm Anna Sortino, and I'm the author of the upcoming YA novel Give Me a Sign. When I'm not writing, I love spending time outside, crafting, and obsessing over my pets. Originally from Chicago, I've since lived in DC, CA, and soon, NC.
What can you tell us about your debut book, Give Me a Sign? What was the inspiration for this story?
Give Me a Sign is a sweet YA contemporary romance novel set at a camp for deaf and blind kids. Lilah wears hearing aids and feels caught between deaf and hearing. She gets a job for the summer where she finds community, brushes up on her ASL skills, and falls for a cute Deaf counselor. It's up to Lilah to find where she belongs, especially when the comfort of camp is no match for struggles in the real world.
The main inspiration for this novel was the setting. Growing up, I went to a similar camp. We were kids enjoying the summer, hanging out in the lake, getting mosquito bites and sunburn, and eating tons of s'mores. We were loud, animated, and eager for interactions in the Deaf community that many of us didn't have access to back home. When it comes to disabilities, there are always a lot of stereotypes or assumptions at play. I wanted to use this setting to write a book full of disabled characters, showing a wide range of experiences, while centering joy.
How did you find yourself getting into storytelling, particularly young adult and romance? What drew you to those things?
Growing up, I was always a big reader, hiding away with a book whenever attempting conversation grew too taxing. After deciding upon the idea for Give Me a Sign, I realized summer camp was the perfect setting for a teen romance! Young Adult explores the time in our lives when we're figuring out where we fit into the wider world and what things are most important to us. It's a great age category to explore questions about identity and belonging.
How would you describe your creative process?
Bursts of frantic creativity and lulls of stalled frustration.
As a writer, who or what would you say are some of your greatest creative influences and/or sources of inspiration?
My greatest influences are some of the amazing disability advocates out there doing the work. Every time Imani Barbarin (@crutches_and_spice) comes across my newsfeed, or an incredible documentary like Crip Camp makes its way to Netflix, I'm reminded that our stories are important and deserve to be told.
As someone who is part of the d/Deaf/HOH community, disability seems to be a strong element in your work. How did you set about representation in your book, particularly representing a three-dimensional language like ASL, or general Deaf culture onto the page?
I grew up in a household with a mix of significant hearing and vision losses, so to me, accessibility can be commonplace, as simple as watching tv on a school night with closed captions while voicing aloud anything that might be hard to view on screen. My entire life I've been surrounded by disability. Since my hearing aids can be an obvious giveaway, many people have felt comfortable sharing their otherwise invisible disabilities with me. Some might consider the sheer volume of disabled characters in Give Me a Sign as extraordinary, but I know for a fact that a novel with an entirely able-bodied cast is not an accurate representation of the world we live in.
When it comes to depicting a visual language like ASL on the page, each Deaf author puts their own spin on it. Since Give Me a Sign is a first-person story told from Lilah's perspective, it was important to me that the ASL read how she was internally interpreting it. As her comprehension progresses throughout the novel, so does the complexity of the signed translation.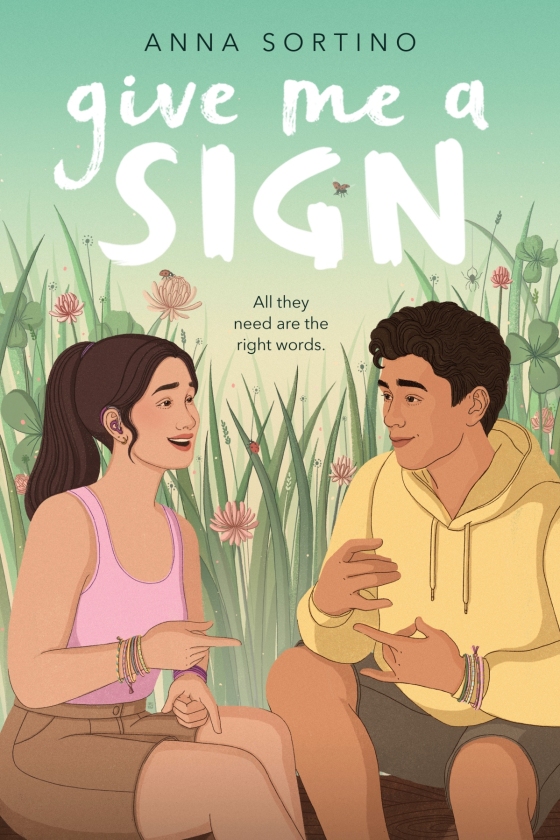 What advice would you give for authors for portraying disability (whether that of their own or of others) within their own work?
For those wanting to write a novel with a more inclusive cast of characters, please do your research and utilize authenticity readers. So much of our disabilities make us who we are, therefore it's not as simple as creating a character and sprinkling a disability on top. Also, consider whether you are the right person to tell a certain narrative—disabled people should first and foremost be the authors of our own stories, because for far too long, that hasn't been the case.
For disabled authors, know that while infusing your experiences into fiction can be cathartic, don't feel like you have to give every piece of yourself to the world. It's okay to keep some distance so any negative comments that may come about your novel won't shatter your self-worth. Also, support your fellow disabled authors since we're in this together, and the world needs all our stories and perspectives.
What's something about Deafness/disability you might want someone to take away from this interview?
Deafness is a spectrum, and every individual has their own experience with it. Kids with hearing loss aren't born with an innate knowledge of ASL, so it's important to foster community and shared learning so that children can flourish with the benefits of Deaf culture.
What are some of your favorite elements of writing? What are some of the most challenging?
I absolutely LOVE revising. The hard part of getting all those initial words down on the page is over, and I get to play around in this new world I've created. During drafting, I might struggle to write a hundred words, but during revising, I could blink and have accidentally written five thousand new ones. It's like the pressure is off—this book is a real thing and now I can totally enjoy creating it.
Besides your work as an author, what are some things you would want readers to know about you?
Meet my writer's assistants! I've got a mischievous Shiba Inu named Mika, and a daring little orange cat named Zuko. Both find it of the utmost importance to obstruct my keyboard and remind me to stand up every once and a while.
What's a question you haven't been asked yet but wish you were (and the answer to that question)?
"Are you a hand model?" And the answer is, kind of!
To help my illustrator (the incredibly talented Christina Chung) get the positioning just right on the cover of Give Me a Sign, I took reference photos of my partner and I signing the words used. The result was such perfect and life-like signing!
Follow up question, "So what are the characters saying on the cover?"
Lilah is signing "right!" while Isaac signs "interesting."
Are there any projects you are working on or thinking about that you are able to discuss?
Ah there's much in the works that I wish I could discuss! I will say that my next YA project has been referred to as a "slightly older sibling to Give Me a Sign", and I can't wait to share more about that one soon.
What advice might you have to give to aspiring writers?
Find people who will help make your journey more bearable. It's no secret that publishing is tumultuous, and you'll want to make friends with fellow writers who understand the ins and outs of the querying and submission processes. Because no matter how many times you explain it to folks outside the industry, they won't fully understand why some piece of news has you either dancing around the room or crying into your pillow. That's what your writer friends are for.
Finally, what books/authors, including possibly those related to Deafness/disability, would you recommend to the readers of Geeks OUT?
I could rec books for daaaaays. To keep it short and sweet, here are some great reads by Deaf authors:
Middle Grade – Show Me a Sign by Ann Clare LeZotte
Young Adult – The Loudest Silence by Sydney Langford (summer 2024)
Adult – True Biz by Sara Nović