C. L. Polk (they/them) wrote the Hugo-nominated series The Kingston Cycle, including the WFA-winning Witchmark. The Midnight Bargain was a Canada Reads, Nebula, Locus, Ignyte, and WFA finalist. They have worked as a film extra, sold vegetables on the street, and identified exotic insect species for a vast collection of Lepidoptera before settling down to write fantasy novels. Polk lives in Calgary, which is on the traditional territories of the Blackfoot Confederacy, the Tsuut'ina, the Îyâxe Nakoda Nations, and the Métis Nation (Region 3).
I had the opportunity to interview C. L., which you can read below.
First of all, welcome to Geeks OUT! Could you tell us a little about yourself?
Hi! I'm C. L. Polk, I write Fantasy, I've lost all the big three North American SFF awards, and I'm always late watching the TV show everyone is talking about, and I would love to follow Critical Role but I just never seem to start. I've been trying to get a gaming group together for years, and I like to knit.
What can you tell us about your latest book, Even Though I Knew The End? What inspired the story?
I had a whim one day to write a hardboiled detective pulp voice, and I let it percolate in my mind while I did some other things, and one day it sprouted. I didn't really have a good reason. I wanted to write something voicey; that was all.
But when it finally came together it did so all at once, and I had to race to finish it. Then it languished for a while, and I picked it up, read it, and thought of something that I could do with the story, so I had the chance to do what a lot of writers don't get – a good long wait between finishing it and returning as a different kind of writer.
What inspired you to get into writing, particularly speculative fiction? Were there any favorite writers or stories that sparked your own love and interest in storytelling?
My reasons are ordinary. I liked stories, and I wanted to try writing some of my own, and when I did, I found that I liked it, so I kept doing it. And I've read a lot of books. All of them have something to do with the reasons why I'm interested in writing and stories. My favorite writer is a tough one to answer. I usually say Tanith Lee, but honestly, it's a lot wider than that.
How would you describe your writing process, especially that for worldbuilding?
When I worldbuild I just do whatever. I don't have a system. I follow an enthusiasm, which sparks off more enthusiasms until I hit critical mass and I have to start writing before it all collapses.
What are some of your favorite elements of writing? What are some of the most challenging?
My favorite is the times when I'm drafting an I hit flow. It's great. It's a gift. It's not like that every day. The most challenging is evading the self-doubt that is in the way of the page.
What's a question you haven't been asked yet but wish you were asked (as well as the answer to that question)?
I never have an answer for this. I never expect or hope for someone to ask me the perfect question. I'm not sure it exists. I also don't think I can control what drives another person's curiosity. I suppose that's not an exciting answer but I find accepting this is much less stressful than hoping someone perceives me in a particular way.
Also, asking for a friend, do you have a favorite hot beverage?
I like a lot of hot beverages. I drink coffee pretty often, and I'm particular about its quality. I usually make coffee at home, but when I'm out I look for cafes with excellent beans and well-trained baristas. A good cup of coffee will stop you in your tracks.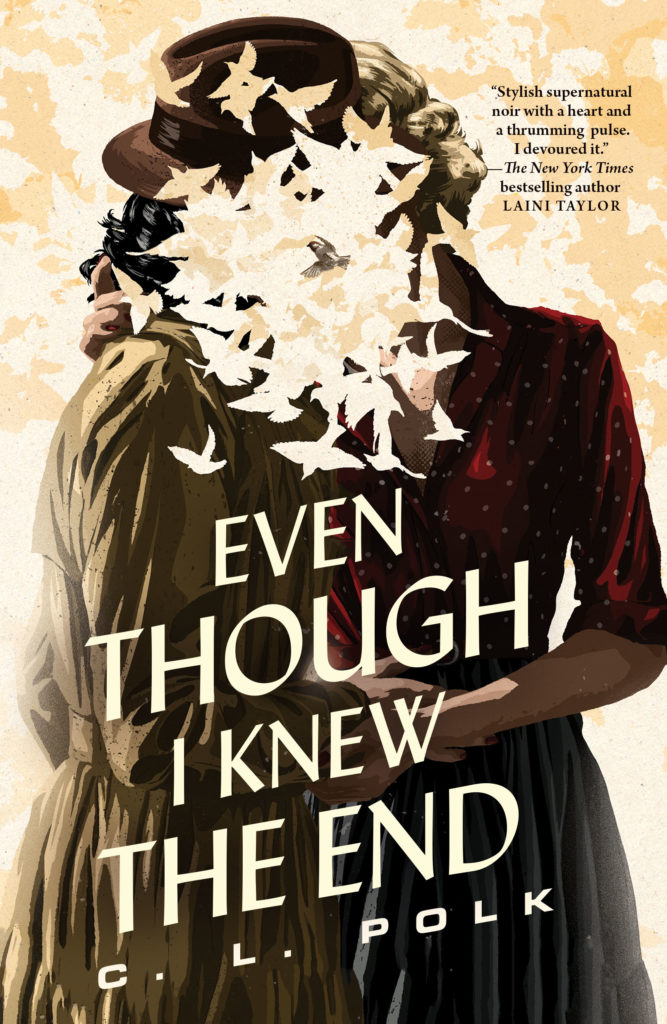 And how have you masterfully weaved so many plot threads together, like in Witchmark?
It's easy. I write characters who want things that aren't the same as what the other characters want, and then I set them to go about getting it.
More technically, for the interested writers in the group: I use Scrivener. I am a scene-by-scene writer and not a chapter writer. So for each scene, I write a little summary and give it a label, and every label has a color – so if I look at my Scrivener project's notecards, I can see at a glance which plotlines are getting lost because their colors haven't shown up in a while.
If you don't have Scrivener, you can use Google Slides for this as well. But don't let me gas on about Scrivener because I will be here all day.
And as a writer would you ever be interested in trying out other genres besides fantasy?
I have written science fiction short stories before and I might try a novel at some point. I have written more than one contemporary romance, but never tried to publish one. I like mysteries, but those are easy to include into fantasy stories. I'm also interested in Gothics and domestic thrillers. Honestly, I just like genre.
What advice might you have to give for aspiring writers?
Write what you believe in. Ignore trends. You have thousands of people who are dying for the kind of thing you're doing. They are your audience; write for them instead of who you think you should write for.
Besides your work, what are some things you would want readers to know about you?
Honestly, that's it. I like stories, I've written a few, I hope you like them. If you want my cheeky comments check out my twitter. I don't think there's anything a reader needs to know—if they're curious, that's fine, but it's not necessary.
Finally, what books/authors would you recommend to the readers of Geeks OUT?
There's an activity on a subreddit called r/fantasy where they do a bingo card. The idea is that you try to read a book you've never read before that fits a given category and fill the square. I think it's brilliant: one of the best reading guides out there. It's such a good invitation to explore, so I want to shout out to the bingo card. And I do that because it's a great way to do what I recommend – go wide. Try stuff. The number of amazing books being published these days is staggering.
Also, I want to shout out to short fiction. There's piles of it online, free, waiting to be read, and short fiction is fantastic reading. Other magazines are by subscription, and some of them, particularly the print digests, have been around for decades. You can finish a story quickly but short stories have the potential to come along with you for years after.
---
Header Photo Credit: Mike Tan