Emma Steinkellner is an illustrator, writer, and cartoonist living in Los Angeles. She is a graduate of Stanford University and the illustrator of the Eisner-nominated comic Quince. She is the author and illustrator of The Okay Witch graphic novel series.
First of all, welcome to Geeks OUT! Could you tell us a little about yourself?
Thank you! I'm a writer, illustrator, and cartoonist in Los Angeles, CA and I love making comics for young readers. I remember how much it meant to me to get completely absorbed in a fun book at that age and it's really great to be able to make the books I would've wanted to read then now.
What can you tell us about your latest project, Nell of Gumbling: My Extremely Normal Fairy-Tale Life? What was the inspiration for this book?
This book is the illustrated journal of Nell Starkeeper, an (as she would put it) extremely normal 12-year-old kid living in the magical land of Gumbling, where her friends are fairies, unicorns, and Thumbkins and the history of the town is full of real-life fairy tales. When I sat down to come up with an idea for a new series, I thought about the kind of stuff I liked to read as a kid and I remembered how fascinated I was by fairy tales and I thought it would be fun to write a book of original fairy tales in comic form. Then, as I came up with those tales, I realized it would be cool if they all took place in the same land. And then, a couple of ideas later, I centered the story on the point of view of one kid in that land!
Can you give us any trivia (that hasn't already been given) about the characters from , Nell of Gumbling: My Extremely Normal Fairy-Tale Life?
There are a lot of fairy tale archetypes I play around with in this book: fairies, unicorns, witches, thumb-sized people. And I wanted to really set my imagination free as I designed these types of characters that have existed in plenty of other tales before. In the case of Nell's unicorn frenemy Voila Lala, I smushed together a couple of design inspirations. First off, the unicorns are really more like unicorn-centaurs with human heads and torsos (no noses though, they smell through their horns!). And Voila in particular is really inspired by koi fish and candy corn, which you might be able to see in her overall color palette. And I keep the fairies' wings in this world colorful but semi-transparent. That's inspired by some colorful tissue shapes my older sister had on her window in our house growing up. I used to love the way the light came through those.
As a creative, what drew you to the art of storytelling, particularly to the realm of comics/graphic novels and fantasy?
I love writing and I love drawing but I REALLY love putting them together. Even when I'm drawing context-less doodles in my sketchbook, I'm always kind of imagining a story for them. And even when I'm writing a text-only story, I'm tempted to draw some of the characters and settings. So comics and graphic novels really are the perfect form for me. And as for fantasy, I've always been drawn to whimsical genre stuff like that, as a reader/viewer and as a creator. And I think magic pairs perfectly with middle grade/coming of age stories, which can be full of such unique and strong emotions.
How would you describe your artistic background?
I come from a family of writers! My parents worked as writing partners, my older brother and sister both write. It would have been pretty impossible for me to stay away from writing. Good thing I didn't want to! But I knew I didn't want to only write. I loved performing, improv, singing and dancing, and drawing. And when I was around 14, I started to really focus on drawing and put my whole self into it. And the more I drew, the more confident I got, and the more I found that my passions for writing and illustration really support each other.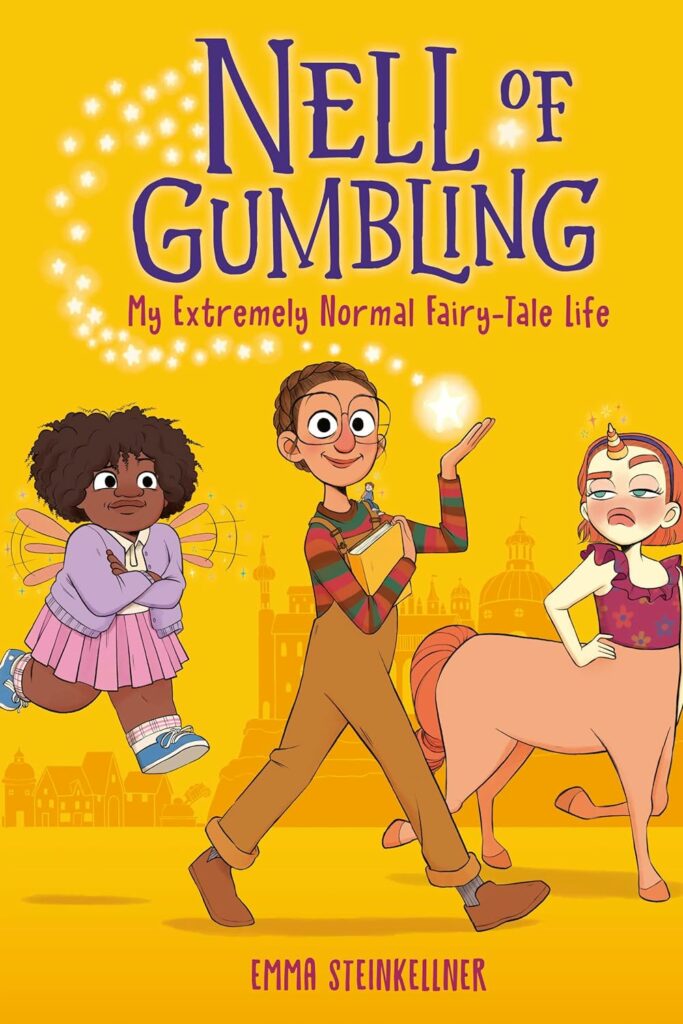 How would you describe your creative process?
Since I'm both writer and illustrator, I'm in conversation with myself a lot. A lot of people ask me what comes first when I'm making a graphic novel: the writing or the drawing? And the answer is…sort of both. While I'm outlining the script, sometimes I'll come up with some moments, places, costumes, characters, or objects that I need to sketch out. By designing some of those visual elements, I get a better idea of how to write about them when I write the script (which is the next step). Once I've written the script, and revised it with my editor, it's time to pencil the whole thing. That means I sketch out every page (in Photoshop), then we edit those sketches, I refine them to turn them into the final linework, and I add color! The whole thing takes about a year-ish.
As a creative, who or what would you say are some of your greatest creative influences and/or sources of inspiration?
I try to find inspiration all over the place. But for Nell of Gumbling, I kept coming back to a couple books that I couldn't put down as a kid. The Amelia books by Marissa Moss and the epistolary books by Kate and M. Sarah Klise. It's not hard to see how the humor and inventiveness of those books have stuck with me since 2002 when you read Nell.
Growing up, were there any stories in which you felt touched by/ or reflected in? Are there any like that now?
Growing up a cis, white girl, I didn't really have any shortage of characters I could point to and go "oh look, it's me" (Amelia from those Amelia books was one of them, she even had my exact haircut). Not every kid gets to feel that that often, although thankfully there has been a lot of progress in children's literature and we now get a lot more diverse, inclusive stories created by writers and illustrators who write from their own personal experiences.
What are some of your favorite elements of writing/illustrating? What do you consider some of the most frustrating and/or challenging?
With this particular book, I've loved writing from the point of view of my main character. It's pretty natural to sink into her voice because that was totally how I wrote in my journals as a kid. So I just love being in that state of flow where I might as well be writing in my own diary. There are special pages of the book where I'll really sink into the illustration too, really finely-detailed pages like the map of Gumbling or the 2-page spread of the Feszht festival (Feszht is the winter holiday in Gumbling). But those are also a lot of hard work. So it can take a long time to get everything right. And I'm not the most patient person, so that can be tough. But ultimately, it's always rewarding to slow down and focus so I can make something a little more special.
Aside from your work, what are some things you would like readers to know about you?
Truthfully, I put so much of the stuff that I'm made of into my work, you can find a lot of it there. Like the reason soup is such an important part of the regional cuisine of Gumbling? I love soup!
What's a question you haven't been asked yet but that you wish you were asked (as well as the answer to that question)?
I haven't been asked much about the Gumbling Tales yet and I had so much fun with them. Since my initial goal for this book was to create an illustrated book of original fairy tales, the core spirit of it is kind of in Nell's illustrated Gumbling tales in the back of the book. It was a challenge to come up with stories that had the vibe of fairy tales, but weren't actual retellings of any tales. I do think of each Gumbling tale as having a few similar existing tales that are "cousins" to it, however. Like, The Soupman's Wish, the Gumbling tale of a soup vendor who gives a lonely ghost some hot soup and is granted a wish in return— that is a cousin to any story of a kind character showing generosity to a supernatural being and getting something in return (Aladdin and His Magic Lamp, Diamonds and Toads, The Wishing Pearl, etc.)
What advice might you have to give for other creatives?
Journal! It feels so good to get what's in your head down on paper, whether that's your daily feelings, long term goals, reflections, or ideas for new stuff. Having a repository to put all that stuff in my brain helps me focus and gives me perspective. I guess this wouldn't be beneficial to creatives only, but I find it very helpful creatively.
Are there any other projects you are working on and at liberty to speak about?
I just finished the second book in the Gumbling series! So you should look out for that later next year. And I'm starting on a third one. I'm very excited about both of them.
Finally, what books/comics would you recommend to the readers of Geeks OUT?
Twins by Varian Johnson and illustrated by Shannon Wright is so sweet and fun. Anything by Vera Brosgol. I love Jen Wang's graphic novels too.