Mattilda Bernstein Sycamore is the author of three novels and a memoir, and the editor of five nonfiction anthologies. Her memoir, The End of San Francisco, won a Lambda Literary Award, and her anthology, Why Are Faggots So Afraid of Faggots?: Flaming Challenges to Masculinity, Objectification, and the Desire to Conform, was an American Library Association Stonewall Honor Book. Her latest title, the novel Sketchtasy, was one of NPR's Best Books of 2018. Her next book, The Freezer Door, debuted in November 2020. Maggie Nelson says it's "a book about not belonging that made me feel deeply less alone."
I had the opportunity to interview Mattilda, which you can read below.
First of all, welcome to Geeks OUT! Could you tell us a little about yourself?
I'm the kind of writer who thinks that writing means living, and living means writing, the two are intertwined so that every experience becomes part of the creative process, or that's the goal, anyway.
What can you tell us about your latest book, Touching the Art? What inspired this project?
Touching the Art centers around my relationship with my late grandmother, an abstract artist from Baltimore. As a child, she nurtured everything that made me different—my femininity, creativity, empathy, introspection, softness, thoughtfulness—but when my work became unapologetically queer, suddenly she called it vulgar. "Why are you wasting your talent," she would say to me, over and over again. The book circles around this abandonment.
Based on the description for this book, it appears Touching the Art explores the concept of Jewish assimilation and identity. As a queer Jewish person, I would like to hear your thoughts on exploring that in the book as well as any thoughts you might have on the intersection between your own Jewish and queer identities?

My grandmother grew up in Baltimore at a time when the city was rigidly segregated. Jews in Baltimore both enforced this segregation, and were victims of it. So I'm trying to explore this duality, how the Jews of Baltimore, for example, overwhelmingly sided with the Confederate South in the Civil War. There were even Jewish merchants that were smuggling goods to the South when Baltimore was under Union occupation. Most of the businesses in the one neighborhood where Black people were allowed to own property were owned by Jews, and they enforced the same racist Jim Crow policies as other businesses. My grandmother grew up two blocks from the line that separated white from Black, and I try to think about what that would have been like in the 1920s and 1930s. Billie Holiday, who also grew up in Baltimore at that time, says in her memoir, "A whorehouse was about the only place where black and white folks could meet in any natural way," and I think that tells you everything.
Understanding this history, which I did not know about when I was growing up in DC, really helped me to understand the family I grew up in, which was a very assimilated Jewish family where upward mobility and class striving were intertwined with Jewishness. And so was racism, misogyny, homophobia. As a child I was very proud of my Jewish heritage, but after my bar mitzvah I decided I didn't believe in God, and I wanted no part of this type of Jewishness. Of course, there's a long history of radical atheist Jews, queers and misfits and weirdos and iconoclasts, but this was hidden from me due to the violence of assimilation.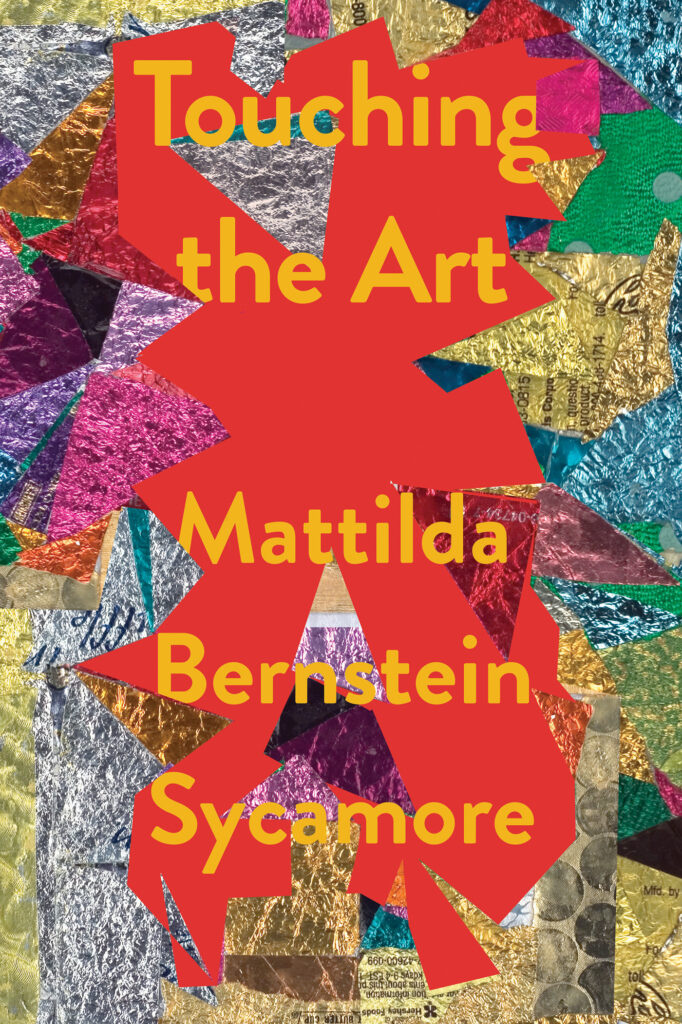 What drew you to writing, particularly memoir? Were there any favorite writers or stories that sparked your own love and interest in storytelling?
Writing is what keeps me alive, it's how I process the world and express myself and figure things out and connect with people too, I think more and more in this alienating world it's about connection. I don't write with genre in mind, I just write what I need to write, and then once it reaches a certain point I take a look at the whole thing and figure it all out.
How would you describe your general writing process?
I think I am always writing, but this could just be one sentence in a day. I write without any intention of plot or structure or form until eventually, usually once I have several hundred pages, sometimes after years, I realize what the writing is becoming and then eventually it becomes a book.
With Touching the Art, though, I started by touching my grandmother's art and seeing what would come through. Then I moved to Baltimore to see what would come through there. And after that I went into research mode. So all of this is in the book.
What are some of your favorite elements of writing? What do you consider some of the most frustrating and/or challenging?
I'm an obsessive editor, so I love the editing process, that you can keep working and working and working with the same text until it becomes something else, and until you get to the kind of precision that you're looking for, but at the same time you can keep a raw sense of searching. But then of course sometimes the editing process can be the most frustrating part, especially when you're trying to get it right.
As a writer, who or what would you say are some of your greatest creative influences and/or sources of inspiration?
I love going on walks, which sounds ridiculously cheesy, but it is what clears my head, especially leaning against trees, and I love dancing, but this has been very hard during the pandemic because I definitely don't want to dance inside, and of course I get inspiration from reading, and from other writers, but you already know that. And sometimes there isn't any inspiration, but I write anyway.
What's a question you haven't been asked yet but wish you were asked (as well as the answer to that question)?
No one has yet asked how all the different threads in the book came together, and so I would say it was through the writing itself. Like with some of these parts, I had no idea what I was doing while I was doing it, but then suddenly, at the end, something would come back into the book, and I would realize oh.
Aside from your work, what are other things you would want readers to know about you?
What else do you need to know? I mean it's all there, really, in my work. That's the type of writing I do.
Are there any other projects you are working on and at liberty to speak about?
Yes, I have a new novel called Terry Dactyl, which is out in the world on submission now… Wish me luck! And then after that I have a new hybrid nonfiction book called Social Distancing. I'm on my fifth draft of that one.
What advice would you give to other aspiring writers?
Just keep writing. Don't worry about how much or how little. Don't worry about whether you hate it, just get it down on the page. Even a sentence a day, that's plenty. Once you have it there, you can make it into what you need.
Finally, what LGBTQ+ books/authors would you recommend to the readers of Geeks OUT?
Honestly there are so many that I don't even know where to start. I would say that reading David Wojnarowicz's work was the first time I felt my entire sense of the world reflected in print, especially Close to the Knives and Memories That Smell Like Gasoline, but that second one is probably out of print. Another book I will always treasure is Gifts of the Body by Rebecca Brown. A recent book that I loved is Borealis by Aisha Sabatini Sloan. Oh and Miss Major Speaks by Toshio Meronek and Miss Major offers him a great informal history lesson.