Ciera Burch is a lifelong writer and ice cream aficionado. She has a BA from American University and an MFA from Emerson College. Her fiction has appeared in The American Literary Magazine, Underground, the art and literary journal of Georgia State University, Stork, and Blackbird. Her work was also chosen as the 2019 One City One Story read for the Boston Book Festival. While she is originally from New Jersey, she currently resides in Washington, DC, with her stuffed animals, plants, and far too many books.
I had the opportunity to interview Ciera, which you can read below.
First of all, welcome to Geeks OUT! Could you tell us a little about yourself?
Hi! I'm Ciera Burch, a Black, queer children's author with a huge fascination with ghosts in storytelling. I'm also a photography lover, amateur baker, and D&D enthusiast.
What can you tell us about your debut book, Finch House? What was the inspiration for this story?
Finch House is a middle-grade horror novel about a headstrong young girl, Micah, whose curiosity leads to her grandfather's disappearance in a haunted Victorian house that has a surprising connection to her and her family. There are haunted house shenanigans and ghosts and a couple of very brave kids, but at its heart, Finch House is a story about the things we do for and to the people we love and how change is a big part of the human experience but isn't always bad.
I've found inspiration in so many things (the Victorian houses in a town near where I grew up, Rita's water ice, time periods in American history) but, honestly, my main inspiration was the door to my Poppop's basement. It's in this cheery, bright yellow kitchen and that door, always open, is just a gaping mouth of darkness that you can't see past. It's terrified me since I was very little—and still does!
As a writer, what drew you to the art of storytelling, specifically middle grade fiction?
What a good question! I've always loved stories. I think we don't think enough about oral storytelling but, in that sense, my family is full of storytellers—they can all turn the smallest interaction with another person into a hilarious or moving story. So, I very much grew up steeped in story, often emphasized with loud laughter. My mom was also a big reader and she read to me a ton before I could read to myself, so it was only natural that once I could, I started devouring any and all stories that I could get my hands on. When I was in about 5th grade, I realized I could write my own and I've been trying to do so ever since.
I was drawn to middle grade because it's such a pivotal time in life, and it's the time in my childhood that feels most real to think back on. It was when I was first truly felt like I was becoming my own person with very clearly defined interests and curiosities and questions—and when I started writing in earnest. Writing middle grade is lovely because it brings me back to those crossroads moments of childhood when "kid" doesn't feel like it fits but "teenager" definitely doesn't. It feels very other in a way that, as someone from multiple underrepresented communities, I was drawn to.
As implied by the book's description, the setting of the book, a haunted source, acts as a metaphor for intergenerational trauma. What inspired you to go with this theme?
As a person of color, and particularly as someone interested in the themes surrounding horror and what makes ghosts, intergenerational trauma is not far from the surface of my mind at any point. Especially with the idea of breaking generational curses and cycles being so prevalent online and in social media, I wanted to explore that in a way that was not only accessible to kids but that also puts intergenerational trauma in your face and surrounds you—to make it a space, essentially, so that it can be fully interacted with and explored outside of, well, therapy.
How would you describe your writing process?
Oh, man. I'd love to say it's pretty methodical and planned out, which it often is, but Finch House came at me fast and hard. I had no outline, a few characters, and the idea of a house that consumes people and then I just…started writing. This book was like a solo-NaNoWriMo for me, I got the first draft down in about 30 days.
When I'm not so consumed however, or just busy or trying to track down my muse, I usually have outlines, sometimes even character profiles. I always write in order but I also have plenty of half-baked scenes and scattered pieces of dialogue jotted down in the notes app of my phone. I can get very much in my head about word count and can be big into perfectionism (it's the Virgo in me) so I try to block out actual time and space where I can just actually write without thinking too hard about what's going on the page, and try to remember to have fun with my story and my characters and not stress too much if a certain description isn't coming out how I wanted it to or if a big, planned scene is running in its own direction. I also no longer force myself to write at my desk. If I want to write on my couch or the giant bean bag chair I have or the courtyard of a museum, I try and let myself do that.
I love writing, even the messy, stressful, agonizing parts of it, and I try to keep that in mind when I get really frustrated or down on myself.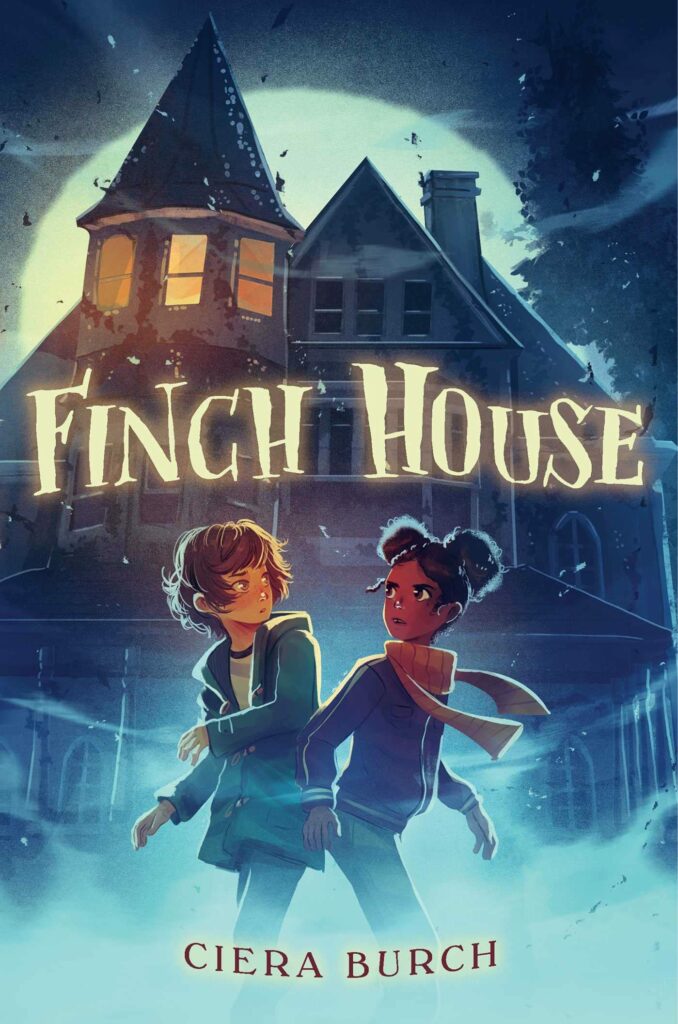 One of the hardest things about writing a book is finishing one. What strategies or advice might you have to say about accomplishing this?
I'm such an introvert but I'm going to have to say a strong support system. My friends and family have been so monumental in helping me actually finish Finch House. They were always there with encouraging words or distractions when I needed them, but they also let me bounce things off of them, just to get them off my chest. Sometimes they had great advice and sometimes they didn't, but it was the act of having to think about the book as I talked through it and explained my thought process to other people that spurred me along.
Also breaks. Sometimes you just need to walk away or eat a snack or three.
As a writer, who or what would you say are some of your greatest creative influences and/or sources of inspiration in general?
Life. Anything, really! It's surprising how some of the simplest things can spark ideas. Music lyrics, a fascinating interaction on a bus, the way someone pronounces a word, anything. I do a lot of people-watching when I'm out and I really enjoy seeing how other people go through the same spaces I do in such unique ways.
In terms of actual people, Mildred D. Taylor hooked me on her portrayal of family, especially Black family, as a child and has stuck with me ever since whenever I'm writing interpersonal, and especially intergenerational, scenes.
What are some of your favorite elements of writing? What do you consider some of the most frustrating and/or difficult?
I love dialogue. I often start off writing it without any tags or descriptions to get a feel for the flow of the conversation and whether each character's voice feels true to them. My characters are very vocal in my head, so it's always fun to get to put that to paper and let them have a little bit of free reign. Getting to a point that shaped the main idea for a story is also really fun, whether it's a bit of description or a major plot point.
Endings are most difficult for me. I will prolong finishing a book or tv series for years because I don't want them to end, so coming to the end of my own work is often difficult. Especially because, if I'm writing without an outline or veered pretty far from it, I don't always know how a piece of writing will end and I'll wonder if I've earned an ending I might have in mind or if the events of the book led me somewhere faithfully enough that my ending feels warranted. It's the last thing a person reads and remembers and it can really make or break or a book, so it feels so pivotal to me.
Aside from writing, what are some things you would want others to know about you?
I'm very much into Dungeons and Dragons these days and I could fangirl about it for hours if anyone let me. I don't know all the rules or classes or technicalities, but I make up for that with sheer enthusiasm, I hope.
What's a question you haven't been asked yet but that you wish you were asked (as well as the answer to that question)?
Would you live in a haunted house? The answer is absolutely not, but I would admire it from afar and take plenty of pictures.
What advice might you have to give for aspiring writers?
Don't give up! Really, truly. I know it's hard and it can feel like literally everyone in the world is better than you at it, but they're not! Only you can bring what you have to your writing (and the world) and so you should. It doesn't exactly get easier, but I like to think we all get better at it as we go.
Are there any other projects you are working on and at liberty to speak about?
I have a YA coming out next year, Something Kindred, that deals with more ghosts and more generational trauma but in a very different way and with two sweet, queer girls in a small town. I'm also working on another middle grade that I'm not sure I can spill the beans on plot-wise, but it involves a New Jersey icon.
Finally, what books/authors would you recommend to the readers of Geeks OUT?
Oh man, there are so many books, past, present, and future! I'm going to say EPIC ELLISONS: COSMOS CAMP by Lamar Giles, IT'S BOBA TIME FOR PEARL LI! by Nicole Chen, and my forever favorite ROLL OF THUNDER, HEAR MY CRY by Mildred D. Taylor.