TERRY J. BENTON-WALKER grew up in rural GA and now lives in Atlanta with his husband and son, where he writes fiction for adults, young adults, and children. He has an Industrial Engineering degree from Georgia Tech and an MBA from Georgia State. When he's not writing, he can be found gaming, eating ice cream, or both. Blood Debts is his first novel.
I had the opportunity to interview Terry, which you can read below.
First of all, welcome to Geeks OUT! Could you tell us a little about yourself?
Thank you so much! As a geek myself, I'm honored for the opportunity. I'm Terry J. Benton-Walker (it's also okay if you call me TJ), the author of Blood Debts, my young adult contemporary fantasy debut coming from Tor Teen on April 4th in the US and from Hodder & Stoughton on April 6th in the UK. I'm also the author of Alex Wise vs the End of the World, my middle-grade contemporary fantasy publishing with Labyrinth Road and Random House Children's on September 26th. I am a toddler daddy, which means I've been fighting on the front lines of the Preschool Plague Wars™ for my second year now and am battle-weary but love being a parent to my son, who's actually a really cool little guy. I'm also a video game geek, who is presently struggling as I've banned myself from gaming until I meet my current deadlines.
What can you tell us about your debut book, Blood Debts? What was the inspiration for this story?
Here's a short synopsis of Blood Debts:
Terry J. Benton-Walker's contemporary fantasy debut, Blood Debts, is "a conjuring of magnificence" (Nic Stone) with powerful magical families, intergenerational curses, and deadly drama in New Orleans.
Thirty years ago, a young woman was murdered, a family was lynched, and New Orleans saw the greatest magical massacre in its history. In the days that followed, a throne was stolen from a queen. Now, Clement and Cristina Trudeau—the sixteen-year-old twin heirs to the powerful, magical, dethroned family—discover their mother has been cursed. Cursed by someone on the very magic council their family used to rule. Someone who will come for them next.
Clement and Cristina's only hope of discovering who is coming after their family, is to trust each other, to trust their magic, and solve the decades-old murder. If they don't succeed, New Orleans may see another massacre. Or worse.
The inspiration for Blood Debts was three-fold. First, I was inspired by my personal experience with Game of Thrones and wanted to create a world where Black and Black Queer people could be centered and represented authentically in an epic fantasy story.
Then, while drafting the manuscript, I went through a rough time where I struggled with injustice both in the world at large and my personal life. Writing Blood Debts (in addition to therapy) became catharsis for me, as I got to process my complex and nuanced feelings about justice while exploring concepts of intergenerational trauma and the cycle of violence.
Lastly, anyone who follows me on social media most likely knows that I adore the video game, The Last of Us Part II, in which the story developers crafted an exceptional tale about the danger of perpetuating the cycle of violence through a unique dual perspective that was pitch-perfect and incredibly effective (albeit highly divisive among hardcore fans). The story of Blood Debts is also told through multiple perspectives of characters who are all seeking the justice they believe they've been wrongfully denied, whether right or wrong in their pursuits. This experience is meant to probe the layers of morality and justice through a story crafted with a 360-degree view of the central issues between these deeply complicated and compassionate characters.
As a story rooted in New Orleans, much of the story seems to rely on its historical significance, as well as its connection to Black magic/belief systems. Could you expand on your choice to center your story there?
I created Blood Debts for Black and Black Queer teens (and adults, y'all can enjoy it too), which means for them to have a truly immersive and heartfelt experience, the foundation of this story had to be authentic and Black. A major part of Black culture is our connection to our history, the good and the bad and the veiled, and our family, those who are still with us and those who are not. I wove those elements into the foundation of this series, because I want readers to feel at home from the first page, and on the last, I want them to close the book and hug it to their chests with pride in knowing that that is their story and Clem and Cris and Valentina belong to them.
As a writer, what drew you to the art of storytelling, specifically speculative and young adult fiction?
I've been a fan of stories from as young as I can remember. My mom always fed my curiosity as a kid, and when it came to stories in any form, I was ravenous. Life wasn't always great for me growing up for several reasons, so I often escaped into the speculative worlds of books, video games, and movies. And I still have the same habits as an adult.
I enjoy writing both young adult and middle grade fiction, because I adore kids and have so much respect for the innocence and honesty with which they view the world and the people in it. As a parent, I'm very careful to respect and nurture that in my son, though I also worry about the day he goes out into the world and external influences start chipping away at that innocence and honesty to replace it with respectability politics and other nonsense. The stories I write are entertainment first and foremost, but they also represent the lessons I've learned through tough experiences in my life that I hope, in sharing with kids, helps them hold onto their authentic selves and not make the same (or as many) mistakes as I have.
How would you describe your writing process?
My writing process is incredibly organized, because otherwise my high-functioning anxiety would not allow me to be great. I'm a heavy planner/ plotter, so before I draft a single word, I need to know everything about the world, the characters, and the plot. I front-load the majority of the heavy lifting at the beginning of my writing process, which means drafting takes me a bit longer, but revisions tend to go super fast for me.
I also created a Novel Planning Kit that I use for plotting and writing stories, which is available for download on my website as a free resource to help authors with their own projects.
Growing up, were there any stories in which you felt touched by/ or reflected in? Are there any like that now?
Growing up, I had no stories at all that made me feel truly seen. If I wanted to escape, I had to learn how to connect with stories and characters who were nothing like me. The media landscape has significantly improved since then, despite still having a long way to go. There are so many stories featuring Black and Queer characters in so many genres that at times I'm jealous of the treasure trove of content available for today's kids to escape into. However, it's my hope that publishing and other media industries continue to champion intersectional stories in speculative fiction, particularly ones centering authentic Black gay characters like Blood Debts and Alex Wise and Jamar Perry's Cameron Battle series.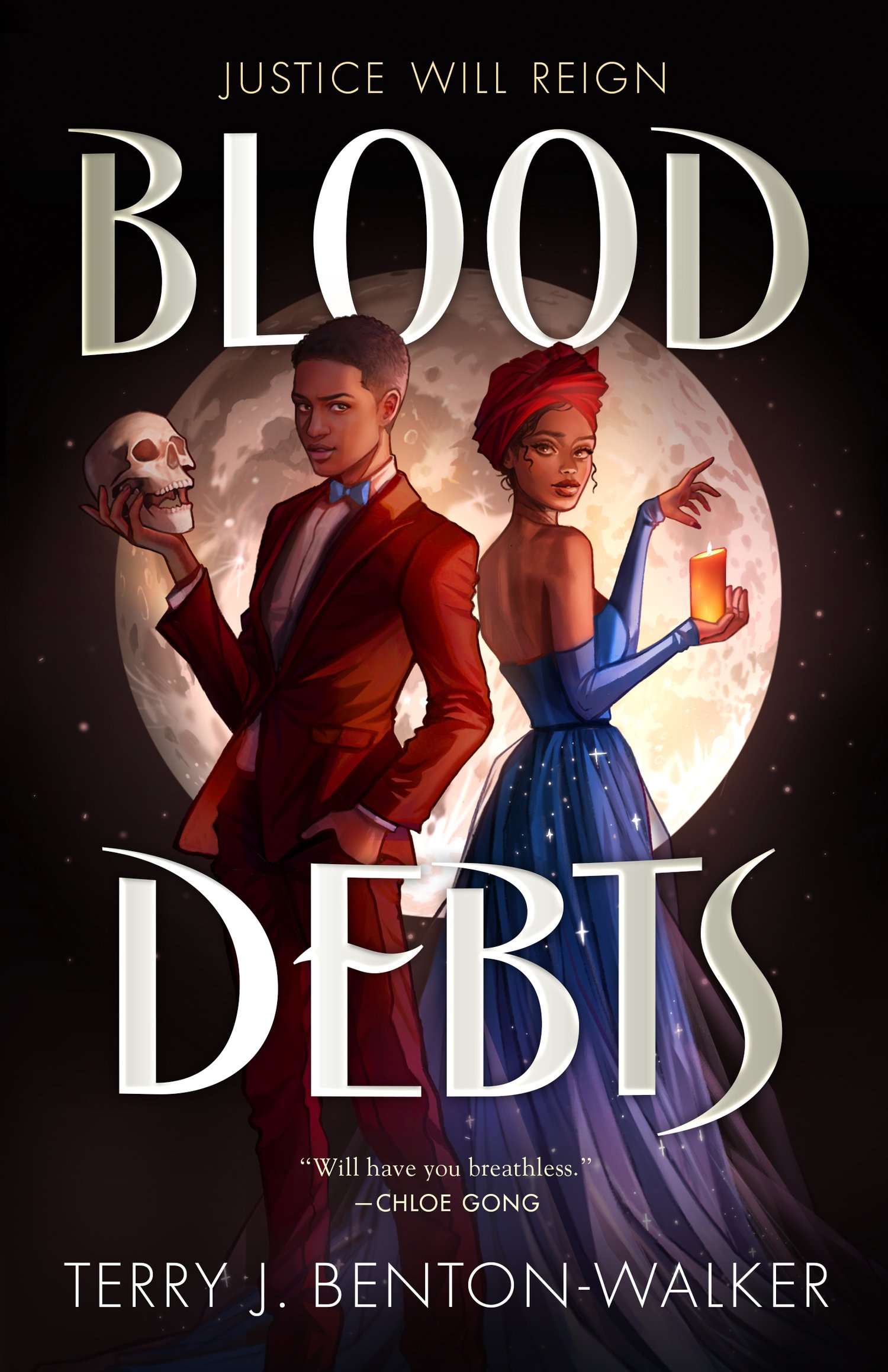 As a writer, who or what would you say are some of your greatest creative influences and/or sources of inspiration in general?
I'm endlessly inspired by Black creatives who are never complacent but continue to push their talent and skill with each new project. Whenever they level-up, they also motivate me to keep pushing the limits of my creativity and developing my own craft. Some of my recent favorites and inspirations: Beyoncé. Issa Rae. Jordan Peele. Quinta Brunson. Regina Hall. SZA. Kalynn Bayron. Jordan Ifueko. Alexis Henderson.
What are some of your favorite elements of writing? What do you consider some of the most frustrating and/or challenging?
My favorite element of writing is how extraordinary it is that we start with a literal blank page—nothing—and create entire worlds with rich characters and intricate stories that ripple through the very real lives in our world. Art in every form is the closest form of magic that's accessible to almost anyone, and we artists are all magicians in that way.
The most frustrating element about writing is how slow it can be sometimes. My creative brain is very temperamental and doesn't always want to clock-in when I want or need it to, but I've found that if I allow myself and my brain the time I need and take breaks to recharge, we always find our way through eventually.
Aside from writing, what are some things you would want others to know about you?
Since this is Geeks OUT, I'll share a geeky not-so-secret secret with you. I was a total band geek in high school. I played the Alto Saxophone and was pretty good at it (second chair in symphonic and first chair in concert band). I have not played in years, though I miss it dearly. My horror short story in Karen Strong's Cool. Awkward. Black. anthology (which is out now, by the way) was inspired by my love for playing music. It's titled "Requiem of Souls" and is about a Black gay band geek who finds supernatural sheet music that summons the dead—and something else far more dangerous than ghosts.
What's a question you haven't been asked yet but that you wish you were asked (as well as the answer to that question)?
I love talking about craft, so I'm always game to discuss some of the cool craft tricks I did with Blood Debts. Everything I write is curated to be enjoyed more than once. I try to be extremely deliberate with every sentence so that on multiple reads, readers should find new and intriguing pieces of information they hadn't picked up on during prior reads.
What advice might you have to give for aspiring writers?
It's hard, especially now, but you owe it to yourself not to give up. Blood Debts recently got a starred review from Kirkus, and on the day it was announced, I received a status memory on Facebook of a post from exactly ten years ago where I'd sent out over a hundred queries for a fantasy series I was hopeful would interest an agent. Spoiler Alert: It did not. But I didn't quit. And ten years later, I have a starred review on my debut young adult contemporary fantasy story. I hope it doesn't take you as long, but the only way it won't happen for you is if you quit.
Are there any other projects you are working on and at liberty to speak about?
Yes! Later this year, September 26th to be exact, my debut middle grade contemporary fantasy, Alex Wise vs the End of the World is publishing from Labyrinth Road / Random House Children's. It's about a twelve-year-old boy whose summer vacation takes a dramatic turn when Death, one of the spirits of the Four Horsemen of the Apocalypse, possesses his ten-year-old sister and threatens the end of the world.
I'm also working on a YA horror anthology, The White Guy Dies First, which is coming from Tor Teen, Summer 2024. It features 13 scary stories from 13 BIPOC authors that subvert classic horror sub-genres and, most importantly, where the cishet white guy always dies first. The lineup is epic. In addition to a story from me, readers can expect frights from bestselling and award-winning authors: Faridah Àbíké-Íyímídé, Kalynn Bayron, Kendare Blake, H.E. Edgmon, Lamar Giles, Chloe Gong, Alexis Henderson, Tiffany D. Jackson, Adiba Jaigirdar, Naseem Jamnia, Mark Oshiro, and Karen Strong.
Finally, what LGBTQ+ books/authors would you recommend to the readers of Geeks OUT?
There are soo many LGBTQ+ books coming out this year that I'm super geeked about—and I'm also super jealous of Queer kids who're getting all these amazing stories because I had to live vicariously through Rainbow Brite and My Little Pony haha.  
The first LGBTQ+ book I'm hyped about is The Black Queen by Jumata Emil, which is a YA thriller coming from Delacorte on January 31st. It's sapphic, utterly addictive, and thought-provoking—easily one of my most anticipated thrillers of the year!
The second is Your Lonely Nights Are Over by Adam Sass, coming from Viking / Penguin Teen on September 12th. It's a witty, fun Slasher that's a Queer Scream meets Clueless, and I cannot wait for more people to read it this fall.
Last, but certainly not least, is Godly Heathens by H.E. Edgmon, which is coming in November from Wednesday Books. H.E. is also one of the contributors in The White Guy Dies First, so I know first-hand how adept they are at crafting gripping, visceral experiences that still hold tight to you long after you finished the last word. Can you tell I'm excited?
---
Header Photo Credit Derek Blanks with crowdMGMT