Chana Stiefel is the award-winning author of more than 30 punny and poignant books for children. She loves to visit schools and libraries to share her passion for reading and writing with children. She earned a Master's degree in Science, Health, and Environmental Reporting from New York University. Chana is represented by Miranda Paul at Erin Murphy Literary Agency. You can follow her on Instagram for updates on her work.
I had the opportunity to interview Chana, which you can read below.
CW: Discussion of the Holocaust and religious intolerance.
First of all, welcome to Geeks OUT! Could you tell us a little about yourself?
Thank you so much for having me! I'm a children's book author from New Jersey. I've published 30+ books for kids, both fiction and nonfiction. I love to swim, hike, read, travel, spend time with family, and visit art museums and indie bookshops (not necessarily in this order). My pediatrician husband and I just published our first co-authored book. It's called Mendel's Hanukkah Mess Up, illustrated by Daphna Awadish (published by Kalaniot) about a character who always messes up, but learns that sometimes mistakes can be marvelous.
What can you tell us about your latest book, The Tower of Life? What was the inspiration for this story?
The Tower of Life is a picture book biography about Yaffa Eliach, a Holocaust survivor and historian whose mission was to restore humanity to the victims of the Holocaust. I first learned about Yaffa when I read her obituary in the New York Times in 2016. She was born in a Polish town called Eishyshok in 1935. Her grandmother was one of the town's photographers. In 1941, nearly the entire Jewish population of Eishyshok was murdered by the Nazis. In just two days, 900 years of history were uprooted. Miraculously, 6-year-old Yaffa and her family escaped to the forest. Yaffa tucked some family photographs in her shoes and held on to them throughout the war and beyond.
In 1979, President Jimmy Carter reached out to Yaffa to help build a memorial to the victims of the Holocaust in Washington, DC. (By then, Yaffa was a professor and a trailblazer in Holocaust education.) But Yaffa didn't want to focus on death and darkness. Her photos reminded her of people of her beautiful town and the lives they led. Did relatives who had left Eishyshok before the war save photos too?
Yaffa set out on a mission to find the survivors and rebuild her town, not brick by brick, but photo by photo, story by story. Over 17 years, she traveled the world and collected over 6,000 photos of nearly every man, woman, and child who had lived in Eishyshok in the 100 years before the war. And she created the Tower of Life (also known as the Tower of Faces), a three-story high central exhibit at the US Holocaust Memorial Museum in Washington, DC, shining a light on the lives that were lived. On dignity, not disaster. It's a story about community, empathy, hope, and resilience.
As a writer, what drew you to the art of storytelling, specifically children's books?
The first memories that come to mind are sitting on my mother's lap, listening to her read books like Robert McCloskey's Blueberries for Sal. I remember that closeness and love that comes from reading a book together. My mother and I still share a love of reading and talk about books all of the time.
After college, I went to journalism school at NYU. I had an internship, which developed into a job as an editor, working at children's science magazines at Scholastic. I loved writing for kids so much, I never looked back. My first 15 children's books were nonfiction, sharing the wonders of science and cool (sometimes yucky) history with kids.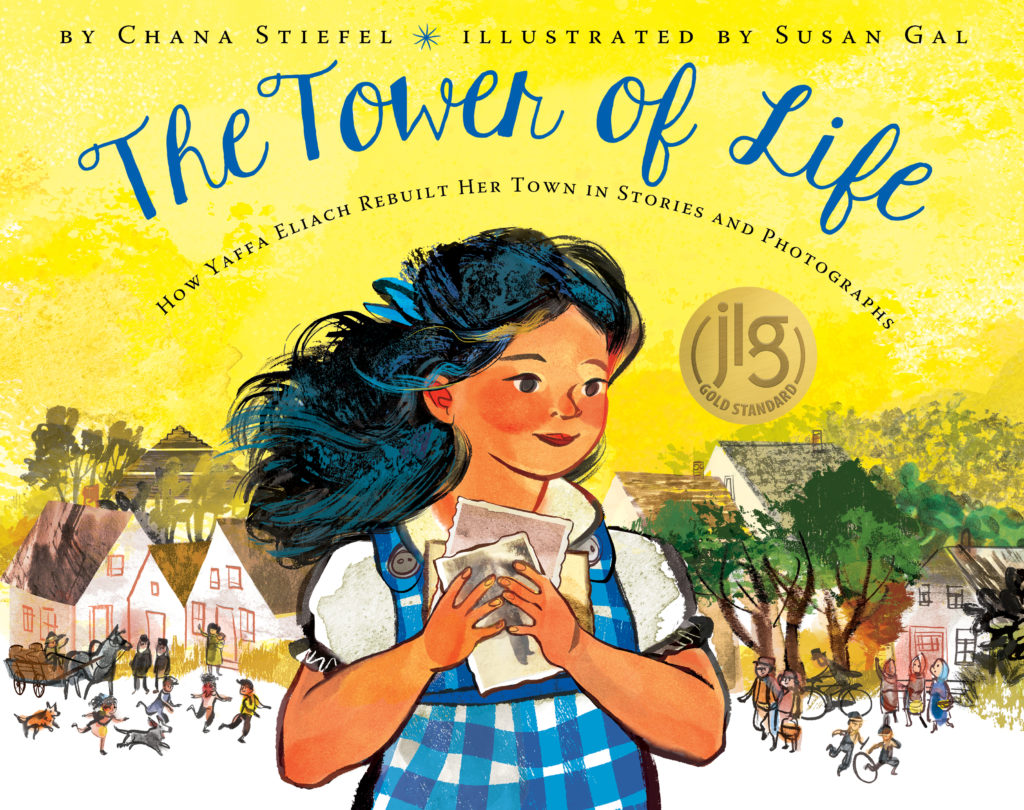 For those curious about the process behind a picture book, how would you describe the process? What goes into writing one and collaborating with an artist to translate that into a book?
Unless you're a celebrity, writing children's books can be a long and arduous journey. But I have to say, the kidlit community is incredibly warm and supportive. For every challenge, whether it's getting a manuscript critiqued or finding a shoulder to cry on after a pile of rejections, there is always someone to turn to for support.
Interestingly, in trade publishing, authors and illustrators generally do not communicate at all during the process. It's an unwritten rule that publishers prefer that authors give illustrators creative freedom. Sometimes, we can recommend illustrators for our projects. We may include some illustrator notes for clarity and occasionally we're given an opportunity to review sketches and offer feedback. But until the book is released, we generally work separately. It's just how the industry runs.
Growing up, were there any stories in which you felt touched by/ or reflected in, in terms of personal identity? If not or if so, how do you think this personally affected you as a writer?
I grew up in a home that encouraged creativity. I remember that my father and I once climbed onto our roof, poured paint onto a canvas, and splattered the side of our house. My parents encouraged me and my siblings to follow our passions.
My parents were also very involved in social justice, particularly when it came to the Jewish community. Many young people today are not aware that during the 1970s and 80s, nearly two million Soviet Jews were trapped behind the Iron Curtain. Practicing religion was forbidden, but at the same time they were refused exit visas. Thousands of dissidents (also known as "refuseniks") lost their jobs or were imprisoned just for applying for visas, speaking out, or demonstrating.
Living in Miami, my parents not only spoke to us about these injustices, but became very involved in the worldwide movement to save Soviet Jewry. We joined phone calls to refuseniks, attended rallies and marches, and wrote letters to Congress. Legislation was passed to link trade with human rights. My parents even traveled to the USSR in 1975 to secretly meet with refuseniks and bring back important information. On December 6, 1987, my sister and I joined 250,000 people marching in Washington to show solidarity for Soviet Jews.
These are some of the examples that my parents set for me and I hope that I am transmitting these lessons to my four children. As Martin Luther King, Jr., famously said, "Injustice anywhere is a threat to justice everywhere."
I am working on a book about this period of history to ensure that it is not forgotten. It is a piece of modern Jewish history that actually has a happy ending.
As a writer, who or what would you say are some of your greatest creative influences and/or sources of inspiration in general?
I admire the persistence of authors like Jane Yolen (author of more than 400 books for children and adults), whose advice to writers is BIC (Butt in Chair). Books don't write themselves. I have a Post-It next to my computer with a quote from Jane reminding us to take joy in our writing.
What are some of your favorite elements of writing? What do you consider some of the most frustrating and/or difficult?
Favorite element: When you have that "aha" moment of how to solve a tricky line or passage or when you come up with a fresh idea that gets you writing.
Frustrating/difficult: We all get rejections. They're not fun but they're an unfortunate part of the publishing process. The best ones are the "champagne rejections," when you've come close and an editor gives you some praise, encouragement, and some advice on how to make your story better.
Aside from writing, what are some things you would want others to know about you?
I have seen Kilauea pour lava into the sea, snorkeled in an undersea crater, kissed a giant stingray, hiked on a glacier, and watched in wonder as brown bears dug for clams on an Alaskan beach. All glorious! But give me a blanket, a cup of coffee, and a good book…bliss!
What's a question you haven't been asked yet but that you wish you were asked (as well as the answer to that question)?
What's my next picture book? BRAVO, AVOCADO, coming from HarperCollins on March 28, 2023. It's about an avocado at the Farmers' Market who has a pit in her stomach. She wants to be Today's Special. It's about finding your self worth and uplifting your friends.
What advice might you have to give for aspiring writers?
Write your story! Only you can tell your story…and somewhere in the world, there's a child who needs to hear it.
Are there any other projects you are working on and at liberty to speak about?
I'm working on a book about stereotypes and how to avoid them—but in a funny, kid-centric way.
Finally, what books/authors would you recommend to the readers of Geeks OUT?
Too many to list! Here are a few recent picture books that shine a light on the LGBTQ+ community.
BLOB, by Anne Appert, Harper Collins, 2021.
STITCH BY STITCH: Cleve Jones and the AIDS Memorial Quilt, by Rob Sanders, illustrated by Jamey Christoph, Magination Press, 2021.
MY PAATI'S SARIS, by Jyoti Rajan Gopal, illustrated by Art Twink, Kokila/PRH, 2022.
WHAT ARE YOUR WORDS? A Book About Pronouns, by Katherine Locke, illustrated by Anne Passchier, LittleBrown/Hachette, 2021.
PRIDE: The Story of Harvey Milk and the Rainbow Flag, by Rob Sanders, illustrated by Steven Salerno, Random House, 2018.
TWO GROOMS ON A CAKE: The Story of America's First Gay Wedding, by Rob Sanders, illustrated by Robbie Cathro, Little Bee Books, 2021.
A COSTUME FOR CHARLY by CK Malone, illustrated by Alejandra Barajas, Beaming Books, 2022.