Charlotte Sullivan Wild is the author of the picture books LOVE, VIOLET, illustrated by Charlene Chua (Farrar, Straus and Giroux; Jan. 4, 2022), and THE AMAZING IDEA OF YOU, illustrated by Mary Lundquist (Bloomsbury, 2019). She has previously worked as an educator, bookseller, volunteer radio host, and creator of children's literature events. Originally from frosty Minnesota, she lives wherever her wife is stationed, most recently in San Antonio, Texas and now in Italy!
Charlene Chua has illustrated many things over the years for kids of all ages. Her illustration work has won several awards, while books she has illustrated have been nominated for OLA Forest of Reading, USBBY Outstanding International Books, OLA Best Bets, Shining Willow Award, and Kirkus Best books.
I had the opportunity to interview Charlotte and Charlene, which you can read below.
First of all, welcome to Geeks OUT! Could you tell us a little about yourselves?
Thanks for hosting us!
CSW: I'm the author of the picture books Love, Violet and The Amazing Idea of You (Lundquist, Bloomsbury, 2019). I'm also a former educator, bookseller, and planner of kidlit events. I adore hiking, singing, and "aunting" (arms loaded with books). Just before Amazing Idea debuted, I became chronically ill with myalgic encephalomyelitis (ME/CFS), a disabling energy disease. I can no longer do most of the things above or leave home much, but through careful pacing, I've gradually regained the ability to write. Originally from frosty Minnesota, I now live wherever my wife is stationed, recently in San Antonio, Texas, and now in Italy. You should also know we are proud mama-roosters to The Eggyatrixes, four adorable, opinionated hens.
CC: I mainly illustrate books these days; some of the books I have illustrated are the Amy Wu book series (Kat Zhang, Simon & Schuster) and Pinkie Promises (Elizabeth Warren, Henry Holt & Co.). I mostly spend my time illustrating; when I'm not drawing for work I'm drawing some personal comics or other art stuff.
What can you tell us about your latest book, Love, Violet? Where did the inspiration for this story come from?
CSW: Love, Violet is the tender story of a crush between two girls and the courage it takes to share your heart—even when it's pounding! Better yet, see for yourself!
CSW: Growing up, I never saw stories about the kind of love I experienced. But I was inundated with romantic fairy tales that–let's be honest (or as we say at my house, "lesbi-honest")–only promise happy endings to "certain" people. Those tales of love excluded many because of skin or body, ability or culture, harmful gender rules or queerness. But as a kid, I swallowed those poisoned stories whole. I longed for their promise of partnership. Yet, I also worried… would this happen for me? Somehow, I suspected I wasn't quite right.
I was also surrounded by Evangelical Christian culture, which promoted pretty horrifying pictures of queer people, essentially: we were all male, pedophiles, and/or addicts spiraling toward early death. It shouldn't surprise anyone that this preacher's kid and people pleaser suppressed her orientation DEEP until her thirties. When it finally clicked (and wow–was it obvious), I was already married and a professor at a religious college. Coming out meant blowing up my world. But in that chaos also came relief. Joy! I made sense! But also, a hard question.
How had I not known this basic thing about myself? Frankly, the question terrified me. Looking back, I recognized queer crushes all the way back to preschool. That was then I realized the full power of those children's stories to frame reality for me, of what and who were possible, acceptable, or not. My views of gender and sexuality changed dramatically as I matured, toward acceptance and equality. But my own sense of self? It didn't budge. My identity had crystalized in the 1970s and 80s, in that miasma of Disney and Evangelicalism, when I didn't yet realize that I could exist. Early stories are so powerful. They kept me in the closet years after I'd rejected the prejudice that created them. 
So, I wanted to write a new story. One full of those first-crush thrills, the heart cartwheeling. A story inspired by falling head-over-heels for my spouse one snowy winter. A story about kids, at their level, but in a world in which love is love. People are people. Equal and accepted. A true love story to break the poisoned spell of hate. A story to say to every kid in an unsafe place: 
You are not alone. This love, this happy ending is for YOU.
In previous interviews you had discussed what the book meant to you as a queer adult who didn't grow up with much queer representation. Would you mind speaking about that a bit here and what it means to you to create something like Love, Violet?
CSW: Welcoming Love, Violet feels indescribable. In a way, like reclaiming my childhood. And also, touching history. Standing on a bridge between the brave trouble makers on one side who made my family and this book possible, and the new children on the other, beginning their journeys with affirming stories like this one. It's like passing on gifts passed to me. Sacred.
I've been overwhelmed by the personal responses. One reviewer's daughter decided Love, Violet was her favorite book and commenced making valentines back in November! I couldn't even picture queerness at her age, much less acceptance! And the personal stories people are sharing about their lives, about "ugly" crying, feeling seen–I will treasure this forever. 
That said, I would be remiss if I didn't point to the tsunami of organized attacks on curriculum and books sweeping US schools and libraries right now. The target? Any information or books concerning people of color, queer people, those with disabilities, or any minority identity. The message is not subtle; it is LOUD. Educators' jobs are being threatened. Children are being shown that THEY are not acceptable. Well, I have strong feelings about this. As should we all. I hope you'll speak up wherever you live, support all kids, and the weary educators working for ALL their people. To have Love, Violet launching into this storm is a reminder of just how precarious and hard-won change is. 
It's so important to resist this type of cultural violence because it causes real harm. I've written about the human cost of queer erasure, specifically, and how it nearly prevented Love, Violet from coming out ("No More Ghosts! A (Queer) Picture Book Love Story" in We Need Diverse Books Blog, 16 Nov. 2021). I also explore how cultural bias affected my creative process HERE and about writing against the cultural grain HERE. Erasure is not new. Or simple. It is the ancient tool of all oppression. Sometimes we use it against ourselves. Right now we need to stand up for each other and against every version of erasure targeting already marginalized groups. The only remedy for this hate is truth. Humanizing stories. And most of all, LOVE.
In this sense, despite a decade of waiting for this book, Love, Violet feels right on time.
Want to help? Find organizations supporting rainbow kids here (scroll down). Also, check out, buy, or share diverse children's books with kids today!
How did you get into picture books? What pulled you to the medium?
CC: While I didn't start illustrating intending to be a children's illustrator, my work has always caught the eye of clients who work with children's products. I illustrated my first picture book in 2007 I think; but I didn't specialize in book illustration until 2015 or so. I enjoy working on books, and working with talented authors like Charlotte. It is a great privilege to be entrusted with bringing these special stories to life.
CSW: (Shucks.) You brought Love, Violet to life so beautifully!
I'​​ve always loved poetry and art, which are the essence of picture books. But I also love music, theater, and film. What these forms share are performance and collaboration. Picture books are a mash-up of all of that. You write a score, a screenplay that, if you're lucky, a talented artist like Charlene Chua will imagine into a visual narrative. A reader (perhaps the weary parent) performs your script, with the drama of page turns and vocal expression for a live audience. And that audience is just discovering everything for the first time! They are curious, honest, and impatient—so you have to perform! Yet, they can spin a handful of pictures and words into a whole universe. What a collaboration!
Plus? Picture books are inherently designed for togetherness, whether snuggled up at bedtime or circled on carpet squares. They are about sharing something–exploring, feeling and wondering together. It is one of the most powerful experiences we ever have, closeness and a story. How could I not love this form?
How would you describe your writing/ illustrating process? What are some of your favorite things about writing/ illustrating?
CSW: I usually start with daydreaming, gathering odd notes. Once an idea takes on life, I make messy outlines or charts (I describe charting below). Only then do I draft. Next, I revise a bazillion times, chart, revise, seek feedback. When my agent feels a piece is done, she submits it to publishers. If a publisher buys it there are more revisions, but so far, those have been light. Once I see the text and art together (which is thrilling!), I do a final sweep for flow or to cut anything now conveyed in the art.
I love creating! Yet the entire process involves discomfort. Whatever I'm working on isn't done. So, even when I love something, part of me is always cringing! There is nothing like that final pass on book proofs when every last detail falls into place. It's kind of like Violet snipping and glittering and "When it was just right, she signed her valentine, Love, Violet." Ahhh! DONE!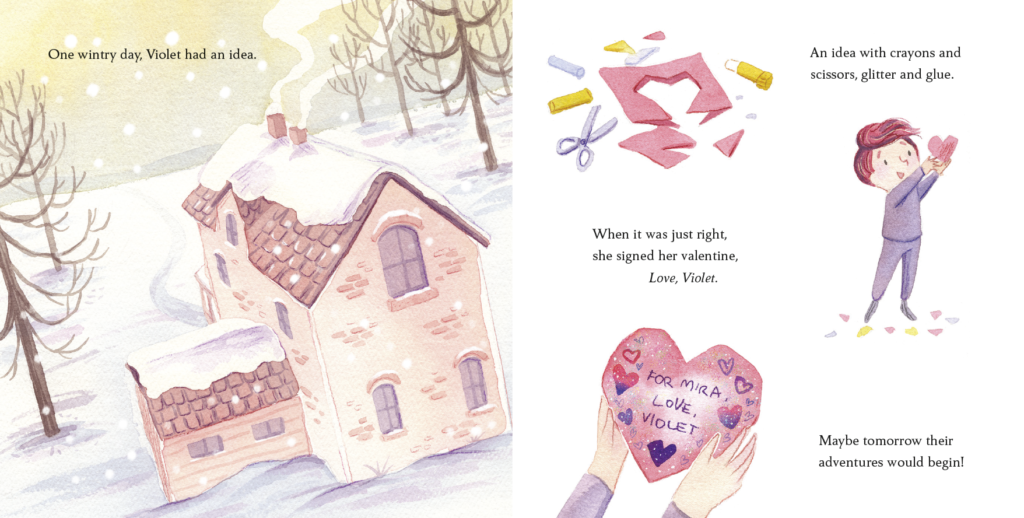 CC: For books, I usually read the manuscript and let it simmer in my head for a while. Then I do character sketches (not that many, compared to some illustrators). I enjoy working out the rough sketches, especially with the text in place. For me, the picture book is meant to be a guided experience, so the placement of the text (and how it's broken up) affects how the story will be read and interpreted along with the visuals. So I like concepting the artwork around that, and at this stage the art is very rough so it's possible to imagine how things will work in different ways more easily. Once I have something in place that I like, it's on the sketches, then later the final artwork. I mostly work digitally but for some books I do use traditional media. Love, Violet was mostly painted in watercolors and color pencil, then edited in Photoshop.
What are some of your favorite elements of writing or art?
CSW: Well, I'm an outlier here. I almost always enter through setting. Stories usually come to me through how they feel in the senses and the heart. Maybe because I'm a poet? (Or very likely ADD?) My antennae are highly over-tuned to everything. Which makes me a terrible sleeper, but maybe a better artist? As I developed Love, Violet, I became obsessed with that wintery atmosphere. Yes, I'm a Minnesota girl. But when I think about it, winter matches those whooshing, upside down feelings of new love. (Also possibly related–seared into my memory is a certain wintry night of my heart flopping, feeling SO ALIVE in my long red coat outside a cafe as a certain gal tugged her wool cap just so, caught my eye with her crooked smirk, the snow swirling through the lamplight, collecting on our eyelashes, salt crackling beneath my red shoe, the scent of damp wool and snow and baking croissants…. Sorry. I need to go make a valentine for my wife—)
Could you describe your artistic/writer background in some detail, like how did you get into art and what your art/literary education was like?
CSW: I loved writing from the beginning. Well, dictating, before I could write–I had a lovely kindergarten teacher, Miss Connors, who called us up to her typewriter to tell stories, which felt important. Whenever possible, I went to creative writing camp or took that community class. Later, I made a living teaching, which left little room for my own work. Eventually, I was able to cut back my load and earn an MFA in Creative Writing at Hamline University in St. Paul, MN, which was pure joy! Their MFA in Writing for Children and Young Adults (MFAC) didn't launch until I was nearly done, but I did nab a few lecture passes, which helped. When I first became interested in picture books, specifically, I didn't know where to turn. Now writing/ illustrating resources are everywhere. There are infinite ways to train yourself. All of them involve studying form and craft, finding your process, trading feedback, and practice. I'd also include developing confidence in your voice.
CC: I didn't go to formal art school; I do have a degree in Illustration though the program was somewhat different from typical art school. Most of what I know, I picked up along the way from books (and later, YouTube videos) and just drawing a lot over the years. I did a bit of a design diploma when I was younger, and worked as a designer for some years. While I don't do graphic design anymore, I think the skills I picked up there were invaluable especially for books – it helps when considering the type on the page, and also makes communication with the art team at the publishers much easier.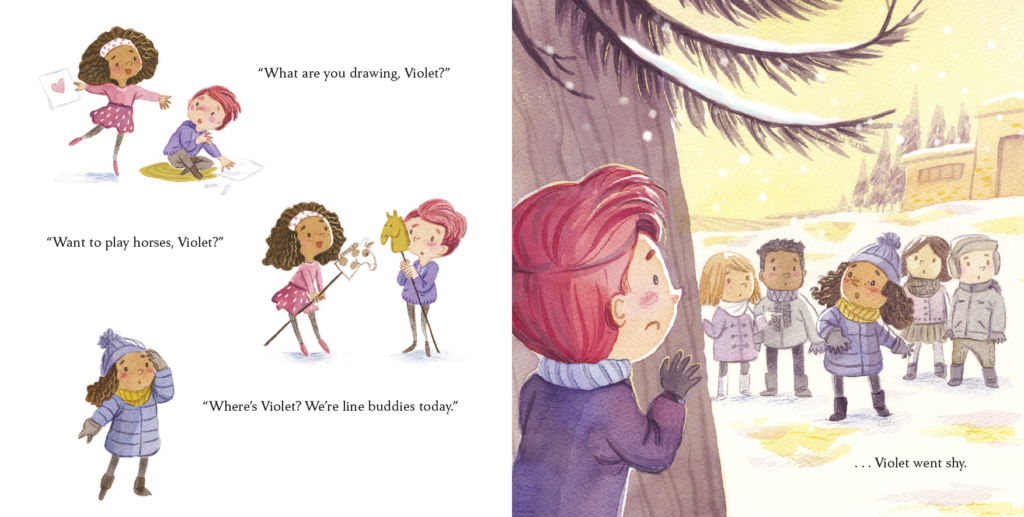 What are some of your favorite examples of picture books growing up and now?
CSW: As a kid I loved Tootle about a baby train who leaves the tracks to frolic in a field of buttercups (Gertrude Crampton, illustrated by Tibor Gergely, Golden Press 1945). But when I looked it up just now, I discovered it's really about Tootle "Learning to Stay on The Tracks No Matter What." Eventually the villagers fill the field to wave red flags and drive Tootle back to the tracks. WOW. It's strange. What I remembered from this book is Tootle's joy in the meadow, the flower garlands. Yet, what I lived out was obedience to all the red flags of gender. I stayed on those tracks, even as my heart longed for buttercups. Coming out felt exactly like finding that field. Books are subtle, powerful things. I hope Love, Violet will wave a GREEN flag to kids, reassuring them that joy comes from authenticity and honest connection.
My favorite books now? Ah, so many! Here are two recent favorites:
– When We Love Someone We Sing to Them / Cuando Amamos Cantamos by Ernesto Javier Martínez, illustrated by Maya Christina Gonzalez, is a sweeping "reclamation of the Mexican serenata tradition" as a young boy creates the perfect love song for another boy. And Papi helps. Gorgeous.
– The Most Beautiful Thing, a moving generational story by Kao Kalia Yang, illustrated by Khoa Le (2020), flows like poetry with honest, kid-oriented details and illustrations I get lost in for days!

CC: Growing up… well I have a terrible memory so I really only remember the ones that I still have! One is Emergency Mouse by Bernard Stone and Ralph Steadman. I mostly remember it for the illustrations… as a child I just thought they looked weird and cool. It was only as an adult that I learned that Ralph Steadman's other more famous work (he is frequently noted for his collaborations with Hunter S. Thompson)
Currently… there are so many to choose from, I could go on and on. I've sorta slowed down on my new picturebook reading due to the pandemic unfortunately; hopefully it'll be a bit better this year. I think the last picturebook I purchased was a special order from the UK – Nen and the Lonely Fisherman (by Ian Eagleton and James Mayhew, Owlet Press)
For those curious about the process behind a picture book, how would you describe the process? What goes into writing one and collaborating with an artist/writer to translate that into Love, Violet?
CSW: Unless someone is an author-illustrator, the text comes first. After my agent sells a manuscript, the publisher finds the illustrator, who works independently. We don't communicate directly, which allows illustrators to imagine freely. Yet the art and words still collaborate, like a dance. And from the beginning, I write in anticipation of illustration.
First, the text needs to break easily into a 32- or 40-page book (12-16 spreads). That requires distinct, illustratable beats (which is harder than it sounds), though I don't decide the page breaks. I also create patterns that an illustrator might translate into visual layouts. For example, to convey Violet's main problem, I use a mini-story (beginning, middle, end) within the story. Kids aren't abstract thinkers yet, so they need to see and experience this problem for themselves. Here, I use a set up ("But whenever Mira came near…"), then three quick scene examples to show the problem is ongoing (Mira approaches Violet three times), and a final statement of the problem: "Violet went shy." But for this simple text to truly spring to life, we need the art, layout, and even page turns to complete the experience.
In this case, Charlene places "But whenever Mira came near…" right before a page-turn to drive the suspense. Next, three spots (surrounded by white space) highlight the dynamic between the girls, yet keep us moving until–BOOM–the hammer drops–"Violet went shy." The full bleed (no white space) of poor Violet cowering behind that tree overwhelms us with Violet's despair over her problem. (Heart clutch!) The stronger the emotion, the more I like to pull back the language so the art can SING. (And how!) This is the essence of picture books. The images and text create the meaning together.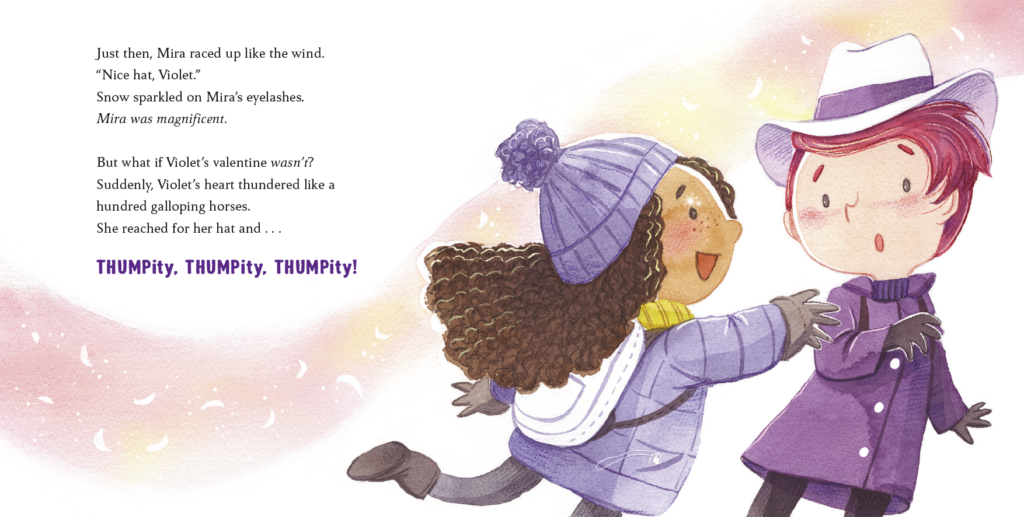 CC: The process, at least on the illustrator's end, is pretty solitary. I get the manuscript, sometimes I go over it with the art director, but not always. I'm just left alone to come up with the art and I quite like it that way. All the art is sent to the art director or designer on the book. I usually get feedback from them several weeks later. To be honest I am not sure when the author sees my art – I leave it up to the publishers to decide how best to liaise with the author. In my opinion it works best this way, as what I get back is usually edits that are concise and actionable (e.g please make the character on this page a bit smaller). Occasionally there are bigger things to fix (usually at the sketch stage), which do take more back and forth between me, the publishing team and the author. It is really rare for me to speak directly with the author during the illustration process. The exception are books that have special visual needs (e.g cultural depictions) that we feel would be better clarified upfront with the author.
What's a question you haven't been asked yet, but wish you were asked (as well as the answer to that question)?
CSW: What's the most surprisingly hard thing about writing picture books?
For me? To get a narrative right, I inevitably must tap deep emotional spaces. It feels vulnerable. "But it's just a picture book!" you say. Yes. And it must feel True. Alive. With a handful of words. To work, a book must convey something deeply human that transcends age. Even for humor. It's like one of my favorite childhood picture books, The Monster at the End of This Book (Jon Stone, illustrated by Michael Smollin). Our dear Muppet Grover does everything possible to keep us from turning pages BECAUSE THERE'S A MONSTER AT THE END OF THIS BOOK! AHH! (Spoiler: it's just "lovable, furry old Grover"!) Which is true of all my books. To finish, at some point, I must face the monster, the closet, the secret reason I'm writing this book. (Spoiler: The monster is usually ME.)
CC: Oh… there are so many questions I know I wish people would ask me, but right now I'm drawing a blank?
Um…
Oh I know! "Do you have a queer slice-of-life comic with adult characters in a modern-fantasy setting?"
Please ask me that because the answer is YES.
CSW: Okay, now you HAVE to tell us more….
CC: Aha… I'm not sure how much more I can say right now. It's under development and currently only on my Patreon (note: my Patreon is mainly for my comics and non-kidlit artwork). Best I can do is say the comic is something like Nimona meets Heartstopper, but with adult characters.
CSW: You had me at Nimona. But I've seen your comics and I am smitten. I want to see these on glossy paper!
What advice might you have to give for aspiring writers/illustrators, especially picture book writers?
CSW: ​​Read picture books aloud with kids as much as possible. How kids react, drift, what they notice is so instructive. It's important to hear and feel how texts perform. Do they flow? How do the page turns add suspense? Picture books are designed to be read aloud a bazillion times by exhausted adults. Your text needs to stand up to that. Also, study current picture books. Scores, hundreds of them. Type up the text with the page turns. Notice how the voice works, how words don't describe the pictures; they do more. How the pictures say more than the text.
Every writer is unique, but for me, "charting" picture books has transformed my process. My sketchbook is full of 4X4 story grids, one box per spread (a spread is 2 facing pages). This is actually a method from illustrators. I simply drop into each box an image or a few words to represent the content and layout of the page (say a half spread, or a page with three spots). This allows me to "see" the whole book visually. I can check pacing or focus, cut/ add scenes easily, without the distraction of language. I also chart published books to study them. I chart new ideas before I draft. If a story isn't working, I chart it to identify the problem or to work out a solution. Charting has shaved months (years) off my process! I wish I'd known this trick when I started Love, Violet back in 2011!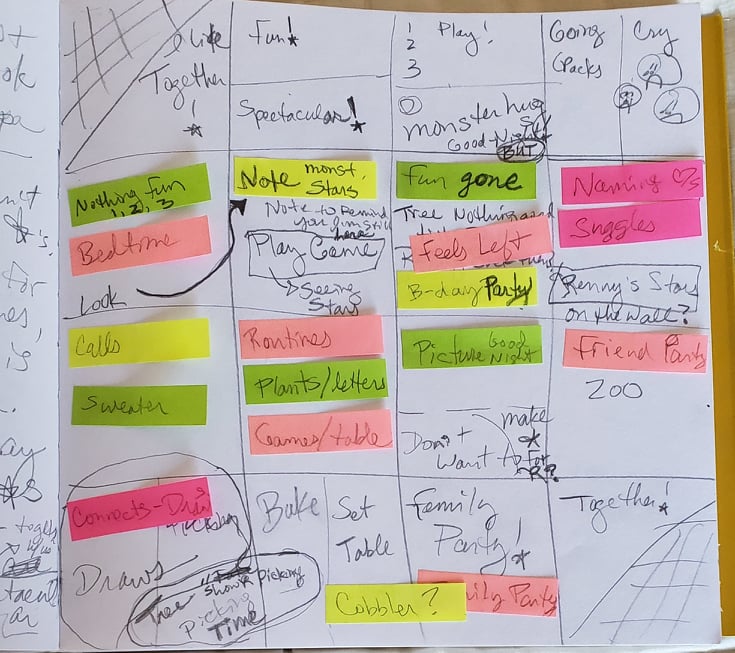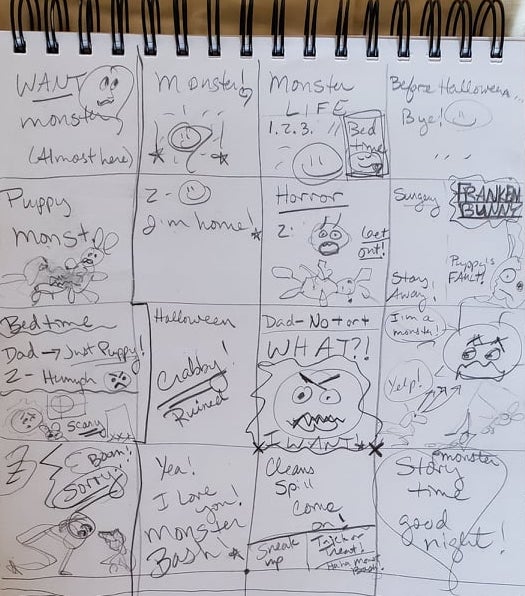 CC: Pretty much what Charlotte said. As an illustrator, I always make a dummy book, even if the first draft is just pretty much stick figures. It helps in the same way charting does, but I find it also helps me figure out what descriptions I can cut out. A lot of things can be 'described' by the images so once I have a stick figure in place, I find it easier to trim out unnecessary words.
I should also add that unless you are self publishing, you do not need to look for nor hire an illustrator. The publisher usually chooses AND PAYS the illustrator.
Also – be a nice person? The industry is pretty small, we all want to work with nice people. Be aware of how you use your social media especially; if you want to be an author, then it's probably not great if the first thing people see is a list of all the books you hated, for example!
Are there any other projects you are working on and at liberty to speak about?
CSW: ​​I have a Halloween-ish book on submission about a monster-loving kid and her puppy who discover that mishaps and scary feelings are no match for monster love. Another project just going on submission features a child from a beautiful queer family who finds new ways to cope and connect with a parent while they are away for a long time, something I know TOO much about as a military spouse. As to other projects, here in Italy the fairy tale vibe is STRONG. (Also. Charlene keeps daring me to write a chicken book….)
CC: As far as confirmed projects go, I am working on Amy Wu and the Ribbon Dance (by Kat Zhang, Simon & Schuster), Boys Don't Fry (by Kimberly Lee, FSG) and an upcoming chapter book series called Hocus and Pocus (by A. R. Capetta, Candlewick).
Finally, what LGBTQ+ books/authors would you recommend to the readers of Geeks OUT?
CSW:
Jessie Sima's picture books!
Joy Michael Ellison and Teshika Silver in Sylvia and Marsha Start a Revolution! (PB)
Mariko Tamaki, especially Laura Dean Keeps Breaking Up with Me with evocative illustration by Rosemary Valero-O'Connell (GN)
Flamer by Mike Curato (who also makes GORGEOUS picture books)(GN)
The Magic Fish by Trung Le Nguyen (Trungles)(GN)
Pet, an exquisitely terrifying novel by Akwaeke Emezi is one of the most stunning novels I've read. Masterpiece. Top read last year. (YA)
Kaycen Callender, novelist for young people, wizard of voice. (MG, YA)
Definitely check out magical, lyrical novelist Anna-Marie McLemore (YA)
CC:
Nen and the Lonely Fisherman (PB)
Grandad's Camper (PB)
Estranged (GN)
Blob (PB)
Anzu the Great Kaiju (PB)
Lilla the Accidental Witch (GN)
Thanks for hosting us!