Helen H. Wu is a children's book author and illustrator, as well as a translator and publisher. She is the author of Tofu Takes Time, illustrated by Julie Jarema (Beaming Books, 2022) and Long Goes To Dragon School, illustrated by Mae Besom (Yeehoo Press, 2023). Helen is the Publisher of Yeehoo Press, an independent children's book publisher based in San Diego, California. Being fascinated by the differences and similarities between cultures, Helen loves to share stories that empower children to understand the world and our connections. Born and raised in Hefei, China, Helen moved to the US in her 20s. Currently, she resides in sunny Southern California, with her family and two kids. You can follow Helen on Instagram, Twitter, and TikTok.
I had the opportunity to interview Helen, which you can read below.
First of all, welcome to Geeks OUT! Could you tell us a little about yourself?
Thank you so much, Michele for having me!
I'm a children's book author, illustrator, translator and publisher. My books include Tofu Takes Time, illustrated by Julie Jarema (Beaming Books, 2022) and Long Goes To Dragon School, illustrated by Mae Besom (Yeehoo Press, 2023). I'm the Publisher of Yeehoo Press, an independent children's book publisher based in San Diego, California. Fascinated by the differences and similarities between cultures, I love to share stories that empower children to understand the world and our connections..
What can you tell us about your latest book, Long Goes to Dragon School? Where did the inspiration for this story come from?
My new picture book, Long Goes to Dragon School, was inspired by my own experience as a minority immigrant student. It follows a Chinese dragon who struggles to breathe fire in his new Western dragon school, only to discover he must carve his own path to finding a sense of belonging. In this story, Long's name is based on the Chinese word for dragon, "龙(lóng)." Like in Western culture, dragons are intricately intertwined with Chinese culture. However, Chinese dragons do not typically breathe fire. Instead, they are known as water spirits. I have always been fascinated by the differences and similarities between cultures. And living in America, I've realized that everyone is different and that learning from others helps you discover your own talents, while still allowing you to find your own path.
As a first-generation immigrant, I've felt impostor syndrome ever since—including throughout my journey as an author. But here's the good news: while I don't think these thoughts will ever go away completely, I've learned to control them. In fact, I've learned to let them motivate me to think outside the box and find my own unique path in writing and publishing.
I managed to use those feelings of insecurity to motivate myself to keep learning, keep going, and seizing every opportunity that came my way. A few years ago, I was invited to talk about publishing and my stories on a podcast. I was so nervous and my English wasn't as fluent as I wanted it to be, and unfortunately, the recorded podcast wasn't aired. Despite feeling discouraged, I also realized that I had taken a brave step by accepting the opportunity to be on the podcast. This experience pushed me forward and taught me to embrace every small success. I learned that taking even a small step forward is a significant achievement and should be celebrated.
So eventually, I embraced my multicultural identity and began to tell stories that were not only personal to me but also unique and universal.
I identified with Long's story because I could relate to feeling like an outsider and struggling to find my place. I wanted to write a story that celebrates cultural differences and encourages readers to embrace their individuality.
In Long Goes to Dragon School, Long struggles to fit in with his classmates because he cannot breathe fire like the other dragons. This mirrors my own experience of feeling inadequate because I did not have the same background as my peers. That's why I wanted to include the theme of growth mindset in this story. Long is a water dragon and he can't match his fire-breathing classmates. But he keeps practicing and finally manages to turn water into something surprising. By persisting with a growth mindset, he discovers his own unique talents. I'm very honored that this book has received some glowing reviews. "Using a dragon as the main character strengthens the overall message that everyone is different and has unique gifts to share. Besom's appealing watercolor illustrations wonderfully complement the text, clearly representing the story's events. From beginning to end, the images will likely enchant youngsters as they get to know Long's world." –Kirkus Reviews. "An insightful picture book in which a young dragon with unique abilities struggles to fit in." –Foreword Reviews. Like Long, I found my own unique path and learned to embrace my differences. I hope readers of all backgrounds will be able to relate to Long's journey and find inspiration in his perseverance and self-discovery.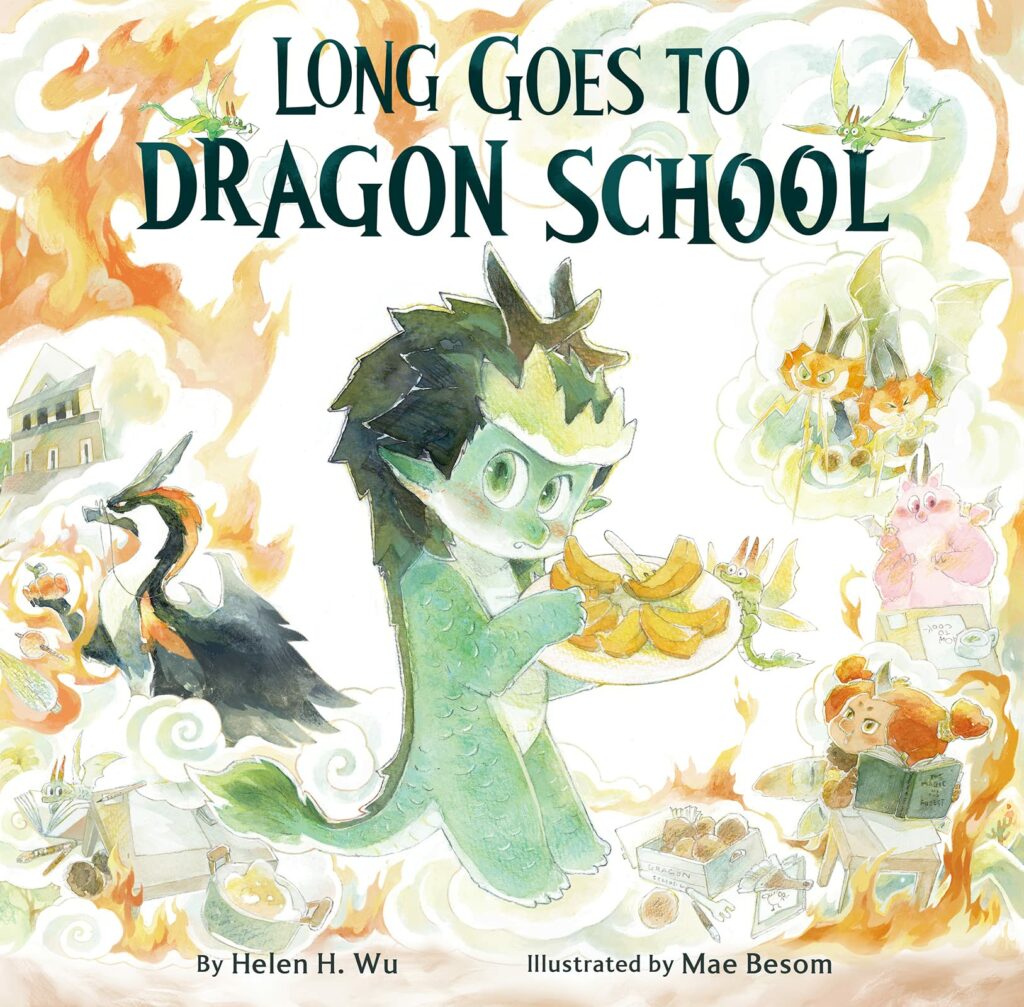 How would you describe the process behind this book? How would you describe your general creative process?
I had the opportunity to serve as the editor and be involved in every single step of the process – from text editing, illustration thumbnails, sketches, and coloring, every revision to graphic design. I provided a lot of input into the layout design, cover design, and jacket design. In fact, I even came up with the idea for the poster on the back of the book and designed it myself. Working so closely with the team was an incredible experience, while effort-consuming. I always appreciate the efforts from a publishing house, including the editorial team, design team, marketing and sales team, that goes into making a book possible and ensuring that it is the best it can be.
Chinese dragons are typically visually different from western dragons, with their long snake-like bodies. However, in this book, the focus is not on their physical differences but on their unique inner abilities. To bring each character to life, I designed them with distinct personalities and body shapes, and Mae Besom's exceptional talent made them even more captivating with her mesmerizing illustrations. Mae's specialization in drawing cute childlike Chinese dragons, coupled with her mastery of traditional Chinese watercolor art style, added another layer of beauty to the book. When our team pitched the story to Mae, she immediately jumped on board and brought her artistic magic to the project.
Collaborating with Mae Besom is an absolute delight! During the character design phase, she meticulously explored each dragon's background and personality, and the results were breathtaking! From Camila, the fiery dragon who loves to read, to Willy, the hilarious double-headed dragon who breathes lightning, and to Mia, the fluffy dragon who spews lava – each character had a unique and captivating design that perfectly matched their distinct personalities. Mae's artistry was truly remarkable, making the characters jump off the page and into our hearts! I'm thrilled that Mae's talent and passion contributed to the project and that people of all ages can now enjoy the story and its characters.
What are some of your favorite things about picture books?
Children's picture books have the potential to pass on the joy from generation to generation. Picture books are one of the channels that children can learn about the world when they snuggle on the laps of parents and grandparents. As an art lover, I also find it's very entertaining and soothing to simply enjoy the artwork of picture books.
What's a question you haven't been asked yet, but wish you were asked (as well as the answer to that question)?
Can you briefly speak about the Kickstarter campaign of the Dragon Plushies? What is it like seeing these characters come to life and holding actual merchandise of your book characters?
Children's picture books have the power to spark joy and curiosity in young minds, and with Long Goes to Dragon School, we wanted to take that experience beyond the pages of the book. That's why we created these adorable dragon plushies that can bring happiness to not just kids, but also teenagers and adults. Made with super-soft premium plush fabric, these huggable toys are perfect for playtime or as a comforting companion during difficult times.
But that's not all – we've also expanded our product line to include pins, stickers, key chains, and animated gif emojis that can be used on social media. Our hope is that these cute and loveable dragon characters can become more than just book characters, but also everyday companions for people of all ages. And with their heartwarming message of self-discovery and self-love, these plushies and accessories can help spread kindness and compassion in the world.
What advice might you have to give for aspiring creatives, especially picture book creators?
As a creator, I believe in the power of imagination and bringing ideas to life. Pursuing your dreams takes hard work, dedication, and the courage to take risks, whether it's creating a plushie, writing a book, or starting a business. But the rewards are incredible. When you see your idea come to life and hold the finished product in your hands, it's a feeling of accomplishment that is priceless. That's what motivates me to keep creating.
As I create, I'm inspired by the endless potential of what could be. I hope to inspire others to take that first step towards their own dreams, to believe in themselves, and to take that leap of faith towards something they love. Remember, the world needs your unique ideas and creativity. Anything is possible if you believe in yourself and put in the effort to make it happen.
Are there any other projects you are working on and at liberty to speak about?
Currently, I am working on expanding the product lines of plushies, pins, and keychains, as well as developing a few other picture books that showcase Chinese culture. Stay tuned for more updates!
Finally, what books/authors would you recommend to the readers of Geeks OUT?
OPAL'S SPRINGTIME BIRDHOUSE written by Emily Matheis, illustrated by Albert Arrayás
MY GRANDPA, MY TREE AND ME written by Roxanne Troup, illustrated by Kendra Binney
HUMPHREY THE EGG-SPLORER written by Nadia Ali, illustrated by Valentí Gubianas