Briggon Snow is a queer actor best known for voicing Caleb Michaels in the cult hit podcast THE BRIGHT SESSIONS and its spinoff THE COLLEGE TAPES, as well as other popular fiction podcasts like THE BIG LOOP, IN STRANGE WOODS, LOOK UP and Netflix's upcoming Stranger Things prequel REBEL ROBIN: SURVIVING HAWKINS. With roles on TV including SEAL TEAM (CBS), GAME SHAKERS (Nickelodeon) and MASTERS OF SEX (Showtime). I had the opportunity to talk with Briggon, which you can read below.
Welcome to Geeks OUT! Thank you for taking the time to talk with us today. Could you tell the readers a little about yourself?
Thank you! My name is Briggon Snow (he/him). I'm a gay man and an actor/writer living in Los Angeles. Originally from Maine. I live with my husband James and our two pups, Dodger and Gug Gus. I moved my life to LA for acting and discovered that storytelling – not just performing – is really what I love. The Bright Sessions is what your readers might know me best for – if they know me at all – hi mom! In my voice work I play a lot of teens but I'm very much in my thirties feeling like that Steve Buscemi "How do you do, fellow kids?" meme. I live in that space; with a pocket full of Lactaid and a dream.
Was there any LGBTQ+ media around growing up that you related to? If not, did you feel that influenced your own aspirations being an actor?
There wasn't a ton out there other than queer coded villains and adult content that I found myself watching on the dl for answers; clearing that history and those cookies. I really wished there were more examples growing up. But I think off the top of my head I remember movies like 'Shelter' or TV like Queer As Folk and the odd storyline from Jack & Bobby and Everwood. And I wish I could say this vacuum of queer representation influenced my acting aspirations, but as a kid I had it in my mind that I would never come out. It wasn't until I embraced who I was that I realized how desperately I wanted to be a part of stories that would have meant the world to me as a kid.
One of the things you're most known for is for your voice work as Caleb Michaels, one of the main characters of the acclaimed podcast series, The Bright sessions. Could you tell us how you got involved in that project, and on that note how you got into podcasting in the first place?
I was in an acting class with this really talented acquaintance (at the time), Lauren Shippen. She'd seen me in class – all of the good and the bad – and somehow thought of me for this role that she'd written. She just messaged me and said a free pizza was in the cards if I said yes. I was honestly just blown away that someone would want to include me in something they had created. I had no idea there was this world of modern audio storytelling. I grew up falling asleep to old Abbott & Costello radio show cassette tapes my mom would get from the local library, so I actually had always loved radio plays and variety shows. When I was thrown into the fiction podcast world it was like coming home to a form of entertainment I never thought I'd get to be a part of.
As a friend and collaborator with Lauren Shippen, creator of The Bright sessions, what has it been like working with her all these years?
A total dream. I was spoiled with the writing, creative freedom, and the spirit of collaboration that she's all about. I'd always joke and call it "Lauren Cove"; a safe and beautiful place to perform and create. But more than anything, we became best friends. And she'll always be one of the most important people in my life. The greatest thing about art and creating is the human connections that are made…and I've got a sister for life now.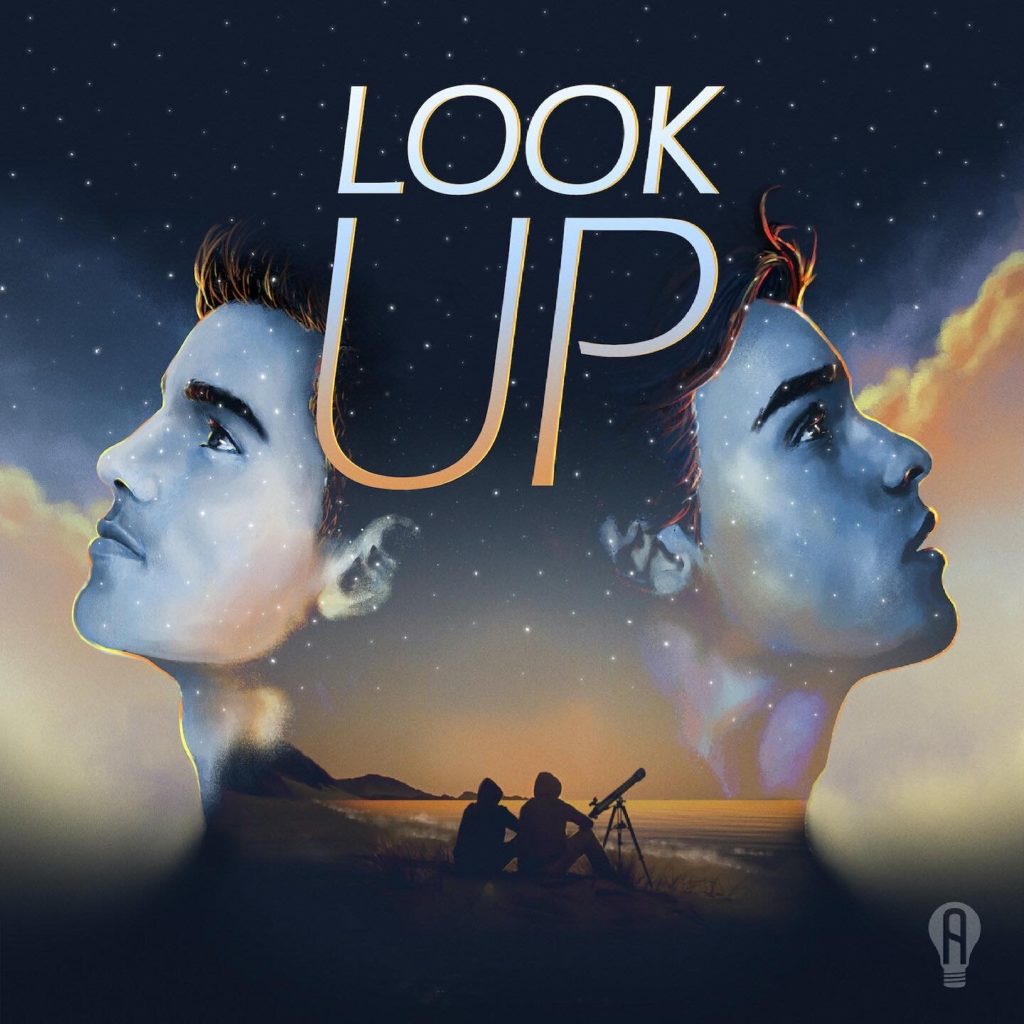 As someone who has admittedly only recently gotten into podcasts, what do you think is the appeal of this medium? What are some of your favorite examples?
It's intimate. It's vulnerable. Audio somehow has a direct line to our imagination. It sits next to our inner monologues and thoughts. You ever drift asleep – or come in and out of it – and a movie is on in the background? The absence of our other senses, and the lowering of our alertness – you ever hear things more clearly and all-encompassing when you do that? It feels intimate and peaceful. Does that make sense? That's kind of what fiction podcasts feel like for me. These stories and performances are delivered directly to my brain and imagination; voices up close – hopefully pulling your heart into the alchemy of that experience too – and that's just a unique thing. It's just what I love about it.
In previous interviews and articles, you had spoken a little about the significance to getting to play a younger queer character, such as Caleb, as a queer actor and the character's exploration of mental health and non-toxic masculinity. Could you expand on this?
It's so important, right? Not just from a sexuality standpoint, but as boys we're brainwashed into what it means to be a man in this world. And if you're anything but aggressive, strong, rough, whatever, you're somehow other – or less-than. I think boyhood and manhood is beautiful. It's way more complex and precious than the shit older generations forced on us. I think to be a boy or a man in this world is to be courageous – and not the hyper-masculine coding of the word; saving others and being strong or anything like that. I think in this instance "courageous" means being brave enough to feel and to exist in a world where we can call on our capacity for tenderness and vulnerability and feel empowered by that just as much as holding our ground or pushing through obstacles.
What were your favorite parts of getting to work on The Bright Sessions as Caleb?
It felt like a do-over, honestly. I find so much healing and fulfilment in acting. Even though I loved my years and experiences in high school, however closeted and confused they were, I got to step into this kid's shoes and cosplay someone I wish I had been a bit more like at that age. I did have a lot of anger as a kid (like Caleb), buried beneath a friendly face, and I think exercising some of those demons as Caleb did helped me become who I am today. I'm forever grateful for him, and for the gift Lauren gave me. I still get messages weekly from new and old listeners who've said Caleb has helped them find their way in the world to embracing themselves or coming out to a loved one. It's an honor every time someone shares their story with me. I'm blown over by how strangers can affect one another. It's a beautiful thing to be a part of.
Are there any other projects you are currently working on right now or aim to in the future that you would wish to speak about?
I'm currently searching for that next lightning in a bottle thing. The Bright Sessions has been such a big part of my life, and while I'm having so much fun doing things here and there, I'm ravenous for that next challenge; that next role I can really explore. After getting my sea legs writing on shows like The College Tapes, I ended up writing and acting in a gay coming-of-age limited series podcast called "Look Up". It's being released weekly right now and I'm really proud of it. Again, I want to put more things out into the world that say "I see you" to that kid out there trying to figure out where they might fit in the universe. Honestly, I think one of those kids out there is in me, and the work I do is part of an exercise of reminding myself that my story, humanity, perspective, and who I am has value.
As a creative, what advice might you have for other people wanting to get into the acting/podcast industries?
You're going to have up days and down days; without a balance between the two probably. It's hard. But I've found what keeps me going is the knowledge – like deep in my bones – that it's all going to happen for me. And it might not, right? But you have to sort of live in this beautiful delusion that your dreams will come true. I haven't had a live-action tv/film job in two years? Yikes,maybe more. I miss it. But I know it's going to work out and I'll find my fulfillment and my happy (despite all current albeit fleeting evidence to the contrary). And that's kind of the whole thing of it. As actors or creatives or whatever, we're asked to be profoundly vulnerable and crazy thick-skinned; that combination doesn't make sense. But we do it because we love to create. And, I'll say, I think queer creatives are especially good at this because of our heightened super power, the side-effect from all of the things we go through to find ourselves: Empathy.
As a queer geek, are there are roles or characters you would fancast yourself into one day?
I've been shooting my shot on social media about this the past year, but I want to be Northstar in the Marvel Cinematic Universe so bad. A friend of mine surprised me with a poster of me as the character and I lost my mind. What Jean-Paul means to me, the idea of him, it's just a tremendous pipe dream. Fun to imagine and work towards but maybe/probably it won't end up being the destination but the pursuit of it reveals something else that's exciting and wonderful. Anyway, if not me, I hope an actual queer actor gets to play Northstar. But man oh man would it be a dream to be so visible as a gay man in a gay role in a blockbuster universe.
Besides being an actor, what are some things you would want people to know about you personally?
I'm still figuring it out. I'm an actor and a writer and a creator, but as a person in this world…I'm earnestly trying to figure out what I want and who I am. I'm at a point in my life where I'm so far out from my early twenties #ActorLife energy and really deep in the work of nurturing and exploring who I am to me, my husband, the people I love in my life and full-on committing myself to the things that bring me joy and peace. Life is so short. I want to live it well and not just for the success. Last night my husband and I sat down to watch the new Pixar film "Luca", and it took me back to that barefoot summer glow feeling of friendship and connection and optimism. Ambition was a distant future thought at that time in my life, and I think being an adult is balancing that ambition and pursuit of creative fulfilment…leaving your mark on the world…and the simple innocent feelings of connection and play that come so naturally when we're kids.
What's a question you haven't been asked yet, but wish you were asked (and the answer to that question)?
Do I dare wade into the discussion around non-queer actors in queer roles? It's been on my mind a lot lately; not even just from me being an actor but as an audience member too. I'll say this: I think that yeah absolutely straight folks can play gay roles – but I think we need a lot more of actual queer actor representation and opportunity before it all stops feeling a bit like creative tourism; straights taking an adventure vacation in my community's truth and experience. It's strange, even if the straight actor is well-meaning and does a beautiful job and exemplifies true allyship in their real life and all that…it still feels like a bummer to me. Watching a queer person in a queer role just hits different. And damn if it isn't complicated because nobody should have to out themselves to play a role. I don't know what the fix is here, but maybe just talking about it more. It's just that no matter how much a straight cis man says they wanted to make it authentic and worked really hard and talked with gay family members or whatever, it still falls short for me. And to be sure, this isn't just about actors; we're part of a system and an industry that still is super cowardly when it comes to gay storylines and creatives in the mainstream. But if a straight actor plays a gay role, they're celebrated for their commitment to the work – the lengths they went – the sheer fact they were willing to do it – the believability – and then they end up on the covers of queer magazines of all things and we all applaud. When an out gay actor plays a straight role (not as common) you don't see that kind of fanfare because straight is the "normal", right? You get what I mean? I'm not bitter about it – truly I promise – and I'm grateful for any scrap we can get out there (some of those scraps are so damn great and helped me on my journey to being an out and proud gay man), I just want more for us, ya know? Until more LGBTQ+ performers are out in the Hollywood wild telling our own stories, a lot of these mainstream victories will just keep feeling like they're asking more from us queer audience members than we are of them.
Finally, what are some LGBTQ+ media (i.e books/ comics/ podcasts/etc.) you would recommend to the readers of Geeks OUT?
Okay, books? – The Sky Blues by Robbie Couch, The Gravity of Us by Phil Stamper, The Gentleman's Guide to Vice and Virtue by Mackenzi Lee, Red, White & Royal Blue by Casey McQuiston. I'm going to use the Heartstopper series by Alice Oseman as my transition from books to comics because that straddles it beautifully and Alice is amazing and I can't wait for the show. Comics? Fence by C. S. Pacat, a web-comic called Lies Within by Lacey….ummm…fiction podcasts? Honestly throw a rock and you'll hit one; the fiction podcast space is an incredible place for queer creators and stories, but lately I've enjoyed The Two Princes and James Kim's gorgeous Vermont Ave.