Jas Hammonds (they/she) was raised in many cities and in between the pages of many books. They have received support for their writing from Lambda Literary, Baldwin for the Arts, the Highlights Foundation, and more. They are also a grateful recipient of a MacDowell James Baldwin Fellowship. Her debut novel, We Deserve Monuments, is available now from Roaring Brook Press/Macmillan.
I had the opportunity to interview Jas, which you can read below.
First of all, welcome to Geeks OUT! Could you tell us a little about yourself?
Thank you so much for having me! My name is Jas (pronounced like Jazz) and I use they/them & she/her pronouns. I'm a writer, flight attendant, and lifelong book lover. I moved around a lot as a kid, but I call New Jersey home for now. I love rainy days, coffee, and jigsaw puzzles.
What can you tell us about your debut novel, We Deserve Monuments? What inspired this story?
We Deserve Monuments is about a 17-year-old named Avery who is uprooted her senior year of high school so her family can care for her terminally ill grandmother, Mama Letty. It's a contemporary coming-of-age novel, a meditation on generational trauma and racism, a tender love story, as well as a slow-simmer mystery—so a little bit of everything!
It was inspired by a lot of questions that started brewing when I moved to a new city in 2016. Everything was unfamiliar, and I was lonely. I started thinking about what makes a home. What makes a family? What are some ways to ground yourself in a place that feels like you'll never belong? Once I began seeking answers for myself, Avery's story began to emerge.
Since your book is about monuments, are there any that exist IRL that you feel drawn to? And what figures would you love to see monuments dedicated to if they don't already exist?
I think my book is less about literal monuments and more about asking the questions of who deserves them and who gets to decide that. Also, challenging what a monument can even look like. Physical places can hold so much more significance than a lone statue, such as that rickety porch swing on your grandma's front porch that always witnessed conversations filled with love. There are so many everyday people who live extraordinary lives that will never make the pages of history books. I always appreciate people acknowledging the folks in their own lives they want to commemorate.
As a writer, what drew you to storytelling, specifically to young adult fiction?
I think there is something so special about telling stories about people who are on the verge of so much discovery. I remember vividly feeling so eager to explore the world when I was a teenager and figure out who I was "destined" to become. And everything feels so grand and all-encompassing because it's often happening for the first time—first love, first heartbreak, perhaps first time questioning the things you've been taught your entire life. I think these emotions are so intriguing to read and write.
How would you describe your writing process?
Chaos! As a flight attendant, no two days are ever the same. And I'm often super exhausted after working and writing is the last thing I want to do. So I tend to write on my days off. I write in big spurts, often for hours at a time. Once I get in the groove, it's hard to stop!
What are some of your favorite parts of the creative process? What do you find to be some of the most challenging?
I really love editing. I love already knowing my characters thoroughly and being able to finetune what I'm truly trying to say. Drafting is a lot harder for me. I get stuck a lot, and my internalized perfectionism can make it hard to move forward when I know a scene isn't working. I'm guilty of stalling around the 30-40% mark while drafting and just returning to the beginning to start over instead of pushing through until the end.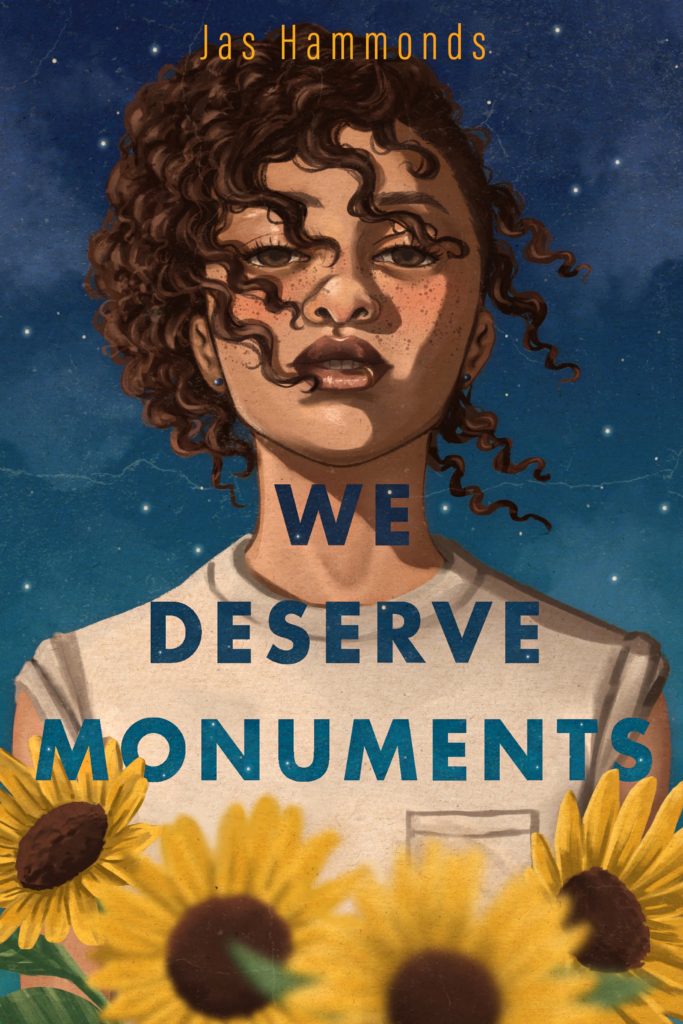 Were there any stories (queer or otherwise) that you read or watched growing up that had touched you or felt relatable in any way? What stories feel relatable to you today?
I grew up reading the Alice McKinley series by Phyllis Reynolds Naylor. Because a new book was released every year, it became a touchstone of my childhood, something to look forward to every spring. I loved reading contemporary stories about girls who were going through the ups and downs of adolescence like I was. First crushes, friendship woes, family dramas. Now, as an adult, young adult contemporary is still one of my go-to genres. Some of my favorite authors are Ashley Woodfolk, Nina LaCour, and Rebecca Barrow.
What's a question you haven't been asked yet, but wish you were asked (as well as the answer to that question)?
I've never been asked what kind of music inspired We Deserve Monuments, and it was one of my biggest influences! Early drafts were heavily influenced by R&B and soul music of the 1950s and 60s—The Supremes, Nat King Cole, Ray Charles, Sam Cooke. I love making playlists and imagining what kind of music each of my characters would love and listen to. My main character, Avery, is definitely a fan of alternative R&B.
What advice would you give to other aspiring writers?
Read! Read widely across age groups and genres. Also, it helps to find a critique partner so you can have someone to read drafts of your work and give feedback. Plus, it's just nice to have someone in your corner working toward a common dream of becoming published.
Are there any projects you are working on or thinking about that you are able to discuss?
I'm currently working on edits for my second young adult novel. It's a story about toxic friendships and the desperate need to be loved for who you are. It'll hopefully be published in 2024.
Finally, what LGBTQ+ books/ authors would you recommend to the readers of Geeks OUT?
I have to give flowers to Jacqueline Woodson because I've been a fan of her work forever. Some of my other favorite recent favorites are A Scatter of Light by Malinda Lo, Lark & Kasim Start a Revolution by Kacen Callender, How to Succeed in Witchcraft by Aislinn Brophy, and the upcoming If Tomorrow Doesn't Come by Jen. St. Jude. 
---
Header Photo Credit Kay Ulanday Barrett