Hamish Steele (he/they) is a freelance animation director and illustrator who grew up surrounded by legends, myths, and folktales. Since graduating from Kingston University in 2013, Hamish has worked for the BBC, Cartoon Network, Disney, Nickelodeon, among others. He is the creator of and showrunner for the Netflix series Dead End: Paranormal Park, based on his graphic novel series, DeadEndia, and the Eisner Award-winning creator of the graphic novel, Pantheon. Hamish currently lives in London.
I had the opportunity to interview Hamish, which you can read below.
First of all, welcome to Geeks OUT. Could you tell us a little about yourself?
Hey! I'm Hamish Steele. I'm a creator of comics and animation. I recently showran Netflix's Dead End: Paranormal Park which was an adaptation of my webcomic series DeadEndia which has just been published by Union Square & Co. I'm gay and actually yes that is my whole personality.
What can you tell us about your graphic novel series, DeadEndia? Where did the inspiration for this story come from?
It came from problem solving. I had these original characters, Barney and Norma, and I loved writing their dynamic but I didn't really have a story. I also loved ghost stories and time travel plots and queer romantic comics… so I basically just threw it all together. I often tell people if they can't decide which idea of theirs they should focus on, to throw them all together and see what happens. That's essentially what I did.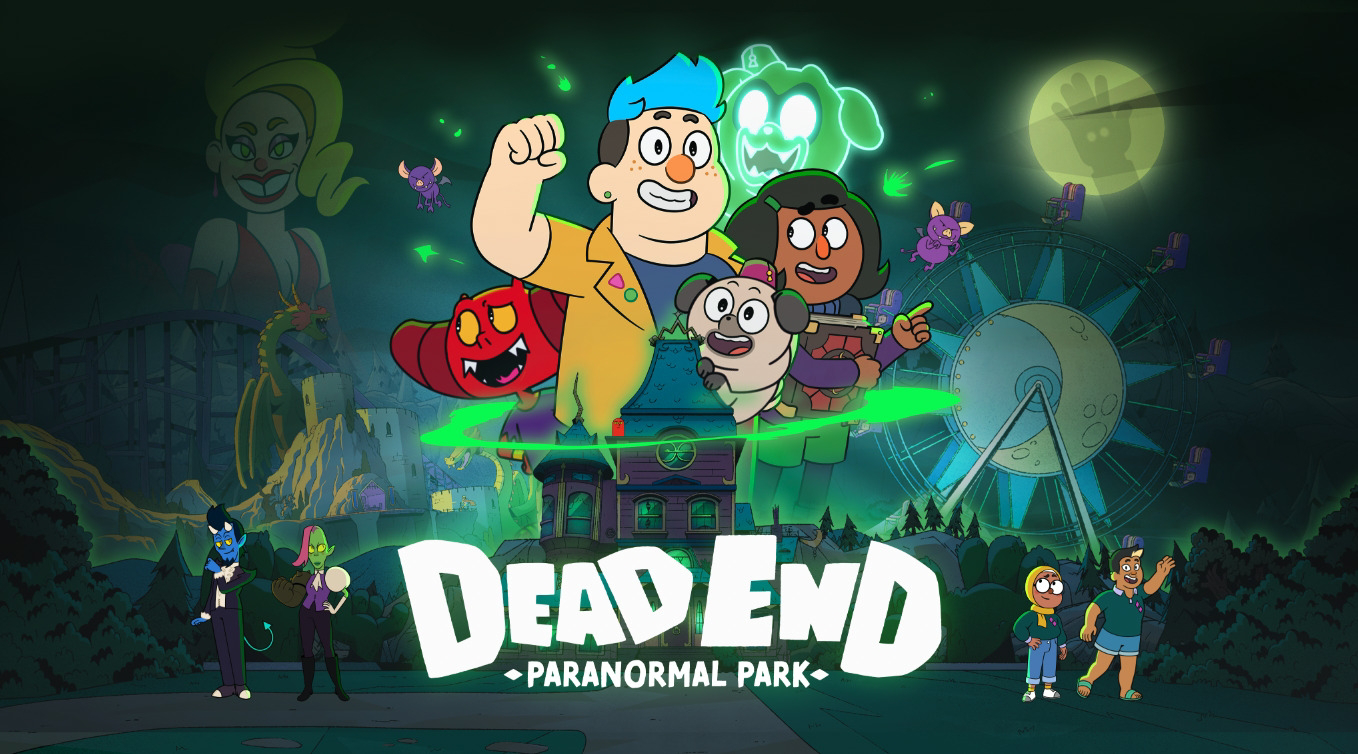 Speaking as a fan of your work, a few of the reasons why so many people love your work is because of its excellent queer sensibility (including awesome trans rep) and neurodivergent representation. Could you possible speak a bit as to what this type of representation means to you?
I mean, I sometimes feel like a bit of grinch when it comes to representation. I always see these meagre crumbs being applauded in giant blockbusters. Oh! Everybody clap! Spider-man swung past a pride flag. We're so much further along than that! We deserve better! I've been in rooms where I've asked to be included in the story I'm writing, and they've said it's not appropriate this time around but maybe next time! NO! Take up space! Demand to be seen! It's so important, now more than ever, that we're seen and our stories are told! If people aren't seeing what's happening in the world right now, the battles that are about to be fought, I don't know what to tell you. I used to be thankful for the tiniest drip of rep. Now, I will never work on another project where the lead isn't queer again.
How did you find yourself getting into storytelling, particularly comics/graphic novels? What drew you to the medium?
I just loved stories and I wanted to tell stories – big, bold adventures! And comics are so marvellous, because you only need a paper and pencil and you're already there! With a paper and pencil you have actors, locations, costume departments, cinematographers, all the visual effects you could want! I never have to scale down my stories in comics.
As a creative, who or what would you say are some of your greatest creative influences and/or sources of inspiration?
I have a special interest in Godzilla, Ultraman, Super Sentai… all those Japanese special effects shows and movies. I find their constant inventiveness so inspiring. They're not scared of being laughed at – they just GO for it! I find that endlessly inspiring.
Besides your work as a creative, what are some things you would want readers to know about you?
As I said before – I'm gay and that really is my whole personality. My hobbies include kissing my husband! And kissing my boyfriend! And watching gay things and reading gay things and hanging out with my gay friends. I really, really feel sorry for straight people, they all seem so miserable.
What's a question you haven't been asked yet but wish you were (and the answer to that question)?
Are you free for dinner later? And yes, if you're paying.
Are there any projects you are working on or thinking about that you are able to discuss?
I've just signed a deal for my next comic series! It's my take on the aforementioned Godzilla type story, but really focussing on my experiences as a queer, autistic kid. I know it feels like that's what DeadEndia is, but this is 10x more personal. It's actually a project I've been wanting to do since before DeadEndia was a thing.
What advice would you give to any aspiring creatives out there?
The "aspiring" word is always so weird to me. What I do now is no different than what I was doing 10 years ago, I just obviously have people paying me to do it now. But if you're telling stories, making stuff – you're IN the industry. So don't change who you are, just find the people who wanna hear what you gotta say.