Cynthia Yuan Cheng is an illustrator and cartoonist who creates funny, bittersweet stories centered on connection, identity, and belonging. When not at a desk, you can find Cynthia laughing at manga or eating a good meal with friends. Cynthia lives in Los Angeles.
I had the opportunity to interview Cynthia, which you can read below.
First of all, welcome to Geeks OUT! Could you tell us a little about yourself?
Hi! My name is Cynthia Yuan Cheng, I'm a cartoonist and illustrator, and I love telling stories that make people laugh and cry! Thank you for having me!
What can you tell us about your latest project, Mary Anne's Bad Luck Mystery and how did you get involved in illustrating for The Baby-sitters Clubseries in general?
Mary Anne's Bad Luck Mystery is the 13th installment in The Baby-sitters Club graphic novel series. The story is kicked off when Mary Anne receives a mysterious chain letter in the mail– the club members try to figure out who sent the letter, and spooky shenanigans ensue! I enjoyed the spooky Halloween moments in this book, and getting to sprinkle in some horror-comedy moments throughout the story.
I met my editor, Cassandra, during my senior portfolio review at my art school (Maryland Institute College of Art, MICA), and she kept me in mind a few years down the line when the series was looking for a new adapter.
Did you have any previous connections to The Baby-sitters Clubuniverse before working on this project?
Aside from recognizing the vast popularity of the original novel series and the graphic novel adaptations, I actually didn't have any previous connection! I'd been a big admirer of all the previous (and upcoming) adapters, but I'm very fresh to the world of BSC, so I'm really grateful to my editor and the team at Scholastic who trusted my vision with adapting the book and provided great guidance along the way.
How did you find yourself getting into comics? What drew you to becoming an artist?
I've drawn comics and created art since my elementary school days, and loved reading manga and graphic novels all throughout my life. I wasn't always interested in pursuing comics and art professionally, but I guess I couldn't resist that love for storytelling! I'm very grateful to have a career in creating comics and art.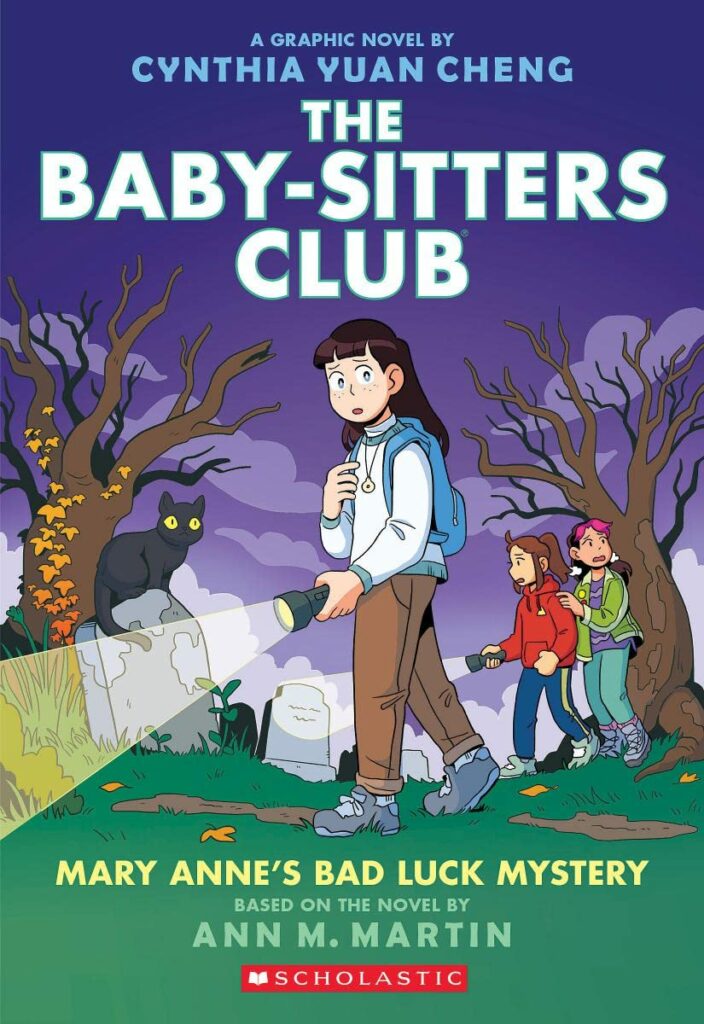 What advice might you have to give to aspiring artists/comic book creators, to both those who draw and those who don't?
Make sure you're always having fun with your projects! Comics require so much labor and time, so any project you're committing to should be something you're excited about and can genuinely enjoy the process of.
Also, explore interests outside of comics— it'll enrich your storytelling and make your voice more unique!
What are some of your favorite elements of making comics? What do you consider some of the most frustrating and/or challenging?
I love thumbnailing, especially when it comes to a funny scene. Crafting the comedic timing is a lot of fun for me, and it's always satisfying when the joke lands successfully.
Regarding the challenges, I'm still new to creating full-color comics and have lots of growing to do there. I'm so grateful to Hank Jones and Braden Lamb whose color work made Mary Anne's Bad Luck Mystery come to life. I really admire colorists whose coloring work adds so much mood and depth to the overall story!
Aside from your work, what are some things you would want others to know about you?
I'm relocating to New Jersey soon, really close to NYC! I'm so excited to explore the creative scene there and better familiarize myself with the thriving indie comics scene on the East Coast.
What's a question you haven't been asked yet and wish you were asked (and your answer to that question)?
I don't really get asked about my hobbies and interests outside of art and comics, even though I love talking about it. I love bouldering, trying new restaurants, and hanging out with my friends! I believe strongly in a work-play balance, so I try to get out and play and goof around often. It's great.
Are there any projects you are working on and at liberty to discuss?
I'm currently working on a YA graphic novel memoir with First Second, tentatively titled Win. It's about my time in high school playing American football on the boys' team, and centers on gender and (toxic) masculinity. I don't want it to sound too heavy; I ultimately think of it as a hopeful story about chasing your dreams. I'm really looking forward to getting this story out in the world some day!
Finally, what LGBTQ+ books/authors would you recommend to the readers of Geeks OUT?
So hard to choose, but my most recent favorites are the manga short story To Strip the Flesh by Oto Toda and indie comics by Kimberly Wang. I'm also deeply excited for the graphic novel Firebird by friend and cartoonist Sunmi, which came out on July 18th!