Julie Sondra Decker is an author from Tampa, Florida. She writes science fiction and fantasy novels and short stories for adults and children, and is known as a prominent voice for the asexual community. Her nonfiction title The Invisible Orientation (Skyhorse/Carrel), a Lambda Award finalist, was published in September 2014. In the past she contributed blogs for Psychology Today and Good Vibrations, has published multiple articles on the topic, and has been interviewed in the mainstream media as an asexuality spokesperson on multiple occasions. Julie's non-writing interests include baking, drawing, singing, cartoon fandom, drinking coffee, and engaging through social media. She has run a weekly fantasy webcomic, Negative One, since 2005, and a monthly joke comic for writers, So You Write, since 2012. Her work can be found online at her author site, personal blog, or complete list of published works.
I had the opportunity to interview Julie, which you can read below.
First of all, welcome to Geeks OUT! Could you tell us a little about yourself?
I'm Julie Sondra Decker and I'm an author, educator, and activist from Florida. I'm aromantic, non-partner-seeking, and asexual. I've always loved writing—most of my fiction is fantasy, speculative fiction, or science fiction, but whenever I'm passionate about something I love to write about that too, so I'm always writing articles, essays, rants, and sometimes even longer works. I'm a hobbyist musician and artist who also loves cartoons, baking, karaoke, reading, and spending quality time with friends. I do support work at an engineering firm as my main day job, and my side work has involved my writing and sometimes freelance editing. I live by myself in a big house with no kids and no pets, and though I socialize frequently, I really value my solitude. I'm always working on some new project.
As a person who identifies on the aromantic-asexual spectrum, how did you find yourself discovering this part of your identity?
I was a teenager in the 1990s before internet communities existed, so my access to similar people was limited when I was growing up. Dating other people was never my idea, and when I was propositioned, relationships I consented to never came with any spark of interest, neither romantic nor sexual. I didn't realize those two attractions might even be separate because I wasn't interested in either romance or sex, and since everyone else seemed to want both, I thought it was a single experience that just didn't happen to me. I only understood them as distinct attractions once I met people who experienced one and not the other.
As I was first realizing this was pretty different from others' experience in my school, I began to refer to myself as "nonsexual" and didn't worry too much about it. I assumed that eventually I would like someone that way, but wasn't in any hurry for it to happen, and none of the romantic or physical interaction I experimented with was inspired by intrinsic desires from me, nor was any of it satisfying or interesting. On a good day it was just boring, but most of the time it was actively unpleasant. Eventually I decided if I was going to have another relationship, it was going to be my idea, and I would wait for some indication from MY body or mind that I wanted this before I tried anything else. But I never did feel any kind of sexual or romantic attraction to anyone else, so I felt comfortable using my "nonsexual" term until the broader community grew up under "asexual" and gave me more widely used language for it.
How did you find yourself getting into this type of advocacy? Did anything in particular inspire you?
Since I always turn to writing as a means of expression, working out my annoyances in text seemed like a natural step. I had a rudimentary website in the late 1990s and one of its sections contained a page of rants. Most were on topics like "my roommate is annoying" or "I hate running out of toilet paper," but one of the rants was essentially a top-ten list about responses I hated hearing when people found out I was not interested in sex. I listed the most common knee-jerk reactions, from "you just got out of a bad relationship" to "you'll change your mind when you're more mature"; from "you're secretly gay" to "you're too ugly to get a man"; from "you're just trying to be special" to "you just haven't tried ME yet." (And of course, everyone's favorite Bingo Free Space: "Have you gotten your hormones checked?")
That essay got far more attention than the other complaints on the page, and suddenly I was hearing from other people who felt the same way I did. And what really struck me was how many of those emails were so desperate, sad, and grateful to find out they weren't alone. I hadn't ever been particularly concerned about my asexuality even though I was frequently irritated by ignorant comments, so hearing how lost these people had felt for so long was as eye-opening as it was heartbreaking. From that point on I worked to make content for various media and made myself available to be interviewed when there was interest, and when I realized many "gatekeepers" against asexuality cited a lack of published material on the subject as evidence that asexuality wasn't a legitimate orientation, I decided a book needed to exist and that I was well placed to write it.
Your book, The Invisible Orientation: An Introduction to Asexuality, is considered one of the first non-fiction books on the subject. What inspired you to write this book and did the fact that it was one of the first published texts on the subject put any particular pressures on you?
Other books did exist but they were either textbooks (written by a non-asexual person) or self-published books (great but less mainstream reach). In an ideal world, I think people who want to learn about a subject should be willing to consider less traditional media coming straight from underrepresented voices with lived experience, but in the real world we have many people with traditional understandings of legitimacy, and unfortunately those people might be controlling our lives. Having a book out there to find makes it easier to order it to a library, cite it for a school report, bring it to your therapist, or lend it to a parent or partner to ease your coming out. And getting the message out there is easier with a mainstream publisher with its ability to reach markets that are less accessible to self-published authors or niche publishers.
I do say in the introduction to the book that it is not meant to be a comprehensive look at the topic, nor should it be upheld as some kind of ultimate word on everything asexual. But I knew that it would probably be The Asexual Book for quite some time and that made me hyper aware that a) I didn't want to get anything wrong and b) I didn't want to leave anyone/anything out. So I requested volunteer readers from dozens of specific demographics—I put out a call for test readers on my social media and got over one hundred responses (with more than half of them actually coming through with feedback). Every section in the book that represents an experience or identity has been read by someone who matches it and gave thoughts and feedback. (That's why the acknowledgments section is so long!) In some cases I was simply told that I had already covered everything they could want, while in other cases I received enthusiastic suggestions for more points and topics to include, or occasionally critique and concerns. Non-asexual volunteers also read the parts for non-asexual people. And multiple bloggers whose work was significant in the asexual online world agreed to let me include quotes from them so we could at least have some distinct, diverse voices breaking up the general narration.
Despite the work I put in, there are obviously some things I would change today, and I have seen some parts of it get misunderstood or taken out of context for disappointing reasons. I've also seen legitimate criticism, and after discussing that early commentary with its authors, in two cases I was able to incorporate revisions that addressed the issues in the next edition of the book.
How have you seen the field of asexual media/literature change since the publication of your book?
There are more mainstream-published books on the topic, first of all. It's nice to have other books out there that cover different ground and provide a different look at the experience of asexuality. I've also seen a veritable explosion of asexual characters entering fictional landscapes—in sitcoms, in cartoons, in comics, in literature—and more media personalities identifying publicly as asexual. We're moving away from the simple need for awareness and more toward advocacy; the world knows we're here, so what do we do about it?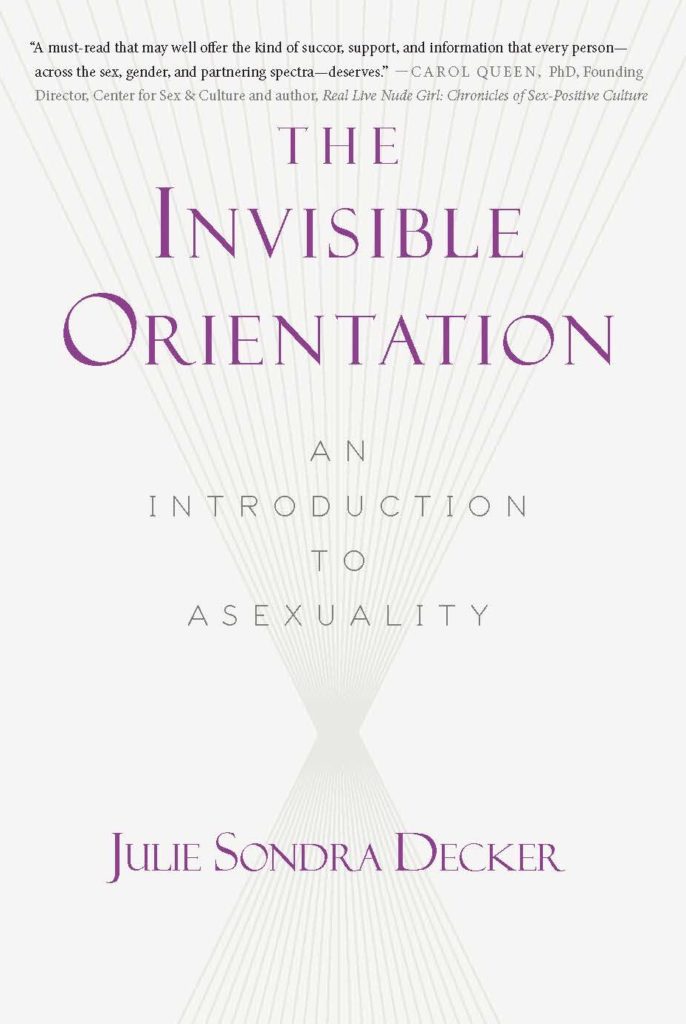 As a writer who has been in the Aro-Ace (or Aspec) community for over twenty years, how have you seen the community evolve since your entry into it? How have you seen the world's perception of aspec identities change (or not change) since then? What would you like to see change?
Within the communities, there was a question of core identity and microculture signifiers—what did WE count as asexual or aromantic, what language did WE want to use for ourselves, do we want to "reclaim" insulting commentary or reject it, what do we want our flag to look like? Are we queer? How do we fit in, and how do we not? Is it appropriate to name the majority, the non-asexual population, and is it possible to tease out what disadvantages being asexual or aromantic has as a marginalized identity? We talked about all these things, and sometimes argued about them, and sometimes invented new language to help describe more specific experiences within ace or aro identity, and sometimes dealt with waves of gatekeeping or harassment or bad media examples that set us up as targets. We've seen this movement evolve from internet communities just looking for someone to see us and hear us to a collection of organizations, individuals, and concepts that has political importance, allyship, pride, visibility, and resources. We've lobbied to have our orientation recognized in Federal non-discrimination legislation. We've successfully communicated to have definitions revised in major mental health resources to reflect the legitimacy of asexuality. And many of us have been able to support each other through forming or leaving relationships and talking to our loved ones about who we are.
I've definitely seen a shift in recognition of the orientations over the years—it used to be almost inevitable that coming out as asexual would then lead to a twenty-minute Q&A with someone who still walked away thinking "eh, it's a phase, they'll grow out of it." Conversely, now almost everyone I talk to about asexuality has heard of it before their conversation with me. I'd like to see authentic understanding of asexuality and aromanticism grow in the future, and other developments I'd love to see would be a) more asexual and aromantic characters in popular stories; b) a revision of the DSM-5's definition of asexuality and treatment of sex aversion since it's currently still pretty problematic, as well as more information for and resources for mental and physical health providers; and c) the establishment and growth of physical organizations dedicated to asexuality and aromanticism.
For someone who is new to the ace community, what resources would you recommend checking out?
I generally tell new aces to figure out their preferred way of absorbing information and jump right in. If they want a written resource, I'm partial to recommending my own but also like to recommend ACE by Angela Chen, reading blogs and articles from my resource list, and reading through scientific research and/or posts on AVEN. If they like podcasts or interactive interviews, I have some of those in my resources list too. If they get something out of interacting, I recommend they start a blog and interact with other ace content, or post on and read/comment on posts in AVEN or ace/aro Facebook groups. If they want to go to ace meetups, I have resources for those (though they can be sparse). And if they want to watch visual media, there are a few news stories and a documentary to recommend, plus YouTube is full of vlogging aces who make everything from educational videos to fun debunks of popular misconceptions.
What are some things you wish you had known when you first came out as aspec?
I regret very little and can't think of anything I'd change about how it all went down. But I think at the very beginning since I developed my identity in isolation, I was predisposed to believe MY experiences and definitions could be generalized, and I think it would have been good to know that some of them were not. I didn't realize, for instance, that detractors who assigned me traumatic sexual experiences in my past to "explain" my orientation shouldn't be countered with statements like "no, aces aren't traumatized" since, well, some aces do have experiences like that and denying that it's true for ME could accidentally throw them under the bus depending on how it's phrased. But for so long I thought I was mostly just talking about myself and couldn't see the harm that could do.
Aside from your writing and advocacy work, what are some things you would want others to know about you?
I can serve as a good example of an asexual, aromantic, unpartnered person who legitimately wants to be this way and isn't sad or lonely. I generally don't have trouble convincing other ace or aro people that this is true, but some of them have trouble seeing how they can be happy in their own lives when they're surrounded by negative messages about their futures and lack positive examples of fulfilled aro and ace people. I'd love people to understand that asexuality and aromanticism has never been experienced as a hole or a missing piece for me and I formed whole without that part, and if someone out there feels broken or incomplete because everyone ELSE keeps telling them this piece is supposed to be there and is vital to a satisfying adult life, they don't have to internalize that or live that way. We just don't have omnipresent examples in our lives of how fulfilled ace/aro/unpartnered life might look, so we have to do more work to invent it and step into it ourselves. If we do that, I assure you we will be much happier.
What's a question you haven't been asked yet that you wish you were asked (as well as the answer to that question)?
I've seen other aces sometimes ask this question but I don't think I've ever been asked it: "If you could take a pill to change you so you could experience sexual attraction, would you take it?" Or maybe, "Do you wish you were not asexual/aromantic?"
For me, it's a very confident no. I've never had the envy some people talk about with regard to wishing I fit in more in this regard, nor do I have a particular curiosity about what it would be like to be like someone else. I've heard some people say that sounds impossible because why wouldn't someone be curious, why wouldn't we want to get involved with something that everyone talks about like it's the best thing ever, but interestingly most of those people have at least one aspect of their identity that they'd never consider changing even if it were possible (e.g., a straight person who thinks it's reasonable to insist aces must be awfully curious about what it would be like to be straight, but has never wondered what it might be like to be ace, and also wouldn't take THAT pill).
But on top of that, I honestly get pretty fed up with hypotheticals like this. I haven't been asked this specific question but I was once asked whether I would have sex "if I had to to save the world," and what gender I would choose to have sex with if my sex acts could somehow save humanity. When I said I'd probably choose another woman, the person laughed and concluded I was a "hypothetical lesbian," and brought it up several more times in other contexts insisting he had "proved" I was a lesbian. When people ask these questions they are often expressing that they don't actually accept your REAL answer and want you to pick a box to sort you into that they find more comfortable, so they can then invalidate you and treat you like a hypothetical answer offered under duress reveals more about you than the answer that has applied in your non-hypothetical, real life all this time.
Sexual orientation isn't a switch to flip, nor can it be controlled by a drug we can take, so entertaining the hypotheticals is not very practical. If something fundamental could be replaced with a different reality at the touch of a button, I'm essentially being asked what I might want if I were a different person. They want to hear that aces desperately want to be like them, or they want to hear that if we would choose to stay as we are then we're accepting that our orientation "is a choice." But everyone who asks leading questions to trap someone into admitting that REALLY their orientation constitutes close-mindedness or fear is projecting their own values onto someone who isn't them. It's peculiar, but it's unfortunately pretty common.
Are there any projects you are currently working on and at liberty to speak about?
Not that it's necessarily anything to get excited about because I have no guarantee that these projects will see the light of day, but I do have two YA novels in progress that have asexual characters—one protagonist in a realistic YA and one supporting character in a science fiction YA. If I am able to prioritize finishing one of them, get it through editing and into my agent's hands, maybe it will get more exciting, but as such it barely counts as news. I've also written a science fiction short story with asexual protagonists (well, one asexual aromantic character and one graysexual demiromantic gender fluid character), but my submission attempts haven't landed it a home yet.
I also continue to produce my Letters to an Asexual series on YouTube once a month.
What asexual or general LGBTQIA+ media (i.e. books/ television/etc.) would you recommend to the readers of Geeks OUT?
Asexuality-nonfiction-wise, I did really like Angela Chen's book ACE, and a book I recently read with a positive representation of an asexual and aromantic supporting character was The Faceless Old Woman Who Secretly Lives in Your Home (a Welcome to Night Vale novel). Some of the more well-known representations of asexuality in visual media like Bojack Horseman I still haven't seen, but I did really enjoy the supporting asexual characters in Shortland Street and Huge. In broader LGBTQIA+ media, I'm really enjoying The Owl House right now (a cartoon with canonically bisexual, lesbian, and nonbinary characters). And I think everyone already knows how much of a raging Steven Universe fan I am, so recommending that is always a given—one of the characters was identified as asexual by one of the storyboard artists, even!