Mike Curato is the award-winning author and illustrator of the Little Elliot series and the graphic novel Flamer and has illustrated a number of other books for children, including What If… (by Samantha Berger), Worm Loves Worm and All the Way to Havana.
I had the opportunity to interview Mike, which you can read below.
First of all, welcome to Geeks OUT. Could you tell us a little about yourself?
Cheers, queers! I'm Mike Curato. I am an author and illustrator of graphic novels and children's books.
What can you tell us about your most recent graphic novel, Flamer? Where did the inspiration for this story come from?
Flamer is the story of Aiden Navarro, a chubby fourteen-year-old Filipino-white mixed kid who is away at scout camp. The year is 1995, and Aiden is navigating friendships, bullying, and how they can overlap. He has lots of questions about his religion, struggles with his body image, and deals with racism. All of that is the backdrop to Aiden confronting his sexual identity, and questioning his very existence. Also, there are fart jokes. The story runs parallel to a lot of my personal experiences as a teen.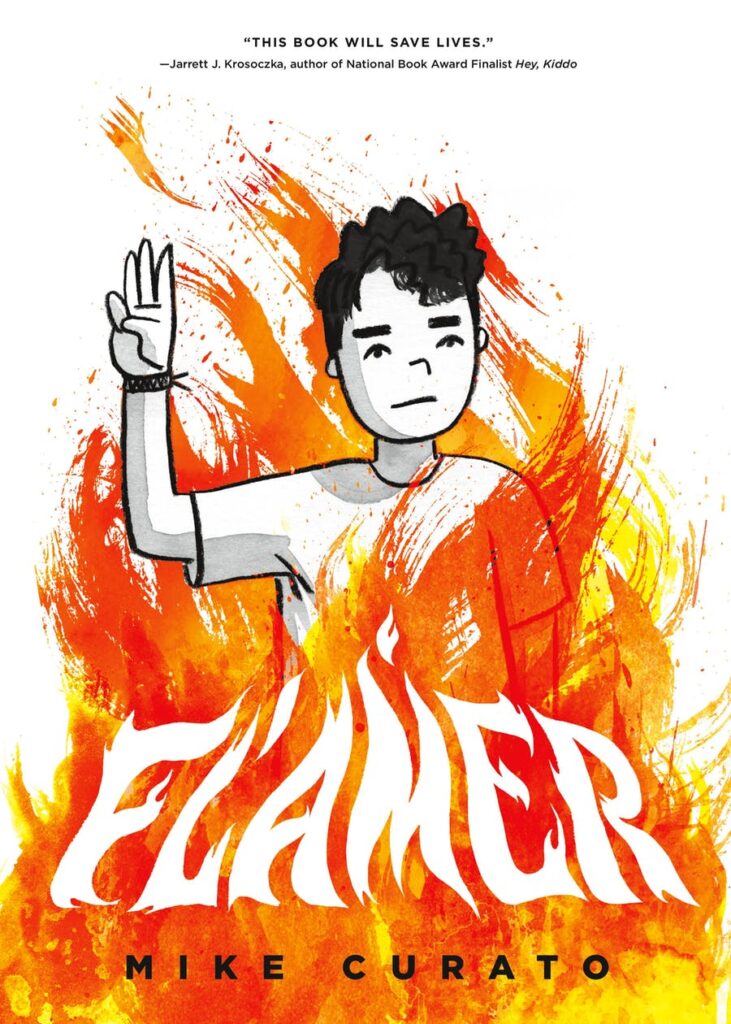 As opposed to your other work, much of which includes children's books based in fiction and fantasy, Flamer is semi-autobiographical. What made you decide to explore the personal in a young adult graphic novel?
While much has changed in nearly thirty years, queer youth still face many of the same challenges that I did. Except now, they don't have to think they're alone. I wrote Flamer as a life raft for those young queers who have not found their community yet, who don't feel safe, who feel like there's no one out there who understands them. Writers are called to create the books they want to read or wish they had when they were younger. Flamer is my response. I've also heard from a lot of adults who felt very seen by this story in a way that they hadn't before.
How did you find yourself getting into storytelling, particularly comics and children's books? What drew you to the mediums?
I loved picture books as a child and was an avid comic book reader from middle school through college. In high school, my dream was to one day write and illustrate for X-Men. In college, as an illustration major, I rediscovered my love of children's books. I figured, why limit myself? I want to do it all! The magic of picture books is that there is so much emotion and wonder boiled down into just 32 to 40 pages. Meanwhile, a comic plays with time and pacing in its own unique way with limitless possibilities. Picture books and comics lay somewhere between the written word and film, each commanding their own realm. That kind of magic excites me.
As someone who has worked on many of their own picture books, as well as having collaborated with others, can you give insight or advice into what goes into making a picture book?
Laughs? Tears? Metric tons of ice cream? There are so many ways to approach making a picture book (or any type of book), but my free advice is that you have to be moved by your own book if you want it to resonate with a reader. That's the test. If your book doesn't make you feel something, then it's not ready to be shared with others. Don't waste the time and trees otherwise.
As a creative, who or what would you say are some of your greatest creative influences and/or sources of inspiration?
Whoa, buddy, that's a long list. Here are some names in no specific order: Alison Bechdel, Edward Hopper, Ian Falconer, Michael Sowa, Jillian Tamaki, Mariko Tamaki, Mark Ryden, Gene Yang, Berenice Abbott, Pierre + Gilles, David Small, Tillie Walden, Wes Anderson, Isabel Arsenault, Beatrice Alemagna, Chris Van Allsburg, Shaun Tan… I think I need to stop with names because I will just keep going, but I also need to say that my friends and family are probably my biggest inspirations and support system.
Besides your work as an author/illustrator, what are some things you would want readers to know about you?
My sister made fun of me once for a promo reel I made for a picture book that I illustrated. I guess I have a certain way I speak when talking to children and parents that's "cutsier" than my normal self. But in my defense, I can't really sell picture books by being a sarcastic cussing mess, which is how I appear in my natural habitat. So if you see those clips, just know that I did it for the kids. You should also know that I am a sugar fiend, film buff, Pisces sun (splash!), Scorpio rising (smack!), and world traveler who loves karaoke.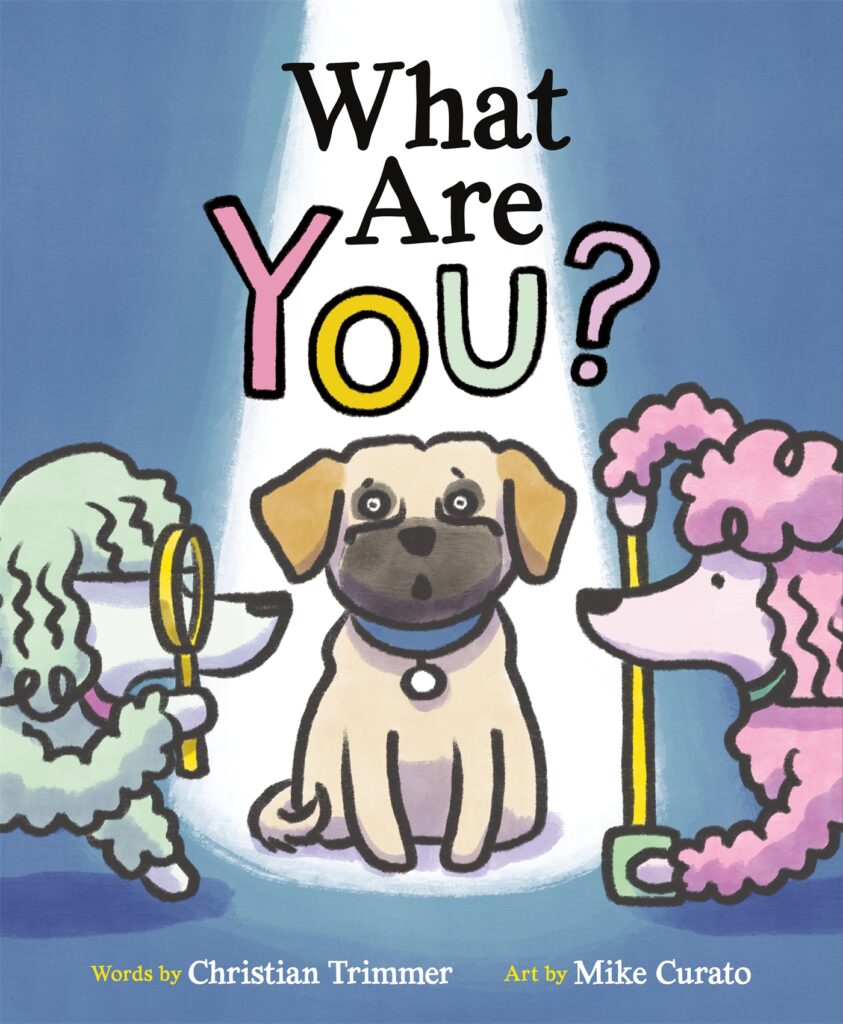 What's a question you haven't been asked yet but wish you were (and the answer to that question)?
THANK YOU for this.
Q: MIKE! If you were on Drag Race, who would you be on Snatch Game?
A: Edina Monsoon, darling!!! Help mama…
Are there any projects you are working on or thinking about that you are able to discuss?
Well, wouldn't you like to know! Yes! I am currently working on my very first adult graphic novel called Gaysians, which centers the gay Asian American experience, all T (some shade). It features an ensemble of friends in early 2000s Seattle as they navigate dating, family, racism, and transphobia. It is going to slaysian the house down boots.
Finally, what LGBTQ+ books/comics would you recommend to the readers of Geeks OUT?
Fun Home by Alison Bechdel
On a Sunbeam by Tillie Walden
The Check, Please! series by Ngozi Ukazu
The Heartstopper series by Alice Oseman
Laura Dean Keeps Breaking Up with Me by Mariko Tamaki & Rosemary Valero-O'Connell
The Magic Fish by Trung Le Nguyen
The Witch Boy by Molly Ostertag
The Marvels by Brian Selznick
I'll Give You the Sun by Jandy Nelson
Red, White & Royal Blue by Casey McQuiston
Song of Achilles by Madeline Miller
Melissa by Alex Gino
The Gentleman's Guide to Vice & Virtue by Mackenzi Lee
Less by Andrew Sean Greer
How to Write an Autobiographical Novel by Alexander Chee
Last Night at the Telegraph Club by Malinda Lo
---
Header Photo Credit Dylan Osborne